Description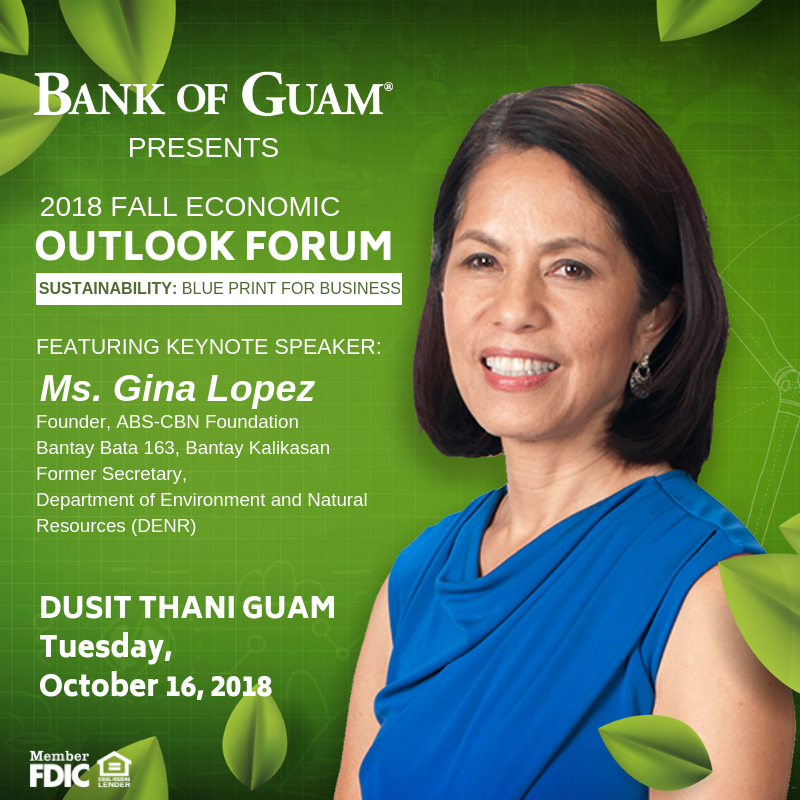 Bank of Guam's Fall Economic Outlook Forum offers fresh and challenging perspectives on the opportunities for the island and our region. As the global role of corporate sustainability continues to increase, so does the importance of establishing realistic and effective sustainability strategies today to secure the economic and natural resources for tomorrow. Whether you are a retail/business representative, government leader or academia/conservation community influencer, you represent an integral piece of the puzzle that is essential in building a promising future.
Advancing a sustainable future for our people and our business partners starts by highlighting critical sustainability topics where diverse perspectives collaborate and flourish. Hosting the right people alongside stimulating innovative ideas, critical partnerships and crucial change to take form—makes the Economic Outlook Forum an opportunity you can't afford to miss.
WHY ATTEND
Join us and you will:
Network with leaders from business, finance and government
Make connections with those at the forefront of the sustainability effort
Join the global effort to create an inclusive and environmentally sustainable marketplace
Shape the evolving dialogue on sustainability and share ideas.
One of the things we have to be proud of at Bank of Guam is that we are real pioneers in initiating this dialogue between traditional environmentalists and the business community. There are plenty of people out there that are motivated and interested and hungry for information on how to be economically viable and environmentally and socially responsible. We hope to see you at our Fall Economic Outlook Forum themed, "Sustainability: A Blueprint for Business."