2018 Atlanta Area College Prep Course - Atlanta, GA

Saturday, January 19, 2019 from 10:00 AM to 4:00 PM (EST)
Event Details
Registration is Now Open for the
2018 Atlanta Area College Prep Course
@ GA Tech Square Event Center
Saturday, November 10th, 2018 ~ 10am-4pm.
Sponsored by Next Wealth, LLC | Varsity Tutors | edquity.co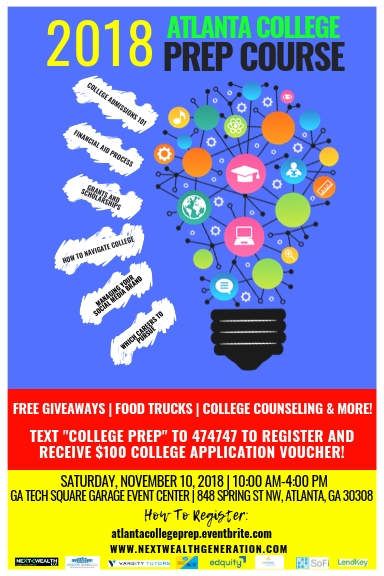 Applying to College 101 | Financial Aid & the FASFA Process |  Navigating Life during College | High Potential Careers after College | Best Practices for Managing your Social Media Brand
Text "CollegePrep" (one-word) to 474747 to Register for the Course and Receive a $100 College Application Credit via Crowdfunding Platform. You will receive an automated confirmation message with the event date & details.
*If you received a link to complete a form, you've registered for the wrong event, please make sure "CollegePrep" is text to 474747, as one-word. 
Funds can be used at your discretion to cover College Application Fees; ACT/SAT Tutoring; FAFSA Completion Assistance; and College Loan Negotiation / Fee Supplementation. 
Full Detailed Program:  
10am - 11:00am   -  Opening Session
Introduction of Notable Speakers, Colleges and Universities Present
College Student and Recently Graduated Alumni Panel Discussion "If I had known"...
11:00am - 1:00pm   -  Concurrent Breakout Sessions A-D
Session A: Panel Session of 20+ Local Influencers in their Respective Field of Expertise
Careers in Business; IT and Entrepreneurship (11:00am);
Careers in Healthcare (11:30am);
 Careers in Education (12:00pm);
Careers in Law, Government and Social Services (12:30pm)
 Session B: Financing Your College Education (3 sessions, 11:30am - 1:00pm)
Led by College Financial Planning Experts and FAFSA Planning Groups
 Session C: The Application Process (3 sessions, 11:30am - 1:00pm)
Facilitated by Current College Students; Alumni; and Admissions Staff
 Session D: Managing Your Personal Brand on Social Media (3 sessions, 11:30am - 1:00pm)
Taught by Life-Coach and Millennial Management Experts
1:00pm - 3:00pm  -  College Exposition Networking with College Admission Staff and Alumni
Lunch Provided by Select Food Trucks
*Registration Open to the First 300 High School Registrants Only
* Student must be present at CPC to take advantage of $100 Application Voucher Program
For more information call 202.827.7377 or email: events@nextwealthgeneration.com
Save This Event
When & Where

GA Tech Square Event Center
848 Spring Street
Atlanta, GA 30308


Saturday, January 19, 2019 from 10:00 AM to 4:00 PM (EST)
Add to my calendar