2018 ASIKE Signature Event: Continental Connections - What Connects Us?
Description
Please join us on Saturday, September 15th, 2018 at 7pm at the Clarkston Community Center for this unforgettable evening, celebrating Continental Connections - What Connects Us You are cordially invited to the 2018 African Sisters for Information, Knowledge and Empowerment (A.S.I.K.E.) dinner dance fundraiser. Each year, ASIKE organizes this event to share with you all and to raise funds to continue our Sponsor A Child (S-A-C) program.
Come enjoy...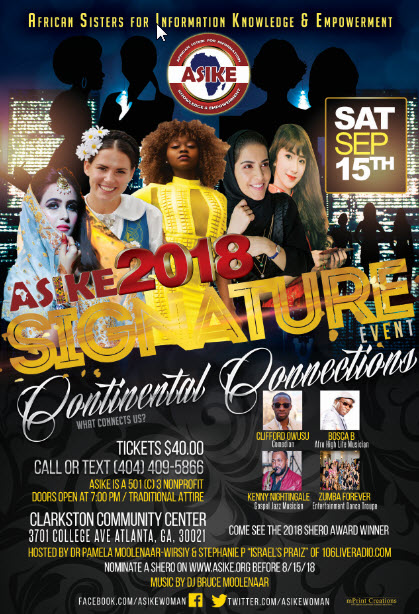 - Enlightening dialogue
- ASIKE Shero Award
- Entertainment galore:
Bosca Banks - Afro high-life musician

Kenny Nightingale - Gospel jazz musician

Music by DJ Bruce Moolenaar

Zumba Forever - Zumba dance troupe

Hosted by Dr Pamela Moolenaar-Wirsiy and Sis Stephanie Paraiso (Israel's Praiz of 106LiveRadio.com) and Comedian Clifford Owusu
- Excellent delicacies
... and much more.
Come celebrate with us and see how you can join us in impacting the lives of many more!
For $250.00, you can be a child's champion and sponsor a child for an entire school year! This covers tuition, books, other necessary materials and in some cases health care.