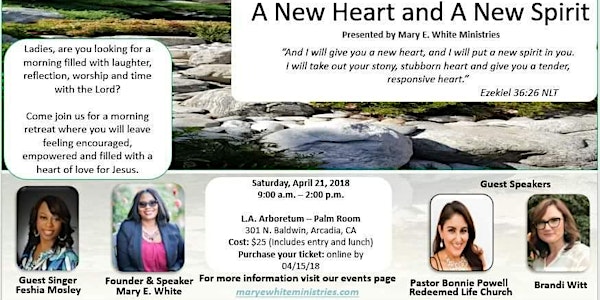 2018 Arcadia Women's Retreat
When and where
Location
301 N Baldwin Ave Palm Room Arcadia, CA 91007
Description
The 2018 Arcadia/Pasadena Women's Retreat is designed to offer women an opportunity to spend time hearing the word of God from a Chrisitian Biblical perspective. Women will hear from three speakers (Mary E. White, Pastor Bonnie Powell and Brandi Witt) that will touch hearts and impact women from all walks of life.
The retreat will be held at the Los Angeles Arborteum in Arcadia. If you haven't been to one of our events or to the Arborteum you are in for a treat. The day will begin in the Palm room and throughout the day you will be given an opportunity to walk around the grounds.
Your ticket will include entrance into the Arborteum and lunch. Additionally, at the conclusion of the event you may stay until the Arborteum closes at 5:00 p.m. (without an additional charge).