Description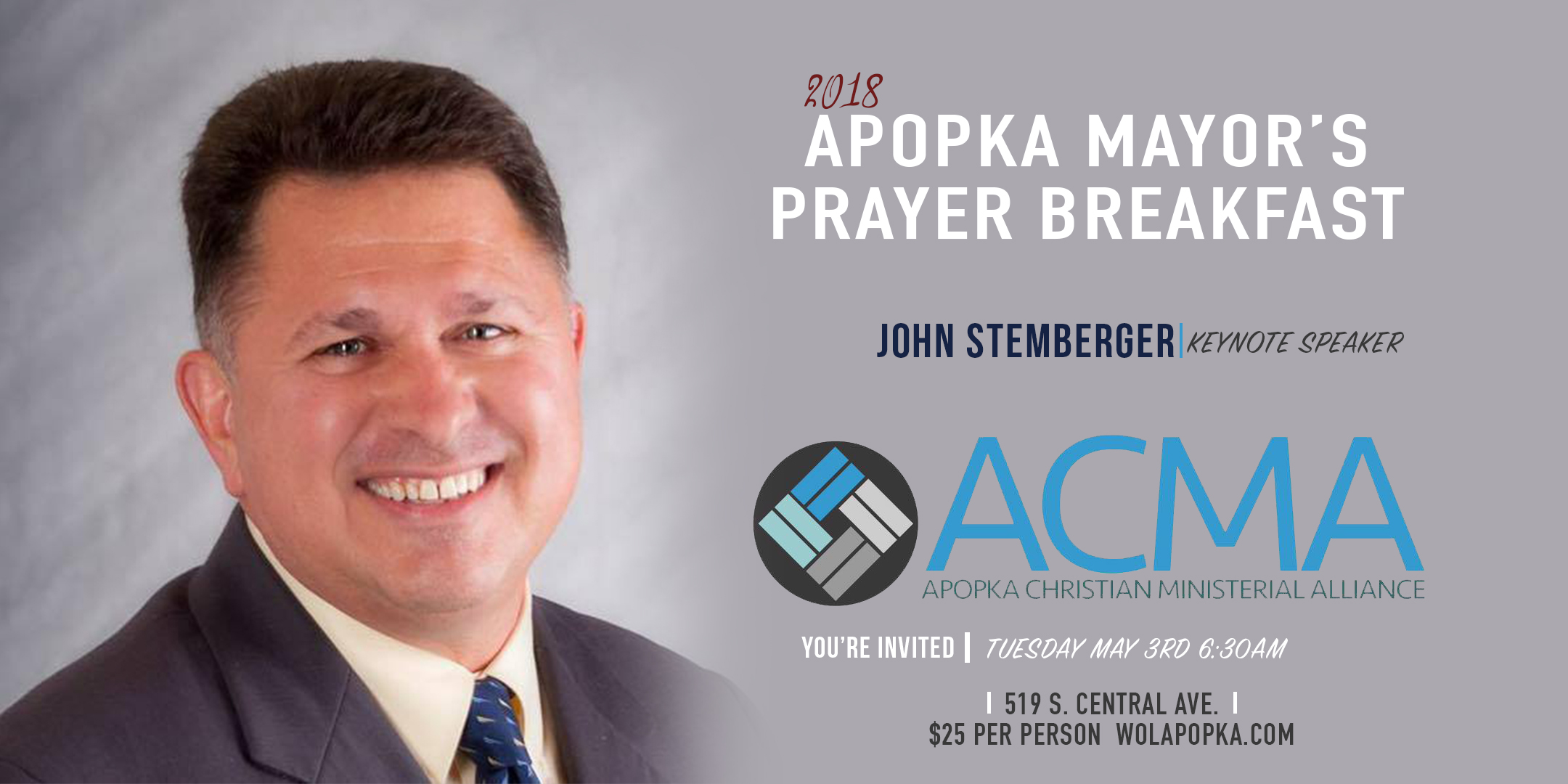 Come and join us in prayer for our Nation, our City, and our First Responders on May 3rd
The annual event will be held at the Apopka Community Center/VFW, 519 S. Central Avenue, Apopka.
The doors and buffet will open at 6:30 a.m. and the program will take place from 7-8:30 a.m.

Tickets for the May 3 Apopka Mayor's Prayer Breakfast are on sale. Gold Level and Silver Sponsors are sold @ The Apopka Chief. Jackie@theapopkachief.com 407-886-2777

The $25 tickets must be purchased prior to the event. None will be sold at the door. Tickets are available at The Apopka Chief and The Planter offices at 400 N. Park Ave., and at the Apopka Area Chamber of Commerce, 180 E. Main Street, Apopka, and also available online.
John Stemberger, president and general counsel of the Florida Family Policy Council, will be the speaker for the event which is sponsored by the Apopka Christian Ministerial Alliance and coincides with the National Day of Prayer
John Stemberger has been an advocate for traditional values for more than 30 years.
He is a native Floridian and obtained his law degree from Florida State University where he founded the Institute for Conservative Studies.
John went on to serve as the lobbyist for Florida Right to Life in 1989.
In 2004 John became the President of the Florida Family Policy Council, whose mission is;
"To Protect and Defend Life, Marriage, Family and Liberty Through Education, Advocacy and Empowerment."
In 2008 he served as Chairman of the campaign to amend Florida's Constitution to define marriage as the union of one man and one woman which was adopted by 62% of Florida voters.
In 2009 he represented Rifqa Bary, the Muslim teenager from Ohio who fled to Orlando after she was threatened to be killed by her father for not renouncing her faith after her conversion from Islam to Christianity was discovered.
John is an Eagle Scout and former Scoutmaster.
In 2014 John lead the effort to form Trail Life USA, a Christian scouting movement for boys. Trail Life now has more than 30,000 members in 700 troops chartered in 48 states.
John has been married to his wife Olivia for twenty years. They have four children; Joseph, Benjamin, Hannah and Rachel.