2018 Aisa Amusement & Attractions Expo(AAA 2018)
Sales Have Ended
Registrations are closed
Please contact Dora Leung at grand.je@grahw.com for registration.
Sales Have Ended
Registrations are closed
Please contact Dora Leung at grand.je@grahw.com for registration.
Description



2018 Asia Amusement & Attraction Expo (AAA 2018)
Date:April 3rd-5th, 2018
Venue:China Import & Export Fair Complex, Guangzhou, China
China's Theme Parks Visitors to Hit 423 Million Person-times by 2030
By 2015 there were about 909 million Chinese residents who had passed the income threshold for visiting theme parks, and as China's economy continues to boom, by 2020 this figure will grow to 110.4 million and China's annual theme parks visitors will hit 423 million person-times by 2023 , according to AECOM.
Presently, China's theme park market is still in bud. With industry giants like Disney and Universal Studios penetrating into Chinese market, consumers' enthusiasm for theme parks will be further ignited, which will help theme parks to gain even higher market acceptance.
Millions theme park visitors means millions RMB business! It is still not too late for you to enter Chinese market!
AAA 2017 Lived up to Its Reputation as a World Leading Trade Show
Hosting over 500 internationally acclaimed exhibitors, such as Golden Dragon, Golden Horse, Universal Space, Wahlap, Splendid China, Wavesurfer-AFP Technology, Proslide, Zebec, Pyramid Technologies, GAELCO DARTS SL, Bandai Namco, TAA Group, Delta Strike, SEMNOX SOLUTIONS, etc, on a show floor spanning over 80,000 square meters, this March in Guangzhou, AAA 2017 received visitors of over 136,000 person-times from over 40 countries and regions. What's more, the 6th Asia Theme Park Development Forum, one of the biggest highlights of AAA 2017, gained the universal praise from its attendees.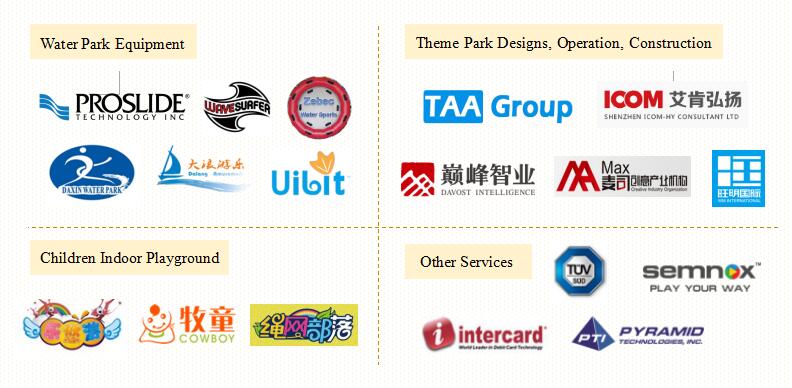 Hall Plan for AAA 2018
Totally 100,000 sq.m will be planned for 2018 and each exhibition hall is about 10,000 sq.m!
Hall 1.1, Hall 2.1, Hall 3.1, Hall 4.1: Arcade Games & Amusement Rides
Hall 2.1: Oversea Brands
Hall 5.1: Theme Parks & Attractions
Hall6.1, Hall 7.1: Inflatables
Hall8.1: Vending Machines,Theaters & Cinemas
Hall 2.2: VR&AR Equipment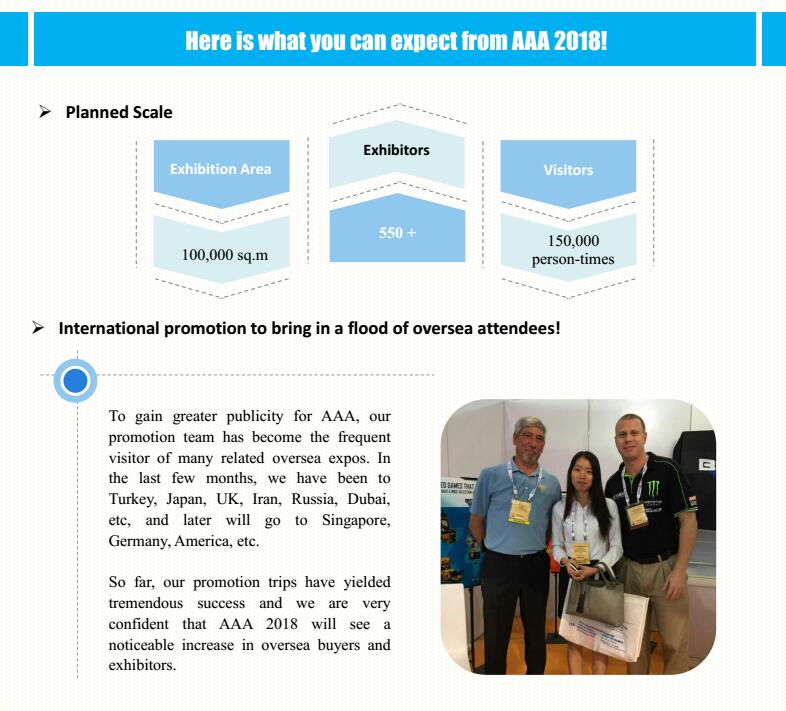 It is the right time for you to enter Chinese market!
And best time to register for AAA 2018!


Please nitice that register now in eventbrite, you can enjoy two nights free accomodation. Our staff will contact after the registration.
If you have other question, don't hesitate to contact Ms Dora Leung at grand.je@grahw.com or WhatsAPP: +86 13066247489..
Contact
Dora Leung
Guangdong Grandeur International Exhibition Group
Phone: +86-20-29178995
Fax: +86-20-82579220
E-mail: grand.je@grahw.com
Website: www.aaaexpos.com
Add:Room 301,No.7,the First Street of Kehui , Kexue Avenue, Science City, Huangpu District, Guangzhou ,China.