Event Information
Location
Locust Grove Estate
2683 South Road
Poughkeepsie, NY 12601
Description
Join the Friends of the Poughkeepsie Public LIbrary District at this year's Adriance Honors while we honor this year's recipients Jodé Millman and Mark and Julie Nelson. The presentation of the awards will take place on Monday, October 15, at Locust Grove beginning at 5:30 pm, with Chris Silva serving as Honorary chair.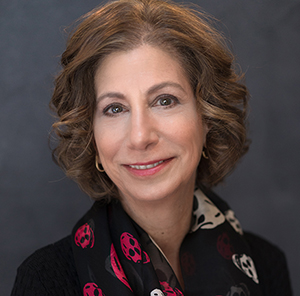 Jodé is a life long resident of Poughkeepsie, and her close relationship with the Library District began during junior high school when she volunteered at Adriance library. She particularly enjoyed the Children's Room and the traveling around with the Story Bus.
Jodé received her BA Syracuse University and her JD from Syracuse College of Law. Her interest in copyrights, trademark and intellectual property led her to NYU Law school for her third year of study, where she became a contributing editor to "The Kaminstein Legislative History Project: A Compendium and Analytical Index of Materials Leading to the Copyright Act of l976."
Concentrating on law and literature, Jodé obtained her MA in English Literature from Eastern Michigan University and became an Adjunct Professor at Detroit Mercy Law School on the topic. She has also taught at Marist College.One of the first women to practice law in Dutchess County, Jodé served on numerous boards including City of Poughkeepsie Charter Review, DCC Foundation Board, Commission, Poughkeepsie Day School and Poughkeepsie Library District (1991-1994).
Currently, she is a Trustee of the Dyson Foundation, and the Board Chair of the Millman Harris Romano Foundation, which has donated over $500,000.00 in charities since its inception in 2001. MHR Foundation has been instrumental in fostering non-profit educational and arts activities in the Hudson Valley, including Reel Expression Student Film Festival and Movies Under the Walkway.
Jodé is the author of the best-selling SEATS: NEW YORK Theatre guidebook, and her debut thriller novel, "The Midnight Call", will released by Immortal Works Publishing in 2019. "The Midnight Call" was short-listed for the 2015 Clue Award and received the First Place Blue Ribbon as "Best Police Procedural" by Chantireviews.com.
She co-host and co-produces the recently launched Backstage with the Bardavon Podcast, which is available on Itunes.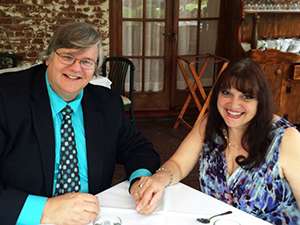 Mark and Julie Nelson grew up just five miles from each other on Long Island. Mark (a native of Queens Village, NY) and Julie (hailing from Mineola, LI) met at the Polytechnic Institute of New York through mutual friends. Mark moved to Poughkeepsie in 1982 to join IBM and Julie joined Mark in Poughkeepsie when they married in 1987.
Mark and Julie have become familiar faces at the legendary FPPLD Giant and Holiday Book Sales as well as volunteers at the FPPLD Book Store. Mark served for several years as the Secretary of the FPPLD Board of Directors and is the current volunteer coordinator for the FPPLD Book Store. Julie is an active cashier at the holiday sale and the book store. With their daughters Nicole and Brenna, they are a proud family of readers.
You may make your reservation using this link or by mailing a check, made out to:
The Friends of the PPLD, Inc
Attn: Bonny Algozzine
Adriance Memorial Library
93 Market Street
Poughkeepsie, NY 12601
For additional information, please contact Bonny Algozzine at 845-485-3445 x 3371.
Date and time
Location
Locust Grove Estate
2683 South Road
Poughkeepsie, NY 12601
Refund policy