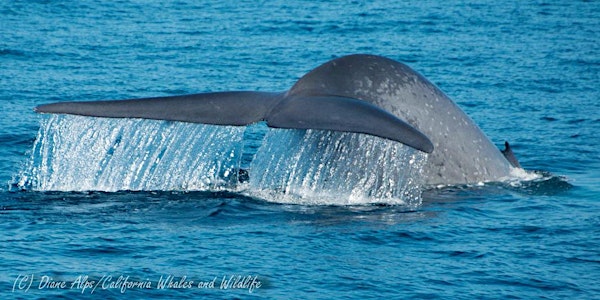 2018 ACS/LA Summertime Blues (and Humpbacks) Whale Watching Adventure
Event Information
Location
Condor Express
SEA Landing
301 West Cabrillo Boulevard
Santa Barbara, CA 93101
Description
Blue Whales are among the most magnificent whales to see in the wild and there is no better way or place to see them than on this trip. I cannot think of a better location, boat, or organization, for seeing these creatures in their prime habitat.
-- John Calambokidis, co-author of Blue Whales (Voyager Press, Inc.) and Founder, Cascadia Research Collective, Olympia, WA
"Summertime Blues"

(and Humpbacks)
Whale Watching Adventure
July 21, 2018 8am to 4pm
The ticket price is $115 per person ($104 for ACS members)
Early Bird - Reserve your spot by June 8th and save: The price is $110 per person ($99 for ACS members)
Price includes a delicious continental breakfast served onboard.
About the trip:
We'll head to sea aboard the Condor Express, a jet-powered catamaran custom built for whale watching. The Santa Barbara Channel is a nutrient rich envornonment created by the bathimetry with steep canyon ridges that force cold water to the surface. This upwelling creates a perfect hapitat for blue whales with voracious appetites.
Blue whale feeds almost exclusively on krill, small shrimp-like organisms that are especially abundant in the Santa Barbara Channel, particularly along the northern edge of the Channel Islands. A single blue whale requires as much as four tons of krill per day to sustain its incredible bulk, so feeding – and locating food - constitutes the vast majority of a blue whale's activities. Blues are frequently seen feeding in the same krill patches as humpback and fin whales. In fact, during the peak of the whale feeding season in the Santa Barbara Channel, it is not unusual to see 5 or 6 different species of cetaceans (whales and dolphins) all in the same area at the same time.
Other marine wildlife regularly observed in the Channel are humpback whales, minke whales, dolphins – common, bottlenose, Pacific white-sided, Risso's and Northern right-whale, -- Dall's porpoise, elephant seals, and California sea lions. Additionally, many species of marine birds such as shearwaters, storm petrels, and gulls are typically observed.
The Condor Express
With a specially built wave-piercing hull, the Condor Express provides an exceptionally smooth, stable ride. The vessel features a modified hydrofoil "wing" mounted between the hulls to provide lift to raise the boat at high speed, producing the smooth ride that this design is noted for. Powered by four computer controlled 740Hp Detroit Diesel engines which power high performance Hamilton Water-Jets, the Condor Express is environmentally friendly and safe around marine animals. Additionally, the vessel features walk-around decks, a huge upper sun-deck, a raised forward bow area, a full galley, and continuous side windows in the large comfortable cabin.
Cancellation Policy: Unless cancelled by the boat landing, tickets are non-refundable. Please consider your unused ticket a donation to ACS.
Sign up today! Don't miss the boat.
Date and time
Location
Condor Express
SEA Landing
301 West Cabrillo Boulevard
Santa Barbara, CA 93101