2018 Abundance Blessings - Crystal Tones and Shamanic Frequency Vocal/Drumming Channeling

Friday, January 26, 2018 from 7:00 PM to 8:30 PM (PST)
Event Details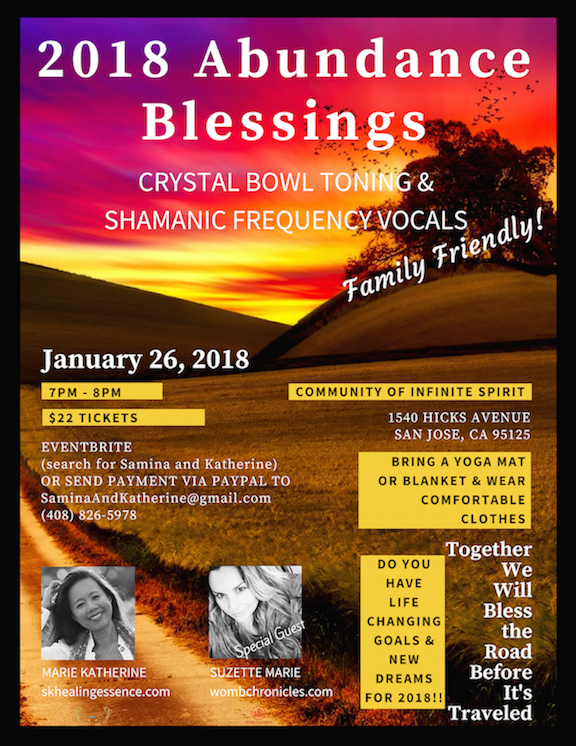 HAPPY NEW YEAR! Welcoming 2018 with the special tones of the Crystal Singing Bowls and Shamanic Frequency Vocal/Drumming Channeling.
Come join us to celebrate the new year with Healing Intentions at The Community of Infinite Spirit in Willow Glen
Our Performers:
Marie Katherine - http://www.skhealingessence.com/
Suzette Marie - http://www.wombchronicles.com/
Event Time: 7:00 PM PST
Our Programme:
A Brief description of the Quartz Crystal Singing Bowls
Marie Katherine - Crystal Singing Bowls 
Suzette Marie - Shamanic Frequency Vocal/Drumming Channeling
Programme Conclusion with Special Blessings:
Transmission of Grace by The Oneness Blessings / Deeksha Givers
When & Where

Community of Infinite Spirit
1540 Hicks Avenue
San Jose, CA 95125


Friday, January 26, 2018 from 7:00 PM to 8:30 PM (PST)
Add to my calendar
Organizer
Press Release -
Samina and Katherine's Healing Essence Celebrates Remarkable Feedback From Clients for Empowering and Inspiring Spiritual Services
California-based Spiritual Medium, Psychic, Channel, Intuitive Healer, a Student of very diverse spiritual disciplines and a vetted member of Best American Psychics Marie Katherine has built a remarkable reputation for bringing insight, wisdom and healing energy to her growing list of clients, students and admirers. She recently celebrated the success her Samina and Katherine's Healing Essence business has been receiving, largely built off their enthusiastic feedback.
April 7, 2017
It's quite understandable that many people have a certain amount of skepticism when it comes to matters, and businesses, that deal with the unseen world. That is until they experience the "real thing" first hand. By all accounts California's Marie Katherine, of Samina and Katherine's Healing Essence is a very special kind of person who delivers just that kind of eye and soul opening, potentially life changing (for the better) experience. Well respected as a leading Spirit Medium, Channel, Reiki Master Teacher and Oneness Blessing Giver, Katherine recently celebrated the passionate reviews her work has been receiving, not just in California, but thanks to technology from all across the nation and even worldwide.
"It's a true blessing to be able to use my gifts and talents to help people live happier more fulfilling lives," commented the spiritual visionary. "I'm very grateful for the honest reviews and feedback which allows me to help even more people in so many different and exciting ways."
According to Samina and Katherine's Healing Essence, some of the highlights of the services offered include: stress reducing Energy Healing workshops and sessions, which are offered both at their center, or for larger group classes on location; a monthly group meditation circle, aimed at both personal development, health and world peace; an On-Line Store PurePoetryCollection which carries her private label of Artisan HydroSoul Tonic;s, Therapeutic Eye Pillows, Scented Candles that can enhance both health and spiritual progress; and quite frequent Group Readings which have had a very positive effect on building a more tight knit spiritual community in her own local Campbell, California local community.
Not surprisingly, sincere praise for Katherine's work continues to pour in.
Terence R., from California, recently said in a five star review, "This woman is the real thing and spot on with her visions. Katherine has such great positive energy around her that reflects warmth and kindness. I have seen her twice and she is extremely accurate. She is absolutely the real deal! I will continuously have her on my advisory counsel for life. I will recommend her to my mom and family. All I can say is thank you thank you for all your vision which is providing me guidance to my happiness."
For more information be sure to visit http://www.skhealingessence.com.