Description
Join Workforce Solutions Alamo and Education Service Center - Region 20 for the 2017 Youth CareerCON Expo!
This event will take place during Careers in Texas Industries Week - a Texas Workforce Commission initiative designed to raise awareness about in-demand industries in Texas. CareerCON will offer high school students from school districts across Workforce Solutions Alamo's 13-county region the opportunity to participate in meaningful career exploration activities and engage with local employers and training providers to expand their knowledge and understanding of career pathways.
This highly-curated conference style career exploration event will encourage the 12th grade attendees to explore careers in growing Texas Industry Clusters and help them better understand in-demand industries through networking with professionals and training providers. Participating exhibitors will have the opportunity to interact with as many as 500 HS Seniors at the event.
How Can My Company/Organization Participate?
Exhibits and Sponsorships
Workforce Solutions Alamo is seeking 30 exhibitors from the region's best companies and 10 exhibitors from the higher education community to participate in CareerCON! Expo booths for employers and businesses are available at no cost. Expo booths for training providers and institutions of higher learning are available for a cost of $150.00 per booth to pay for student lunches at the event.
Are you in Advanced Manufacturing, Healthcare, IT, or Business & Finance? Would you be interested in hosting a booth at the event? CareerCON is a great opportunity for businesses to connect with their future workforce and encourage students to acquire the skills they need to be successful in the workplace. CareerCON also presents an opportunity for training providers and institutions of higher learning to engage with students about their educational opportunities post-graduation.
To participate as an exhibitor or for sponsorship information please click on the "Tickets" link at right. For additional information, contact Leah Campbell at lcampbell1@wsalamo.org or 210-510-4685.
Your Investment in Our Future
Sponsors like you play a vital role in making the 2017 Youth CareerCON Expo a tremendous success. Your investment will contribute to the efforts of Workforce Solutions Alamo on a year-round basis, in addition to shaping the future workforce of the Alamo Region. Workforce Solutions Alamo is a 501(c)(3) non-profit corporation.
How Your Investment Helps Local Youth
Your contribution will help pay for the following expenses:

Student lunches and snacks on the day of the event

A monetary award for educational expenses, to be awarded to a graduating high school senior(s) on the day of the event. Award will be paid directly to an institution of higher learning of the awardee's choice.
What's In It For you?
Your company name and logo will be posted on the WSA website

You will provide support for students as they explore different career pathways


Got questions about CareerCON?
Please contact Leah Campbell at lcampbell1@wsalamo.org



Got questions about Workforce Solutions Alamo?
Please contact Lydia Elder at lelder@wsalamo.org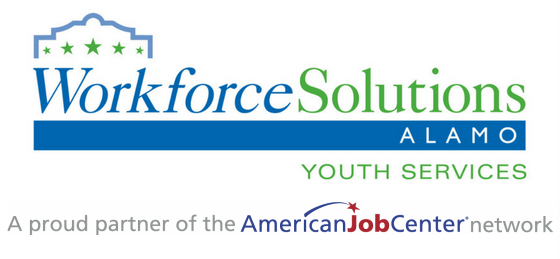 This work is licensed under Creative Commons Attribution 4.0 (CCBY) license (https://creativecommons.org/licenses/by/4.0/ and https://creativecommons.org/licenses/by/4.0/legalcode). The Youth CareerCON event is fully funded in 2017 by federal funds (U.S. Department of Labor, $56,620 or 76% of total funding and by the U.S. Department of Health & Human Services – Administration for Children and Families, $17,857 or 24% of the total funding). AN EQUAL OPPORTUNITY EMPLOYER / PROGRAM Auxiliary aids and services are available upon request to individuals with disabilities Relay Texas: 1-800-735-2989 (TTY); 1-800-735-2988 (Voice); 1-800-622-4954 (Español).