Description
Ken and Christine Putnam host a fun afternoon of paddling during the 2017 YADKIN RIVERKEEPER TOUR with WFDD-FM Radio celebrities and fans (7 mi); then, settle into an evening of music by the always sublime, Martha Bassett. Everyone is encouraged to bring a potluck dish to share. During the evening there will be free beer, wine, and food. The TOUR raises money for Yadkin Riverkeeper, allowing us to run education programs, conduct research and champion legislation that protects our waters. Sign up for paddles; then, collect pledges of $100 or more for a chance to win fun prizes* at every paddle on TOUR.

All paddlers must register.
Paddlers with their own boats are charged a $35 fee per person per day to cover insurance, shuttle, processing fees and entry to post-paddle events. If you have paid your Yadkin Riverkeeper Membership Fee ($25), the fee to paddle is $28.
Don't have a canoe or kayak? Yadkin Riverkeeper has negotiated preferred rates for kayak rental (holds one person, $37 per day) or canoe rental (holds two people, $49 per day). Rental charges are in addition to your entry fee.

IMPORTANT FOR REGISTERED PADDLERS:
Registered paddlers meet at 3PM at the Putnam house, 4169 Scott Rd, East Bend, NC 27018.
Music starts at 6PM. No registration fee is required to join the music and potluck after the paddle, but donations are encouraged. Don't forget to bring a dish to share!
Note: Personal Flotation Devices (PFD's) are REQUIRED for all paddlers. PFD's are included in your kayak or canoe rental; however, if you are supplying your own boat, please bring a PFD. All paddlers are required to sign a waiver; if you have a minor child, the waiver must be signed by a parent or guardian.
Questions: Contact Katie Wilder, 336-722-4949, info@yadkinriverkeeper.org.
Disclaimer: All Yadkin Riverkeeper Paddle Trips are subject to change. Times and availability are flexible due to weather, flood gauges, and other circumstances beyond our control. Please allow extra time based on river conditions. All ending times are estimates. Yadkin Riverkeeper Paddles are alcohol-free. Please keep in mind that paddle trips average 3 miles per hour once on the water.
THANK YOU TO OUR SPONSORS WHO MAKE THE YADKIN RIVERKEEPER TOUR POSSIBLE.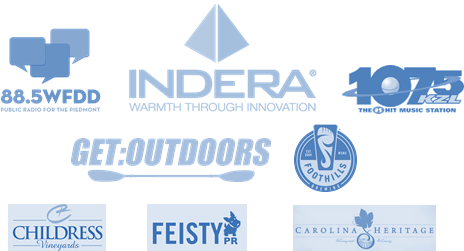 * More than $100 must be raised per paddle (not cumulative over multiple paddles) to qualify to win prizes.