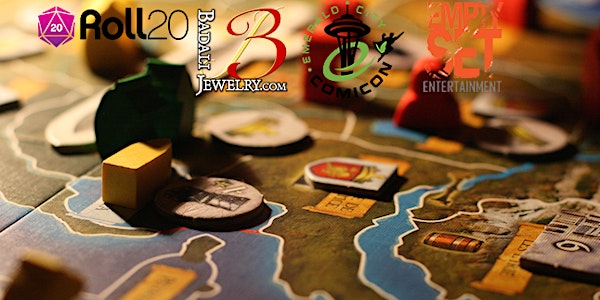 2017 Worldbuilders Charity Party at Emerald City Comic Con (ECCC)
Location
Room 3A & 3B (Third Floor WSCC)
Washington State Convention Center
705 Pike St, Seattle, WA 98101
Seattle, WA
Description
ABOUT THE EVENT
Join creators from across fantasy and science fiction in a night of celebration and gaming!
Play games with fantasy/SF authors, game designers, and artists.
Buffet dinner, with drinks available for purchase at the bar.
Receive a swag bag with the latest novels from Del Rey and DAW books.
Access to an amazing selection of geeky gifts up for silent auction.
GUESTS & GAMES
Please note games and guests are subject to change.
Cat Rambo (Dungeons & Dragons), SF and fantasy writer and editor, former co-editor of Fantasy Magazine
Chris Perkins (Dungeons & Dragons), principal story designer for Dungeons & Dragons, DM of Acquisitions Inc.
Django Wexler (Lords of Waterdeep), author of the Shadow Campaigns novels
Holly Conrad (Dungeons & Dragons), cosplayer, streamer, & YouTuber
James Wyatt (Dungeons & Dragons + Magic the Gathering), novelist and writer for Dungeons & Dragons and Magic the Gathering
Jason M. Hough (The Resistance), author of The Dire Earth cycle
Jeremy Crawford (Dungeons & Dragons), fifth edition D&D lead designer
Jessica Merizan (Betrayal at House on the Hill), streamer of Geek & Sundry and new media producer at Microsoft
Kate Welch (Secret Hitler), YouTuber (SheGeekShow) and on Guild Wars 2.
Katie Cook (Ticket to Ride), comic artist and writer of the My Little Pony: Friendship is Magic and webcomic, Gronk.
Kelly Sue DeConnick (Gloom), comic book writer and editor, currently Pretty Deadly and Bitch Planet
Kevin Hearne (Dixit), author of The Iron Druid Chronicles and Heir to the Jedi.
Kristina Horner (Concept), cosplayer, aspiring author, YouTuber, and community manager
Matt Fraction (Gloom), Eisner Award-winning comic book writer, known for The Invincible Iron Man, The Immortal Iron Fist
Monte Cook (Flash Point), designer on Dungeons & Dragons and creator of Numenera
Nika Harper (Funemployment), Nika Harper, writer and vlogger
Robin Hobb (Code Names), NYTimes bestselling author, known for the Realm of the Elderlings.
Rodney Thompson (Dusk City Outlaws), game designer for D&D and Destiny
Sam Sykes (King of Tokyo), fantasy writer best known for the Aeons' Gate series.
Scott Sigler (Dungeons & Dragons), New York Times best-selling author of Infected.
Seanan McGuire (Munchkin), author of the October Daye urban fantasies
Terry Brooks (Scattergories), author of the Shannara Chronicles
Timothy Zahn (Apples to Apples), author of Star Wars Thrawn trilogy and other SF novels
Todd Lockwood (Cards Against Humanity), fantasy artist and author of The Summer Dragon

SPONSORS
We're grateful for the support of these sponsors, who have donated product and funds to the event. Contact worldbuildersparty@gmail.com for details.
Platinum
Emerald City Comic Con / ReedPOP
Roll20.net
Badali Jewelry
Empty Set Entertainment

Gold
Card Kingom/ENGAGE
DAW Books
Del Rey Publishing

Silver
Bungie
Cards Against Humanity
Gen Con
Geeky Hostess
Penny-Arcade
Monte Cook Games
Punished Props
FAQs
Where does the price of my ticket go?
Profits from the event go toward supporting Worldbuilders, which helps to fund Heifer International.
Is my ticket price tax deductible?
A portion of the ticket price is tax deductible. We'll email with details on how much after the event.
Why is it more expensive this year?
We have less space this year and are offering dinner (instead of just appetizers), hence the price increase.
What is Worldbuilders/Heifer International?
Worldbuilders is a non-profit organization started by fantasy author Patrick Rothfuss to support Heifer International, whose mission is to empower families to turn hunger and poverty into hope and prosperity. Heifer links communities and helps brings sustainable agriculture and commerce to areas with a long history of poverty. Its animals provide partners with both food and reliable income, as agricultural products such as milk, eggs and honey can be traded or sold at market.
Are there ID requirements or an age limit to enter the event?
No
Do I need an Emerald City Comic Con pass to attend?
No, entry onto the second floor of the convention center isn't restricted, so you can attend without a pass.
What are my transport/parking options getting to the event?
The Washington State Convention Center has a parking garage. If you arrive earlier in the day, it's likely to be full. Across from the convention center is the Hyatt Hotel, which also has an affordable parking garage.
Can I bring a game to the event?
Games are being supplied by ENGAGE, Card Kingdom's charitable program.
Can I take a photo or get the signature of _______?
You can ask the guests of honor for signatures and photos, but please be respectful of their time and activities. For example, if they're in the middle of a game, please don't interrupt the game.
Where can I contact the organizer with any questions?
Contact us at worldbuildersparty@gmail.com.