Description
Join MountainTrue for the 2017 Wild & Scenic Film Festival, featuring the year's best short-form nature, wilderness and outdoor adventure films.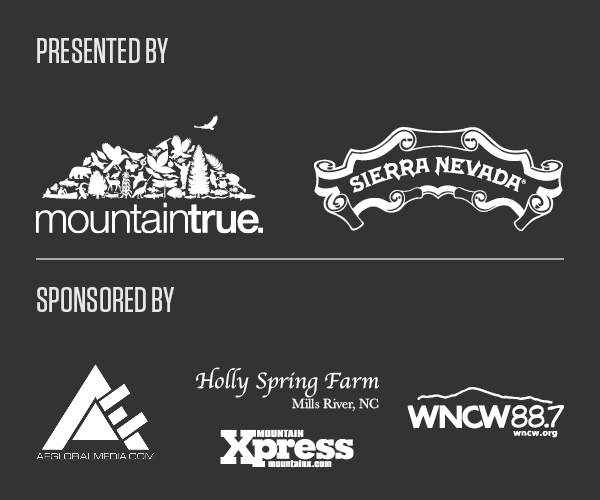 This year's festival returns to the beautiful grounds of Sierra Nevada's Mills River Brewery under the open sky of their outdoor amphitheater located on the banks of the French Broad River. Our Wild & Scenic festival is a selection of films from the annual festival held in Nevada City, CA which is now in its 15th year. The festival focuses on films which speak to the environmental concerns and celebrations of our planet.
The 2017 Wild & Scenic Film Festival is presented by MountainTrue and Sierra Nevada and sponsored by AE Global Media, Holly Spring Farm, Mountain Xpress and WNCW 88.7.

Fill out the information for each attendee. Each unique name will be entered once in our door prize drawing.
General Admission ticket holders: The event begins at 7:00 p.m. and the show starts at 8 p.m. Get there early to grab a drink, explore the gardens and snag a prime viewing spot!
VIP ticket holders are invited to take part in a special sustainability tour of Sierra Nevada's Mills River Brewery - the first production brewery in the US to be LEED® certified, Platinum. After the tour, VIP attendees will enjoy Sierra Nevada's award-winning beer and food at an exclusive reception on the balcony of the High Gravity reception hall, a prime viewing area for the evening's films. VIP event kicks off at 5 p.m.

From Sierra Nevada on their VIP sustainability tour: "Our brew kettles, now copper-clad and striking, are a far cry from our original repurposed dairy tanks. The whole-cone hops we use for beer's aroma and flavor, today shipped to us in 200-pound bales, our founder Ken Grossman originally got in one-pound chunks. You'll peer into those kettles, smell those hops, and get even more hands-on as you navigate the entire beer-making process. (Ever tried wort? Think of it as pre-beer.) If you're over 21 years old, we'll lead you through an educational tasting of Sierra Nevada beers right next to our open fermenters."

Parking:
Parking will be available at the auxiliary lot below the entrance to the property, which will be clearly marked with signs. Shuttles will be available to deliver filmgoers to the venue, but we strongly encourage you to arrive early so as to allow time to park and catch a shuttle up to the brewery.
All ticket sales are final and nonrefundable. Rain date if event has to be postponed due to weather is Thursday May 11, 2017.
Children under 10 years of age get in free.
Dogs and pets are not allowed at the Wild & Scenic Festival.