2017 Weeks Bay Foundation Pelican Paddle Canoe and Kayak Race

Saturday, August 5, 2017 from 7:30 AM to 12:00 PM (CDT)
Event Details
We are going to go for it!
The forecast shows a break in the weather later in the morning.  We will open registration at 7:30 as scheduled but will consider delaying the start if necessary.
See you tomorrow!
The fifth annual Pelican Paddle Canoe and Kayak Race will be held on Saturday, August 5th at 7:30 am at the Tonsmeire Weeks Bay Resource Center. It is sure to be a great day on the water. Participants receive lunch, water/soft drinks, and a ticket to enter our drawing for the chance to win a kayak and other door prizes. Advance registrants are guaranteed to receive a 2017 Pelican Paddle t-shirt. Day-of registrants will receive shirts as available.
Advance registration will end at 4 pm on Friday, August 4th. Day-of registration will be from 7:30 to 8:45. Even if you register now, be sure to arrive at the Resource Center between 7:30 and 8:45 on race day to check in, pick up your race bib, and grab a t-shirt.
Advance Registration: $30/paddler, $70/family
Day-of Registration: $35/paddler, $85/family
*Family = Up to two adults and up to four minors under 18*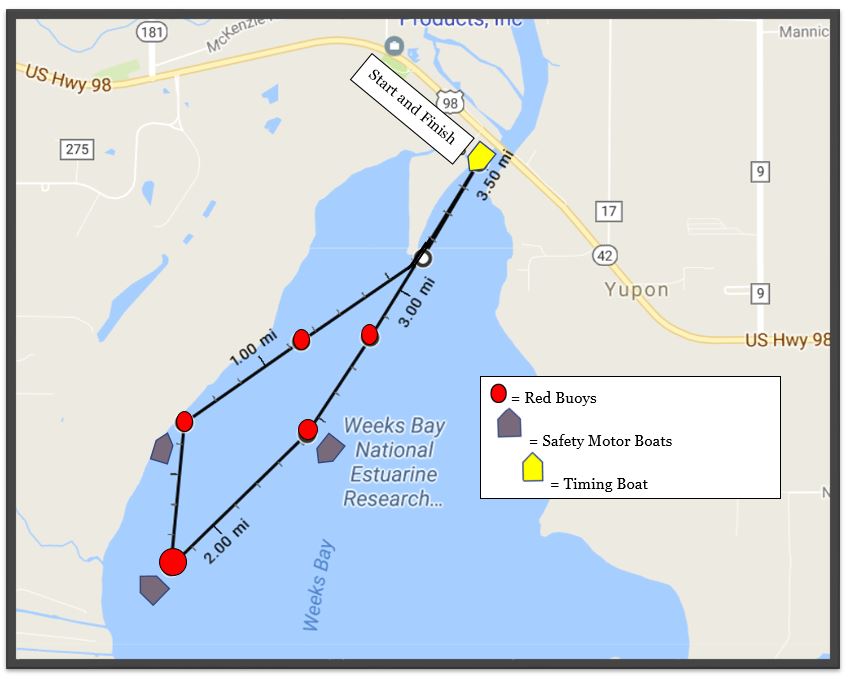 The race course is 3.5 miles and we will crown 1st, 2nd, and 3rd place winners in the following groups:
-Men's Solo Kayak
-Women's Solo Kayak
-Junior Solo Kayak (Age 13 and under)
-Tandem Craft (2 paddlers in either a canoe or kayak)
-Stand Up Paddle Board
-Non-Traditional (Any type of non-motorized boats not in the other divisions, including solo canoes and pedal kayaks, excluding sailboats)
-Pro Solo Kayak (A 7.0 mile race made up of two loops of the course, any age and  gender)
Eco-tour: If you're not interested in racing, but would like to be on the water, there will be a non-competitive Eco-tour paddle of the Weeks Bay area. 
Loaner Gear: If you would like to participate in the race or the Eco-tour but do not have your own paddling gear (PFD, Paddle, Kayak or Canoe) we may be able to help. The Fairhope Boat Company and 17 Turtles OUtfitters have generously donated a limited number of canoes and kayaks, with paddles and PFDs, for the day of the race. They are available free of charge on a first-come, first-served basis. If you are interested in borrowing gear, please call the Weeks Bay Foundation at 251-990-5004 to reserve your boat. Please do this BEFORE you register to ensure that we still have boats available. 
PFDs (Lifejackets) are mandatory for all paddlers in both the race divisions and the Eco-Tour. 

Waiver: All participants will be required to sign a waiver at check-in.
You may also register by printing this form and mailing or taking it to the Weeks Bay Foundation office:
Waiver:
In consideration for allowing my or my child's participation in the Pelican Paddle Canoe and Kayak Race and other valuable consideration, I hereby RELEASE, WAIVE, AND DISCHARGE the Weeks Bay National Estuarine Research Reserve and the Weeks Bay Foundation, Inc., and its officials, directors, agents, servants, employees, volunteers or contractors, in both their official and individual capacities, from and against any and all claims, damages, losses, actions, causes of actions, or expenses of any nature whatsoever, including but not limited to compensatory damages, punitive damages, damages for any injury to me, my child or my property (tangible or intangible), monetary relief, compensatory relief, declaratory relief, injunctive relief or any other form of relief or attorney fees, costs or expenses, caused by or arising out of, resulting from, or in any way related to the heretofore mentioned race, WHETHER CAUSED BY THE NEGLIGENCE OF THE RELEASEES, or otherwise, while participating in such activity, or while in, on or upon the premises where the activity is being conducted or in transportation to and from said premises.
Participant signature: _______________________________  Print participant name: _______________________________
If under 18, parent's signature: ___________________________  Print parent's name_______________________________
Date: _________________________________
When & Where

Weeks Bay Reserve Tonsmeire Resource Center

Fairhope, AL 36532


Saturday, August 5, 2017 from 7:30 AM to 12:00 PM (CDT)
Add to my calendar
Organizer
The Weeks Bay Foundation is a non-profit organization and nationally-accredited land trust. Our mission it to protect land and promote environmental education in south Alabama so current and future residents can enjoy clean water and the seafood, wildlife, and outdoor recreation that define our area.