Description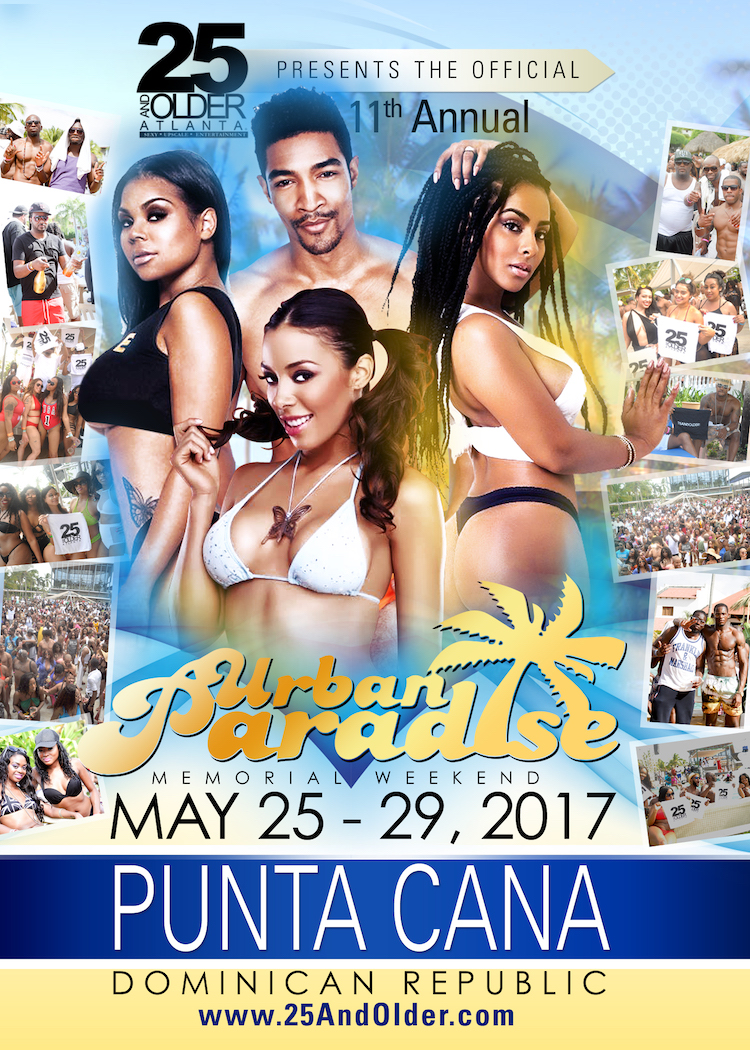 25AndOlder Ent. AJ Productions Present…
11TH ANNUAL
2017 URBAN PARADISE WEEKEND
PUNTA CANA, DOMINICAN REPUBLIC
(MEMORIAL DAY MAY 25TH – MAY 29TH 2017)
HOST RESORT:
5-STAR BARCELO PALACE DELUXE
URBAN PARADISE 2016 WORLD PREMIERE RAW & UNCUT Click Image)
BARCELO PALACE DELUXE
JR SUITES W/ JACUZZI
Single – $250 PER NIGHT PER PERSON
Double – $160 PER NIGHT PER PERSON
Triple – $150 PER NIGHT PER PERSON
Quad - $140 PER NIGHT PER PERSON
OCEAN FRONT "CLUB PREMIUM"
SINGLE - $320 PER NIGHT PER PERSON
DOUBLE - $225 PER NIGHT PER PERSON
TRIPLE - $200 PER NIGHT PER PERSON
QUAD - $175 PER NIGHT PER PERSON
BARCELO ADULT ONLY
Single – $210 PER NIGHT PER PERSON
Double – $145 PER NIGHT PER PERSON
Triple – $135 PER NIGHT PER PERSON
Quad - $125 PER NIGHT PER PERSON
NOTE:
-Round-trip transfers from the airport are $35 per person and ARE NOT included in the room nor party pass pricing.
-We DO NOT sell ROOM ONLY Packages. All Room Sales Come With Party Package.
$100 Deposit PER PERSON IN GROUP IS REQUIRED WHEN REGISTERING.

(Monthly payments depend on the choice of room, occupancy, number of days trip is booked).
PARTY PASS:
1: STANDARD PARTY PASS $400
(INCLUDES GROUND TRANSPORTATION UPON ARRIVAL & DEPARTURE, TRANSFERS TO AND FROM PARTY & FREE ENTRY INTO ALL PARTIES AND POOL PARTIES).
*Also note that we do not sell room only packages. Although the pricing is listed separately, all room purchases will a have party pass per person in the room, added to the total cost.
EXCURSIONS:
FRIDAY MAY 26TH 2017
DUNE BUGGIES, ZIPLINE OR BOOZE CRUISE
$100 EACH
PARTY LINE-UP (SUBJECT TO CHANGE).
Wednesday, May 24th: Meet-N-Greet Party KICKOFF PARTY
Thursday Party, May 25th, Welcome Pool Party WELCOME TO D.R.
Friday Day Party, May 26th, Ciroc Booze Cruise GROWN, FLY & SEXY
or
TAKE YOUR PICK EXCURSIONS
Dune Buggies, Zip Line or Booze Cruise
$100
Saturday Day Party May 27th: 11th Annual Splash Bash & Foam Party NBA/NFL BLACK AFFAIR
Sunday May 28th, ALL WHITE POOL PARTY
Monday Memorial Day Party May 29th,
TAKE YOUR PICK EXCURSIONS
Dune Buggies, Zip Line or Booze Cruise
$100
Monday May 29th, The Grand Finale
All event cover charge betwen $60-100 at the door
"THERE IS A $100 NON-REFUNDABLE DEPOSIT PER PERSON IN THE TRAVELING GROUP

www.25ANDOLDER.com
25ANDOLDERATL@GMAIL.COM
FACEBOOK: 25ANDOLDER ATL
IG: 25ANDOLDERUSA
770-629-7750