Description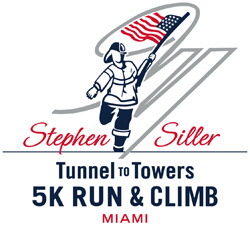 What is a Tunnel to Towers 5K Run & Walk?
The Tunnel to Towers 5K Run & Walk Series was created to honor the heroic life and death of Stephen Siller, a New York City firefighter (FDNY) who lost his life on September 11, 2001 after strapping on his gear and running through the Brooklyn Battery Tunnel to the Twin Towers. Honor all of those who lost their lives on September 11, 2001 and support our first responders and military who make extraordinary sacrifices in the line of duty! For more information on the Stephen Siller Tunnel to Towers Foundation please visit www.tunnel2towers.org
How many floors is this climb event?
This climb is being held at New World Towers which is 30 floors high.
WHEN
Saturday, September 16, 2017
Due to Hurricane Irma this is a climb only which will begin at 9 am and end at 12 noon
United Badges of Honor Expo opens at 12:00pm in Bayfront Park
Do I have to run AND climb?
Due to Hurricane Irma, this year's event is a climb only.
Where should participants meet?
Registered participants must be at Bayfront Park before climb start.
Climb will kick off at 9:00 am with a power hour and then waves of climbers will start at 10 am.
Awards Ceremony starting at 12 noon.
What are the entrance fees and is there a fundraising minimum?
Adult participants: $50
Youth participants (13+): $25
12 & under participants: $15
There is no fundraising minimum
Is any portion of my entry fee tax-deductible?
No. The entry fee helps cover the cost of producing the T2T Tower Climb, and includes a participant t-shirt. This is why fundraising is so important! All donations made or raised above and beyond your entry fee are tax-deductible to the fullest extent allowed by law.
Can I get a timing chip?
Timing chip is included with your registration fee.
How long does the climb portion take?
This depends on how many floors you climb, and on your fitness level, speed and amount of time spent at rest areas. Elite Climbers may finish the climb in less than 10 minutes, while the average participant should take about 25-40 minutes to finish.
Is this a timed climb?
Yes. Make sure your bib is pinned in all four corners so the timing chip stays flat. Your finishing time will represent your run + climb combined and will be taken at the top floor. You will not be timed for the climb alone. If you are a runner/walker, your time will be taken at the finish line at the Park.
Can climbers stop on a landing to catch their breath?
Yes, but be aware that other participants are behind you, so please try to stay out of their way. Slower climbers should move to the right, allowing faster climbers to pass on the left.
I might get tired and be unable to finish, what should I do?
No problem, just find a volunteer or staff member who can escort you to the nearest rest area and direct you to an elevator.
I'm a first responder; can I wear my bunker/turnout gear, scott packs, etc.?
Yes, you may wear turnout gear.
Can I bring my cell phone?
Yes, cell phones will be permitted in the stairwell. Please do not bring any bags, backpacks, fanny packs or purses in the stairwell during your climb.
When can I pick up my registration packet (bib and t-shirt)?
Packet pick up is the same as for the run/walk portion of this event as noted above
Can I climb in my bunker/turnout gear, scott packs, etc.?
Yes, First Responders Only.
Is there a minimum age to participate?
Yes, participants in the T2T Tower Climb portion must be at least 13 years old on event day.
Where can race results be found?
TBA
Where can I pick-up my packet?
FIT2RUN
Dolphin Mall, 11401 NW 12 ST. Miami FL. 33172 Unit # 324
Packet Pick up will be between the hours of 2 pm - 7 pm on;
Thursday, November 30th and Friday, December 1, 2017.
Will there be parking?
TBA
Will rooms be blocked off for participant's traveling in?
TBA
I'm a first responder/military personnel: Can I wear my bunker/turnout gear, uniform, SCBA (Self-Contained Breathing Apparatus), etc.?
Yes. We encourage you to wear your bunker/turnout gear or uniform.
Can I register the day of the run?
Yes. Registration will be open from 8 am - 9 am.
When is the deadline for On-line registration?
Online Registration will close at midnight on Thursday November 30th.
What is the Expo and what time does it open?
The United Badges of Honor Expo is a static display showcasing a diverese representation and thier capabilities from different first responding departments and agencies that serve the Miami Dade County Community and its Unincorporated Cities. The expo will open at 12:00pm in Bayfront Park. Enjoy a day at the park with demonstrations, apparatus showcase, children activities, music and food. Bring your family and friends for the opportunity to meet and greet Miami's very own United Badges of Honor as we honor every men and women in uniform that continue to sacrifice life and limb while serving and protecting our nation and community.
_______________________________________________________________
Do I have to be registered in the 5K portion in order to attend the Expo and participate?
No.
What about youth registration under the age of 18?
Youth constitutes ages 13-17, with a less expensive registration fee of $25 which includes a timing chip and a shirt.
Children 12 and under registration is $15 which includes a timing chip and a shirt. Infants, toddlers and young children may participate with parents at no cost and do not need to be registered, but will not recieve a shirt or chip timing.
Is there transportation to and from the event?
No, we do not provide transportation to and from the event; however shuttle buses will be available to transport participants to the start line.
Do I have to wear my bib number?
Yes, please display your bib on the front of your outermost garment. If you do not have a bib you will not be allowed to climb the stairs. This precaution is for the safety of the participants and to ensure that only Tunnel to Towers affiliated peoples are at this event.
I am an elite climber. Can I get a front line position?
Yes we will be placing fastest climbers at the beginning. Keep in mind we are also doing a power hour which will begin at 9 am and end at 10 am. If you are a fast climber we reccomend you placing yourself in the front starting at 9 am.
Will water be available?
Yes, water will be available on various floors of the climb.
What can you bring to the event?
Please keep personal items to a minimum. We will not have anywhere to store your items during the climb and bags, backpacks will not be allowed in the stairs.
If I have a backpack, what do I do with it?
Please leave all personal items and valuables in your vehicle. No backpacks, fanny packs or camel packs will be allowed at the race to go inside the tunnel at the Port of Miami. All items should be stored securely at the owner's risk. The Tunnel to Towers Foundation will not be responsible for the loss of any items.
Is there a bag check?
No
Does my registration fee count towards my fundraising goal?
Your registration fee does not count toward the fundraising goal on crowdrise.com.
Can someone else pick up my packet for me?
Yes, they can. They must present a copy of your registration receipt. And don't forget to thank them!
Can I still donate to a team and/or individual after the start of the climb?
Yes. Donations will be accepted for 6 weeks after the event.
How can my company/organization sponsor this event?
Please send all sponsorship/matching gift correspondence to miami@tunnel2towers.org with your contact information and someone will be in touch with you within 24 hours.
I would like to donate goods or services to this event. How do I do that?
You can contact us at miami@tunnel2towers.org. We make every effort to keep costs down to allow us to give the most to the Tunnel to Towers Foundation in Stephen Siller's name. Your generosity will be greatly appreciated.
As a participant, can I fundraise/encourage others to donate?
Yes! Once you are registered, you will be given directions to start your own fundraising page and you will be able to accept donations online. Donations will be accepted on the day of the event as well through the use of Square for credit/debit cards; please bring a check if you were considering bringing cash. Thank you!!
FUNDRAISING:
Does my registration fee count towards my fundraising goal?
Registration fees help offset some of the expenses associated with making the Tunnel to Towers 5K Run & Walk one of the country's greatest annual events, however your fundraising efforts enable us to continue to make a difference in the lives of so many in need.
To show our appreciation for your time, passion, and effort, we recognize each fundraising milestone that is reached with prizes branded with the Tunnel to Towers logo.
What are the fundraising levels & prizes?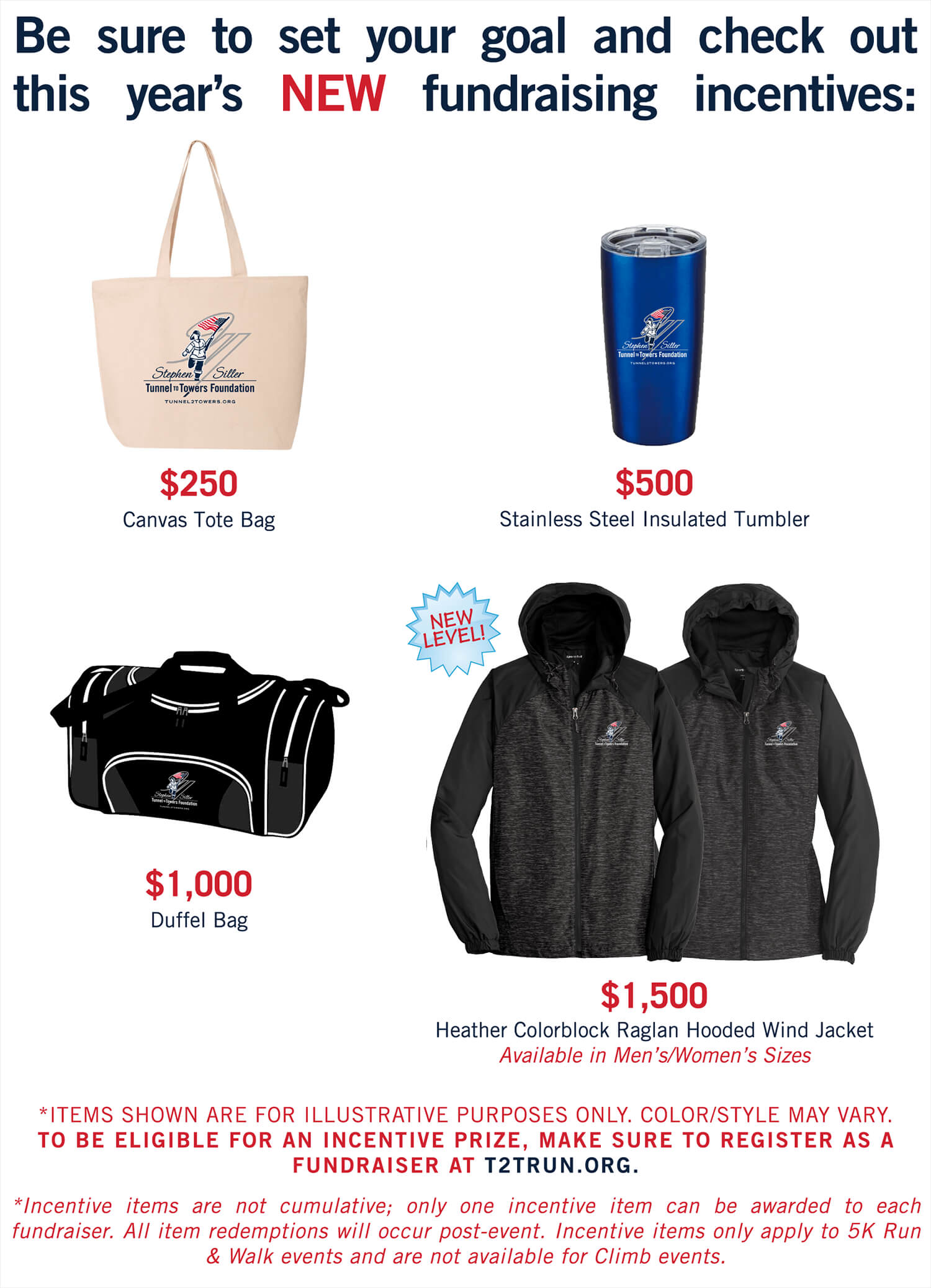 How long do I have to fundraise for incentives?
Funds will be counted up until midnight September 24th, the NYC 5K.

When will my fundraising incentive arrive?
Look for an email from us in October to confirm your fundraising prize. Prizes will be shipped out around November.
Can I get a refund? Can I transfer my registration?
Unfortunately, ALL SALES ARE FINAL and we do not allow refunds. However, you may transfer your registration to another participant. For instructions on how to transfer your registration please contact Miami@tunnel2towers.org.
How can I volunteer?
You can sign up to volunteer on the Tunnel to Towers Miami website or by emailing your request to: miami@tunnel2towers.org
When is the deadline to register for the T2T Miami event?
Online registration will close at midnight on Monday, September 11, 2017. You may register in person on either dates of the packet pick-up or on the day of the event Saturday September 16, 2017 from 12:00pm- 4:30pm Bayfront Park. (Look for the registration tent near the center fountain at the promenade).
How do we register our company team if paying by check?
We will provide the Team Captain with a code that he or she will need to provide to each team member, who will then enter it when registering online. No credit card information will be required. Please note that codes cannot be issued until payment is received, so you will need to confirm the number of team members in advance. We appreciate the extra effort and planning this requires.
Please contact Miami@tunnel2towers.org if you plan to pay by company check.
Is there a fundraising minimum?
No, but we highly encourage you to fundraise beyond your entrance fee

Can I still fundraise beyond the deadline for the minimum fundraising requirement?
YES! Fundraising pages will remain open for two weeks post event.
The mission of the Stephen Siller Tunnel to Towers Foundation is to honor the sacrifice of firefighter Stephen Siller, who laid down his life to save others on September 11, 2001. We also honor our military and first responders who continue to make the supreme sacrifice of life and limb for our country.
To learn more about the Stephen Siller Tunnel to Towers Foundation and our programs, including our Building for America's Bravest and Legacy of Love programs, please visit www.tunnel2towers.org
For questions, inquiries, volunteer or sponsorship information please email: miami@tunnel2towers.org