Description
Prejduging: Doors open at 8:30am, Show starts at 9:00am
Finals: Doors open at 5:00pm, Pre-Show Entertainment starts at 6:00, NPC Finals start at 6:30pm
NPC Bodybuilding, Physique, Classic Physique, Fitness, Figure & Bikini Contest
Team Universe Qualifier
100% Drug Tested - 5 Years Drug Free
A 10% discount is available to Retired/Active Duty Military and dependants, as well as groups of either 6 VIP or 10 General Admission tickets purchased in one tranasction. In order to receive your discount please email blythe@shredderbuilt.com or call (512) 539-9598.
Refunds for discounts will not be offered retroactively.
*Please note that we are not offering a General Admission Day Pass for this event, however, the Finals VIP tickets do include FREE general admission to Prejudging.*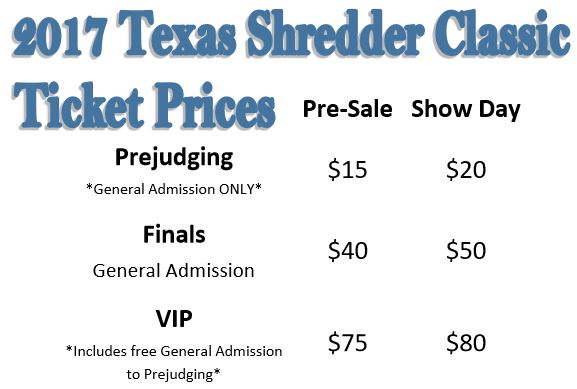 Will I be able to use my credit card to buy tickets at the door?
Yes, we will accept cash and credit cards at the door; however prices do go up the day of the show so pre-ordering your tickets will be cheaper and guarantee your seat. We are expecting a very big turnout and do expect to sell out.
If needed, could I get a refund for my tickets?
We are sorry but there are absolutely no refunds for tickets.
Can I upgrade my tickets?
Yes, depending on availability. Please contact blythe@shredderbuilt.com for assistance
Are children's tickets free/discounted?
Our general rule is, if they are 5 years old or younger and will sit in your lap you do not need to purchase a ticket for that child. You will receive a special wristband for the child designating this. Seating is limited at the venue, for this reason everyone sitting in a seat must purchase a full price ticket.
As an athlete do I get any free tickets, or do I have to buy a ticket to watch the show when I am not on stage?
There are no tickets included with your registration. You may enjoy the show from any seat in the morning and from the non-reserved seats at the finals. The only time an athlete needs to purchase a ticket is if they want to sit in the reserved seating with their family in the evening while they are not on stage. NO additional tickets are included with your registration.
*In the event that the venue sells out, competitors may be asked to give up their seats for paying spectators*
Absolutely NO food or drinks will be allowed inside the theater! The venue is very strict on this rule. There will be concessions in the lobby.
Can we bring noise makers, signs, banners etc to cheer on the competitors?
Absolutely! The competitors have worked hard for this… make them feel appreciated!
How long will each show last?
Prejudging starts at 9am sharp and will run until about 1:30 pm
Finals start at 6pm sharp and should finish around 10:30 pm
Is there a schedule/order of events for the pre-judging and finals?
TBA
Is it possible to find out what time each division will be on stage?
Unfortunately we are unable to give specific times for when each division will be on stage since we will not know how long each division will take to judge. Your best bet will be to arrive early, all of our competitors have worked hard and would love your support!
Do we have to stay at the venue the whole time?
No, for prejudging once you have gone on stage you are free to go. For the night show you do not have to stay after you have been on stage unless you win your class and are going to be in the posedown to determine the overall champions! The Head Expeditor will hold your trophy if you win your class until after the overall awards are given out. The winners' photo is at the end of the night show. All class winners should be present for the photos. If your class is later in the program we recommend that you stay at the venue until after you go on stage morning or night. The schedule is subject to change & you are responsible for being ready when your division is called.
Are personal cameras allowed at the show?
Cameras are allowed. No professional video cameras unless approved by Dave Goodin in writing by emailing to Shredderbuilt@gmail.com
Can I bring my trainer backstage?
Trainers are only allowed backstage with a NPC membership card, tickets to the show, and backstage pass, which can be purchased for $100 online with your registration or at the drug testing check in. Anyone purchasing a backstage pass must have a NPC card and a ticket to enter the show. BACKSTAGE BADGES MUST BE DISPLAYED AT ALL TIMES! Any person backstage without a backstage pass may be asked to leave the venue permanently and the associated athlete may be disqualified from the competition.
Can I bring my own spray tanning equipment?
NO spray tanning will be allowed on the venue grounds inside or out. Touch ups & Oilers will be provided, courtesy of Shredderbuilt, for your convenience.
Can I use Dream Tan?
NO!! Dream Tan and Pro Tan Quick Bronze are absolutely banned from all Shredderbuilt events. The use of these products will result in immediate disqualification.