Description
NOTE: Tickets will be sold at the venue. 4HR=$45, 3HR=$35 and DD=$25 (no discounts at the door)!

TASTE OF BREWS LONG BEACH CELEBRATES ITS SEVENTH ANNIVERSARY ON AUGUST 19, 2017 AT SPECTACULAR LIGHTHOUSE PARK
What: Taste of Brews celebrates its 7th anniversary as Long Beach's original and authentic craft beer festival on Saturday, August 19, 2017 at Lighthouse Park. The event infuses more than 100 styles of microbrews and hard ciders and SoCal's premier mobile restaurants with an amazing ocean-front venue. This incredible tasting experience is expected to sell-out online and offer limited tickets at the gate so don't wait too long to purchase your package of choice.
Venue: Shoreline Aquatic Park (AKA Lighthouse Park) located at 200 Aquarium Way in Long Beach.
Date: Always held on the third Saturday in August: Saturday, August 19, 2017
Time: Noon to 5pm (alcohol service ends at 4pm)
Who: Taste of Brews' features an amazing mix of craft breweries ranging from popular brands like Bootleggers (Fullerton), Karl Strauss (San Diego), Lagunitas (Petaluma) and Sierra Nevada (Chico) and younger breweries like Transplants (Palmdale), Uinta (Utah), House (Venice), Four Sons (Huntington Beach), Ska Brewing (Colorado) and Zymurgy (Torrance). Long Beach breweries include Ballast Point, Beachwood, Belmont, Congregation and Rock Bottom. Hard ciders featured are 2 Towns (Oregon), Common (Nevada), Golden State (Sebastopol) and Reverend Nats (Oregon).
Food: Gourmet food vendors include Bison Burgers, 3941 Tamales, Brew Wings, Mess Hall Canteen, Pinch of Flavor, the Green Truck and more.
Tickets: Online pricing for the 4-hour session (noon to 4pm) starts at $40 and $30 for the 3-hour session (1pm to 4pm) and includes beer tastes, snack samples (while supplies last), plenty of drinking water and live entertainment. Prices are higher at the door. DD's are available at the door for $25 and must be accompanied be a paying "tasting" customer.

Charity Partners: Proceeds benefit the Long Beach Marine Institute and Make-A-Wish OC & IE, both 501(c)(3) non-profits.
Parking: Available at the Pike Parking structure for an additional fee.
Music: All attendees will be treated to live musical entertainment.
Age: All attendees must be age 21 or above—ID's will be checked. **Unfortunately no babies/strollers/pets allowed in venue. No dogs are allowed in the park with the exception of registered service animals.

Info: Detailed information and tickets are available at tasteofbrews.comor send us an email at brewmaster@tasteofbrews.com. No pets are allowed with the expection of registered service dogs.

Detailed information is available at www.tasteofbrews.com.

*Tickets are non-refundable*
*Unlimited Tastes - although, technically, tastes are unlimited, some of the more popular breweries may run out of beer/cider.
** This event is anticipated to sell-out online.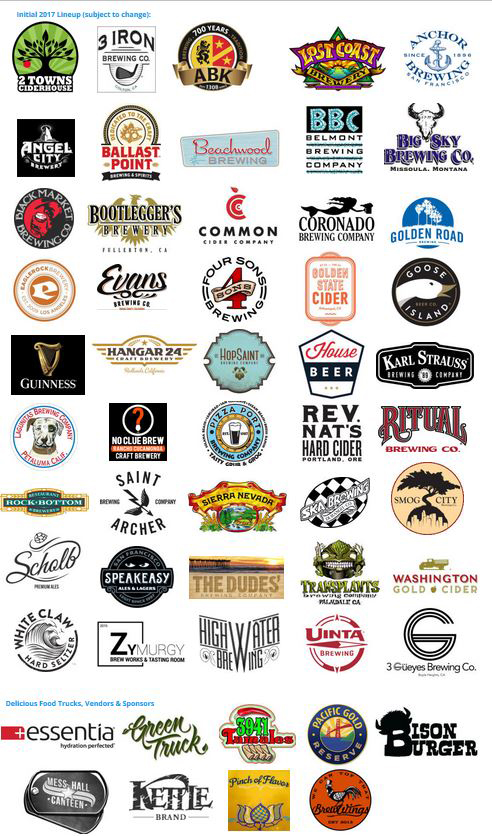 *subject to change
Benefiting:

--
Event Hours:
12pm - 5pm* (beer tasting hours below)

Beer tasting hours:
4-Hour session: 12-4pm
3-Hour session: 1-4pm
--
Please remember to DRINK RESPONSIBLY. We highly encourage our guests to designate a driver in their party and / or take public transportation to and from our events.
--
All Attendees:
This event is a "rain or shine" event – absolutely no refunds
NO pets, strollers or backpacks- documented service animals will be allowed admintance
Absolutely NO ONE under the age of 21 will be admitted- no children
EVERYONE WILL BE REQUIRED TO SHOW PHOTO ID
All attendees must honor our dress code – shirts and shoes must be worn at all times
All attendees must honor our behavior code – no loud or obnoxious behavior OR FIGHTING.
--

Have any questions? Email us at brewmaster@tasteofbrews.com