Description

---
Local Organizer/Contact: Lorena Martin (lorena@powertocode.org)
Enjoy the excitement of the 2017 Grace Hopper Celebration of Women in Computing (GHC) from your own city!
Please join Systers Spain for a GHC viewing party on Wednesday, October 18. We will have live presentations from a selection of local speakers as well as a screening of the GHC Keynote speakers.
We welcome all to hangout, connect with others at a happy hour, and learn more about Anita Borg Institute (ABI), Systers, GHC and what it's like to be an engineer.
Even though you're NOT going to GHC this year, it's a perfect opportunity to network and stay connected to Systers.
PROGRAM
Doors Open: 7:15pm (19:15)
Event Start: 7:30pm (19:30)
Keynote Sessions: 8:00-9:00pm (20:00-21:00)
In Person Presentations: 9:00-10:00pm (21:00-22:00)
Happy Hour: 8:00-10:00pm (20:00-22:00)
SOCIAL MEDIA
Want to tweet about this event? Please use the hashtags @systersspain #MadridSysters
LOGISTICS
Getting to Campus Madrid and Entering the Event Space |

Map
Campus Madrid is located at Calle Moreno Nieto, 2, 28005 Madrid, Spain. When you enter the building, register and check-in with security.

Travel Scholarship
ABI offers up to 150 € reimbursement for attendees in need of travel scholarships. We believe in offering support so that our events are accessible regardless of your financial income. If you're interested in applying for a travel scholarship, please fill out this application. ABI will ensure you are included on a list of attendees who are sent a reimbursement.

Questions?
Feel free to contact maybellinb@anitaborg.org with the subject line: Travel Scholarship Question - Systers Spain.

Registering on Eventbrite is required for attending the event.
---
To learn more about Anita Borg Institute and Systers by visiting the website http://anitaborg.org. We hope to see you there! But if you can't attend, follow the event on Twitter with #MadridSysters.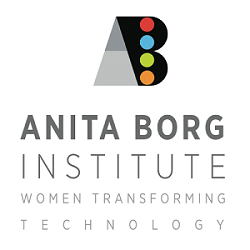 By attending the event, I grant to Anita Borg Institute an unrestricted, sublicensable, assignable, irrevocable, perpetual, worldwide, royalty-free license to my image, persona, and likeness, in any visual recordings (including, but not limited to, photographs and digital images) taken or to be taken of me by or on behalf of Anita Borg Institute during the event. This license includes the right to reproduce, store, modify, create derivative works of, and otherwise use the content in whole or part, in any manner for marketing and promotional activities. I will neither sue nor bring any proceeding against Anita Borg Institute for defamation, copyright infringement, and invasion of the rights to privacy, publicity or personality based on this license.