Description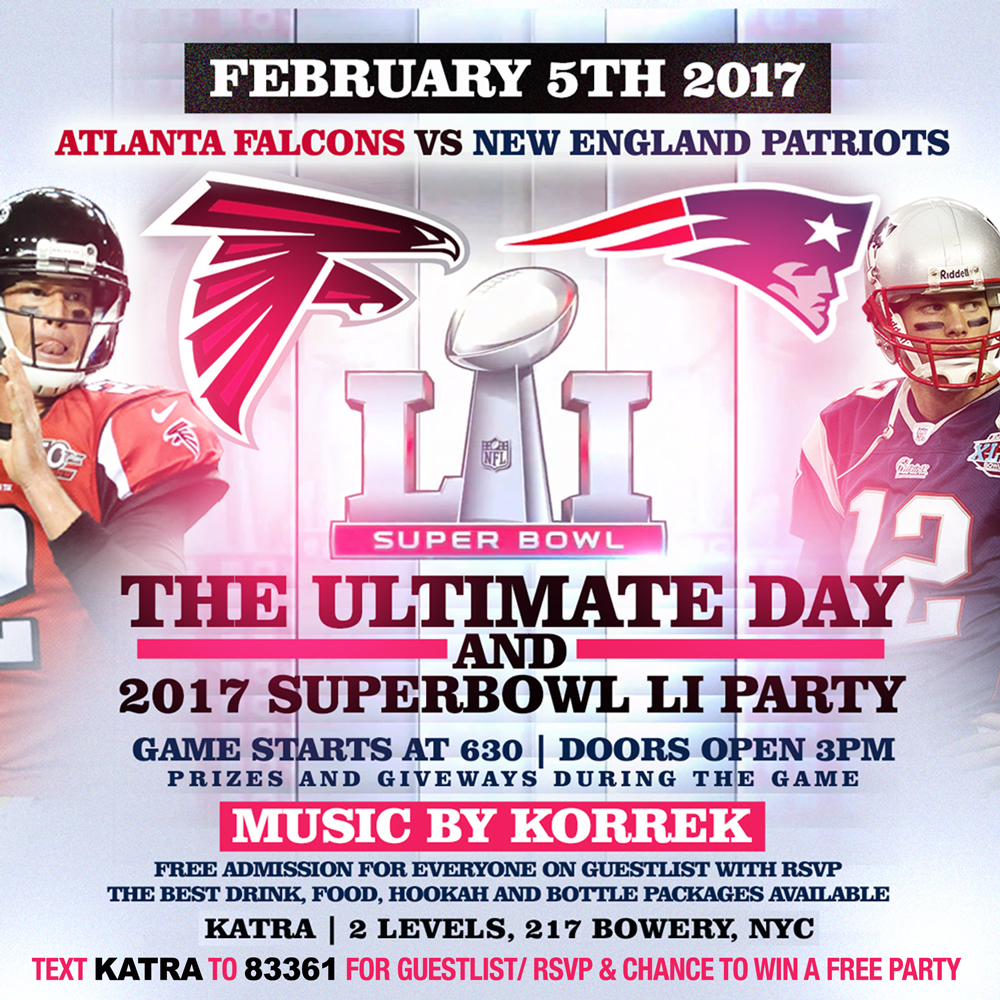 The Ultimate Day & SUPERBOWL Party
KATRA. 2 level club. nyc clubs. 217 Bowery (@ Rivington St), NYC. Doors Open at 3 pm!
Text KATRA to 83361 for Instant RSVP to the Event
ENTOURAGE SPECIAL, FREE Bottle w/ RSVP!
(8+ guests gets Champagne, 15+ get Vodka)
FREE Drink for Ladies 3pm-4pm & 2 For 1 drinks on all drinks for all 4pm-5pm!
Doors at 3 pm. Cris A.C., Frankie Banks, Eddy Shades, Business First Ent, and more presents SoHo's Hottest SUPERBOWL EVENT. In between time during the game and nonstop music downstairs you have DJs rocking the best in hip-hop, house, rock, EDM, latin, old skool classics , reggae and international music (that's 2 levels of great music!). The party's sexy ambient and decorations makes it for the perfect party with the team involved promoting the event with their skill and success in hosting events in the MeatPacking, SoHo, Midtown & throughout NYC locations. RSVP is required for entry ALL DAY. Make sure to mention the list, "Cris A.C. Guest List", for free admission for everyone. Ask about our birthday &/or group packages, free champagne &/or free liquor bottle(according to your party size) for your party! Dress Code is Casual but neat (NO TIMBS or UGGS on No one!) . 21+ID. [[Trendy/ chic/ mixed and diverse crowd]] For VIP/ Table Service email us at rsvpremix@gmail.com at or call us direct at 917.653.0768 anytime. For More information and Tickets.
Menu
$5 House Fries / $8 Spring Rolls or Mozzarella Sticks / $10 Chicken or Beef Sliders / $10 Chicken Fingers/ $12 Shrimp Skewers
SUPERBOWL PLATTERS
$50 Wing Platter (30 wings) / $65 Wing Platter (50 wings) / $75 Mix Platter - Wings, Fries, Spring Rolls, Mozzzrella Sticks & Hookah
*Wings KATRA offers: Plain, Buffalo, Teriyaki, Barbecue and Almond Crusted
Few of many Bottle specials (add tax & tip) w/ RSVP!:
$35 = Bucket of Beers
$275 = 1 Premium Bottle, 1 Assorted Platter & 1 Hookah
$310 = 2 Moet Imperial, 1 Assorted Platter & 1 Hookah
$388 = 1 Premium Bottle, 1 Moet Imperial, 1 Assorted Platter & 1 Hookah
$350 = 2 CIROC Vodka Bottles(w/ Champagne & Hookah)
$465 = 2 *Premium Liter Bottles(w/ Champagne & Hookah)
$700 = 3 *Premium Liter Bottles (w/ Champagne & Hookah)
*Premium Bottles - Grey Goose, CIROC, Moet Nectar Rose, Stoli & others (ask for full list)
Text SORAWIDEA to 83361 to enter to win a VIP Ladies Night package(over $1000 Value - A party with VIP List a bottle of Champagne