Description
The University of Maryland Francis King Carey School of Law proudly presents
2017 Stuart Rome Lecture:
Appification to AI and Healthcare's New Iron Triangle


Presented by: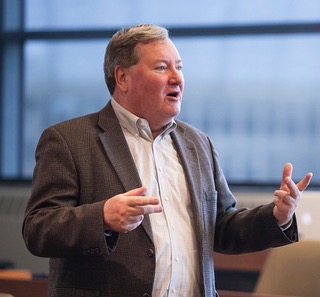 Professor Nicolas P. Terry
Hall Render Professor of Law;
Executive Director of the William S. and Christine S. Hall Center for Law and Health
Indiana University Robert H. McKinney School of Law
ABSTRACT:

Appification to AI and Healthcare's New Iron Triangle
The intricacy of the impact of advanced information technologies on healthcare stakeholders will only increase as healthcare assimilates not only patient-facing technologies such as medical apps but also next generation technologies such as robotics and AI. Healthcare policy choices in this "second machine age" will possess a degree of complexity that will no longer be reducible (if they ever were) to policy binaries. Indeed, for students of health law and policy, the level of complexity should bring to mind our foundational approach to discussing healthcare law and policy; the Iron Triangle of access, quality, and cost containment.

Join Professor Nicolas Terry as he discusses his proposal for an additional, "new" Iron Triangle to provide both a lens and a sorting mechanism for the issues that will arise. This triangle's three points are Automation, Quality & Safety, and Empathy.
Lecture is from 5:00 p.m. to 6:15 p.m. Light reception immediately following.
Presented in part by the Law & Health Care Program. The Stuart Rome Lecture was established by his family and friends to celebrate Stuart Rome's life and work as an attorney, community activist, art patron and humanitarian, and is supported by the Stuart Rome Lecture Fund.