Location
Applied Materials
9700 Hwy 290 East
Bldg 34
Austin, TX 78724
Description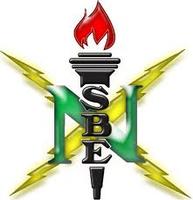 National Society of Black Engineers - Austin Professionals
Presents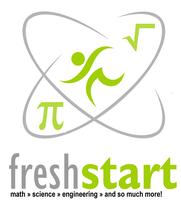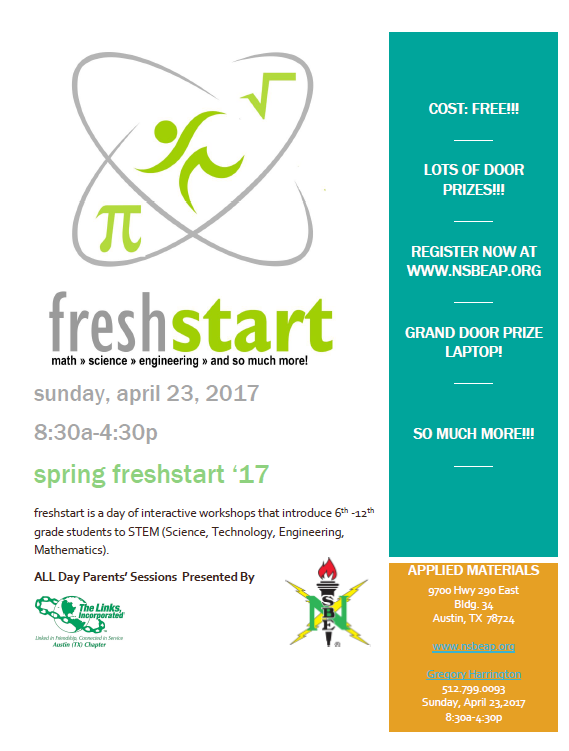 2017 Spring FreshStart
FreshStart is a program of National Society of Black Engineers - Austin Professionals (NSBE-AP). We use interactive workshops to introduce multiple forms of Science, Technology, Engineering, and Mathematics (STEM) to 6th - 12th graders.
Register today!
We'll have great workshops that will give students an opportunity to get a better understanding of what it takes to have a career in STEM fields.
Workshops (Additional Workshops To Be Added After Confirmed)
Software Engineering
Biomedical - tentative
Ins and Outs of Electricity
Manufacturing Processes
ALL Day Parents Sessions
In the past, we've only done 2 workshops for the parents. For the first time, the Austin (TX) Chapter of The Links, Incorporated has joined us to offer the Parents' Sessions for the entire day. We are elated to have such a great partnership with this great organization to empower our parents with a few tools of success.
The following are the workshops...
College Prep: Testing (PSAT/SAT/ACT) and Competitive Programs (i.e. Duke TIP)
College Prep: In and Out of School Activities
Build Your Student's Brand: Electronic Footprint and Resume
Preparing for College Finances
Parent/Student Panel
Date: Sunday, April 23, 2017
Time: 8:30a-4:30p
Location: Applied Materials
9700 Hwy 290 East
Bldg 34
Austin, TX 78724
Contact: Gregory Harrington
512.799.0093
info@aansbe.com
Sponsored by