Description
Vendor registration: SOLD OUT
This event page is strictly for Vendor Registration. For information and/or ticket registration for the conference please click here. Or if you would like to support the conference by becoming a SPONSOR, click here for more information.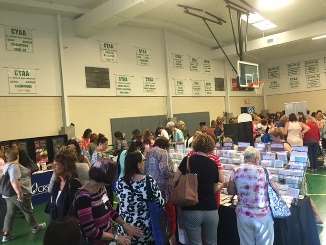 2016 Women's Conference Vendor Hall
The Spirit FM Catholic Women's Conference has a loyal following and typically sells out within weeks! And boy do we like to shop! This may be a great audience for you if you are a Catholic ministry or have a female run/religious based business that you feel would be a good fit for your product.
—Ministry Rate: $35.00
—For-profit Rate: $100.00
Each vendor will receive a six-foot x 3 foot table (please let us know in advance if you need electricity, access to wifi and table skirt). Fee includes breakfast, lunch and access to conference for up to two people ($10.00 for an additional person to cover cost of food and beverages). Vendor registration does not guarantee a seat at the conference and may be standing room only. The past three conference did sell out for vendors and guests, so please register early if you know you would like to attend.
Want to make sure to reach everyone? Consider product placement in the Conference "Swag Bag." You can include an item, coupon, gift card. . .we just need 800 of each to make sure all of our guests, volunteers and vendors receive one. If you are interested, or would like to receive more informaton, please make a note on the registration form.
Once your registration is received and reviewed you will be contacted by the vendor coordinator. All vendors/exhibitors are subject to committee approval. Filling out this form alone does not guarantee vendor/exhibitor placement. Additional information will be provided to all vendors as we get closer to the date of the event. If you should have any immediate questions or concerns, please contact Danielle Wright-Landry at 813.289.8040, ext. 231 or danielle@myspiritfm.com.
Refunds are not available, however you may transfer your registration or request a charitable gift letter for your tax purposes.