2017 Southwest Florida Birding Seminar
Description
Join local and national birding experts for this two-day event exploring the science and value of birds in Southwest Florida and beyond.

DAY 1 - Friday, February 10 (Field trips)
This day is scheduled as additional learning opportunity to observe birds in their native habitat. There is a space limit for the field trips. Transportation is not provided to field trip locations. Participants will arrive in their own personal vehicles. View detailed field trip descriptions

Field Trip 1: Photographing birds instructional workshop at Harns Marsh, 8-10 am
Field Trip 2: CREW Bird Rookery Swamp tour, 8-10 am
Field Trip 3: San Carlos Bay - Bunche Beach Preserve bird-watching tour, 4-5 pm
Field Trip 4: Estero Bay wading bird boat tour, 2-4:30 pm

UPDATE (1/27/2017) - All field trips have reached capacity. However, there are still plenty spaces left to register to attend the seminar presentation day on Saturday, February 11.

DAY 2 - Saturday, February 11, 8:30 am-4 pm (Seminar)
Speaker presentations at Florida SouthWestern State College, indoors. Lunch will be catered. Please pack a sweater or jacket for comfort. Seminar is in Building U, first floor.

SPEAKERS

Kathryn Sieving, Ph.D., Department of Wildlife Ecology & Conservation, University of Florida, "Listening to Bird Language: The Real Twitter-Feed!"

Gina Kent, Research Ecologist & Coordinator, Avian Research & Conservation Institute, "The Reddish Egret: Conservation Biology of One of Florida's Rarest Birds"

Kat Harris, Florida Shorebird Alliance Biologist, Florida Fish and Wildlife Conservation Commission, "Sharing the Beach with Florida's Shorebirds and Seabirds"

Steve Shattler, Florida Fish and Wildlife Conservation Commission, "Fire and Feathers: The Relationship of Wildland Fires and Birds"

Adam Kent, Florida Ornithological Society, "Florida's Second Breeding Bird Atlas: Surprises and Insights"

Andrea Pereyra, Biologist, Florida Fish and Wildlife Conservation Commission, "Where to Go Birding in Florida"

Adam DiNuovo, Shorebird Monitoring and Stewardship Project Manager, Audubon Florida, "Shorebird Monitoring and Stewardship in Southwest Florida"

Kara Lefevre, Assistant Professor, Environmental Sciences, Department of Marine and Ecological Sciences, Florida Gulf Coast University, "Florida's Role in the Hemispheric Tracking of Avian Movement Patterns"

Kitty Tyler, UF/IFAS Master Gardener, "Landscaping for Birds in Your Personal Paradise: Tips for Attracting Birds to Your Backyard"

For more information or questions, please contact Jason Boeckman at jboeckman@leegov.com.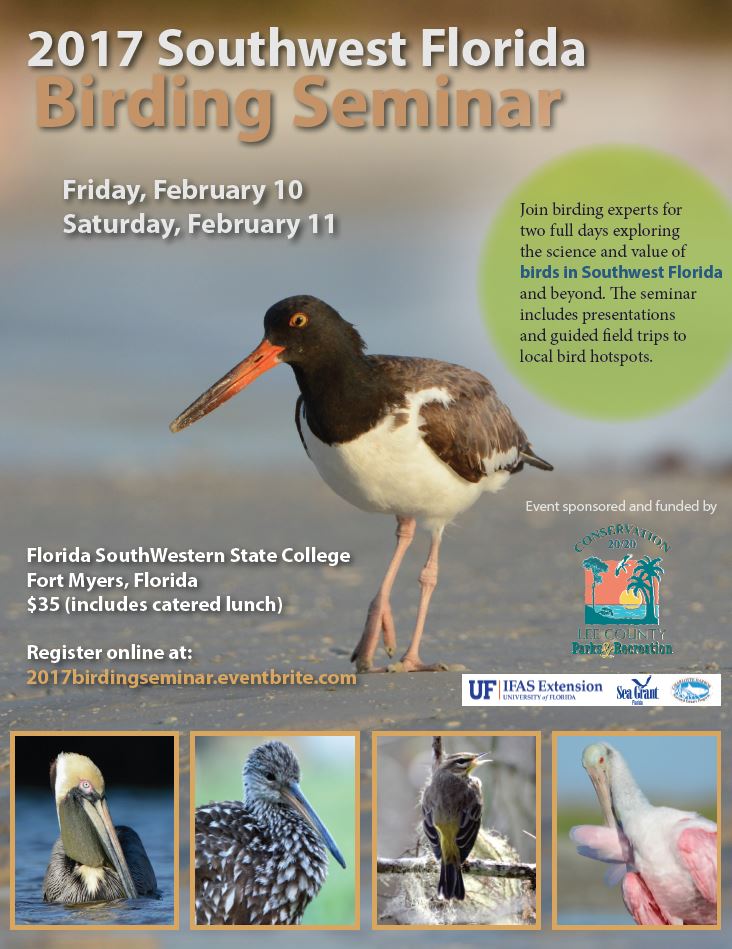 Event organizers:
Kitty Tyler, Master Gardener, UF/IFAS Lee County Extension Services
Stephen Brown, Horticulture Agent, UF/IFAS Lee County Extension Services
Cathy Olson, Conservation Lands Manager, Lee County Conservation 20/20
Jason Boeckman, Coordinator, Lee County Conservation 20/20
Charlie Ewell, Lee County Bird Patrol
Melinda Averhart, Vice President, Audubon of Southwest Florida