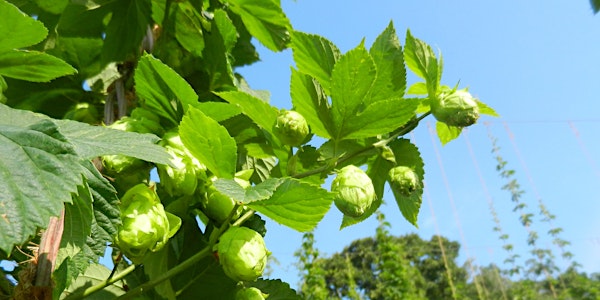 2017 South Atlantic Hops Conference
When and where
Location
Crowne Plaza Resort Asheville 1 Resort Drive Asheville, NC 28806
Refund Policy
Contact the organizer to request a refund.
Description
THIS CONFERENCE IS SOLD-OUT. EVERY SEAT ON THE TOUR BUSES AND EVERY SEAT IN THE CONFERENCE BALLROOM HAS BEEN BOUGHT AND PAID FOR. For the comfort of our guests who purchased their​ tickets during the online ticket period (Sept. 22- March 17), we will not be accepting any at-the-door registrations. There will be videos made of every session at the conference and they will be posted on our YouTube channel. The 2015 conference is already posted there; they are long videos so settle in to watch them. The 2016 conference videos are individual presentations and will be posted soon. The 2017 videos will also be individual presentations.
---
TICKETS ARE NON-REFUNDABLE AFTER FEBRUARY 1, BUT YOU CAN TRANSFER THEM TO SOMEONE ELSE. INSTRUCTIONS ARE BELOW IN THE FREQUENTLY ASKED QUESTIONS.
This conference is designed to educate, enlighten, and engage growers, brewers, beer enthusiasts, and other interested parties about the South Atlantic hops industry. Complete program and tour descriptions are included below the sponsor logos.

Please click on the green "Get Tickets" button to see all the options for attendees, sponsors and exhibitors. Details are included in the ticket area.

---
KEYNOTE SPEAKER: Scott Jennings, Head Brewer, Sierra-Nevada Brewery in Mills River, NC speaking on The Hops Industry Across the Globe and Where South Atlantic Growers Fit In
---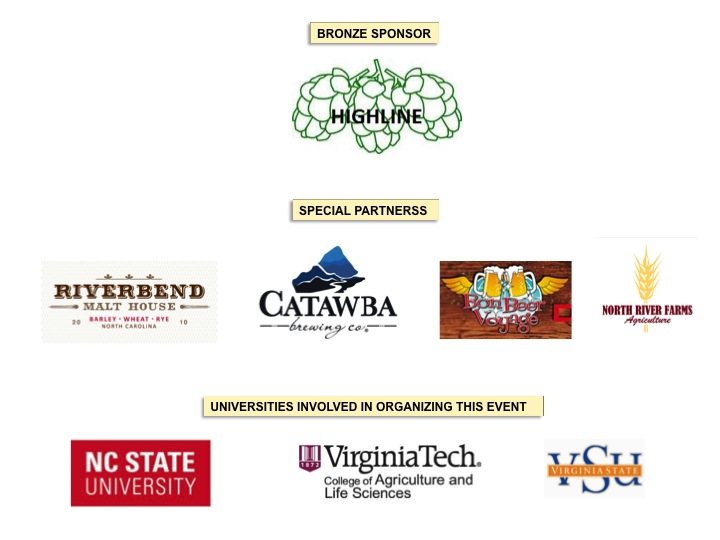 Bronze sponsor: Craft Financial
Exhibitors include: ARiES Energy, Bionetwork at A-B Tech, Columbus Irrigation, Growcentia, NC Department of Agriculture & Consumer Services, NC State University, Organarchy Hops, ProStar Distributing, Sandy Ridge Farms, Seven Springs Farming Supplies, Sonco Tube & Pipe, Virginia State University, and Virginia Tech.
---
Catawba Brewing Co. will make a conference beer just for our event! It will be served on Friday night during the brewery tour. All attendees will receive a ticket for one glass. They are also offering a special brewhouse tour and tasting for our conference attendees. You need to register and pay for it separately at the Catawba Brewing Eventbrite Page. If you are on our afternoon bus tours, don't count on being at that brewery before 7 pm. One World Brewing is also offering a ticket for a glass of beer for our attendees on the Friday evening brewery tour.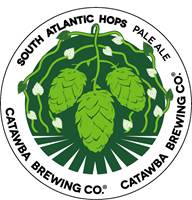 ---
NEW! Attendees will have the chance to enter a sweepstakes to win a weeklong beer lover's dream trip with Bon Beer Voyage the Beercation specialists! Cruise along the canals and waterways of Belgium & France in a private canal cruiser, complete with a first class private chef! Unpack only once, then relax and enjoy a one-of-a-kind beer tour. Taste some of Belgium and France's world renowned beers, frites and chocolates; visit and taste the famous Trappist beers from Westvleteren and Chimay, see some unique & world class breweries, such as St. Bernardus and Rodenbach. Savor authentic French Bière de Garde, Farmhouse Ales and some styles that you may not have expected to be coming out of France during our tours and tastings at Brasserie Thiriez, Brasserie St. Germainand Brasserie Bailleux. Enjoy tours in medieval towns like Bruges & Tournai. Visit the Hop Museum in Poperinge. Winner will receive a cabin for two on Bon Beer Voyage's Belgium and France Beercation Cruise and 2 Roundtrip airline tickets on Brussels Airlines from NYC to Brussels. Experience the Beercation of a Lifetime thanks to our Sponsors, DRAFT Magazine, Brussels Airlines and Bon Beer Voyage. Be sure to visit their exhibit booth!

There are three (3) methods of entry for this Sweepstakes: in person at a DRAFT/Bon Beer Voyage booth at participating beer fests, online on Bon Beer Voyage's site, and online on DRAFT's site.

Terms and Conditions: http://draftmag.com/belgium/terms/
---
The 2017 conference will highlight hop growing and research in the South Atlantic region. Because our industry is so young, in previous years we have brought in experts from the Pacific Northwest and northern states where they have more experience growing hops. But we now have growers and researchers who have been growing hops for six, eight, and more years. So this year we are going to hear exclusively from growers, researchers, brewers, and other related individuals from this region. We will present the latest research results on hop growing and hop cone chemistry from NC State University, Virginia Tech, and Virginia State University. There is also some great grower based research taking place that will be presented.
You can register for the Friday afternoon tour and the Saturday educational program together or separately. The event will start on Friday at 11:00 am with lunch at the hotel followed by afternoon tours (leaving at noon) of hop/beer related businesses (see tour information below). That will be followed by an evening brewery tour where a bus will run a continuous loop among the hotel and breweries (see brewery tour information below). You will be able to buy dinner and beer on the tour (Friday evening food and beer (except for the two free glasses) NOT included in the registration). Attendees who register for Saturday only are welcome to join us at the breweries on Friday night. The educational program and tradeshow will take place on Saturday at the hotel. Saturday lunch is included in the registration.

SATURDAY EDUCATIONAL PROGRAM
(Speaker bios are listed below; right before the FAQs)
7:00-8:00 Exhibitor Set-up (exhibitors can also set up on Friday-see below)

8:00-9:00 Registration
9:00-9:15 Welcome-Jeanine Davis
9:15-10:00 Keynote: The Hops Industry Across the Globe and Where the South Atlantic Growers Fit In-Scott Jennings, Sierra Nevada Brewery, Mills River
10:00-10:30 Break
Concurrent Sessions: Beginners (B) Experienced Growers (E)
10:30-11:10 (B) How to grow hops in the South Atlantic-the basics-Laura Siegle, Virginia Extension-and Holly Scoggins, Virginia Tech (E) Processing hops-drying, pelletizing, storing-Solomon Rose, Organarchy Hops

11:20-12:00 (B) If I could do it all over again-a grower's perspective-Phillip Davis, Sticky Indian Hops-and Stan Driver, Hoot'n Holler Hops (E) Our experiences with hop harvesters-Jeanine Davis-NC State University, Justen Dick, Kelly Ridge Farms, and Solomon Rose, Organarchy Hops

12:00-1:00 Lunch and presentations by Platinum and Gold Sponsors

1:00-1:40 (B) Selling hops to local brewers-Phillip Davis, Sticky Indian Hops and Heidi Dunkelberg, H&K Farms (E) Hops chemistry from ground to glass-Ken Hurley, Virginia Tech
1:50-2:30 (B) The business of growing hops (financing, taxes, insurance, incorp. etc)-Adam Hopkins, University of Tennessee (E) Brewers Panel-How are local growers doing?-Scott Jennings, Sierra Nevada, Kevin Sondey, Catawba Brewing Co., and Matt Norman, Frog Level Brewing

2:30-3:00 Break
Concurrent Sessions: A and B
3:00-3:40 (A) Old Dominion Hops Coop-what it is, how it works, and benefits of belonging–Stan Driver, Hoot'n Holler Hops and Randy Green,
Green Diamond Hopyard and President of ODHC

(B) Hops and daylength-grower and researcher experiments-Justen Dick, Kelly Ridge Farms, and Colleen Doherty or Eric Waddell, NC State University

3:50-4:30 (A) What am I allowed to spray on my hops? Laura Siegle, Virginia Extension and Patrick Jones, NC Dept. of Agriculture & Consumer Services (B) Leveraging the local growers' competitive advantages and varieties to avoid planting in 2017-John Bryce, the Lupulin Exchange

4:30-4:45 Break
Single Sessions
4:45-5:45 Results from the North Carolina and Virginia university hop growing studies-Jeanine Davis, NC State University, Holly Scoggins, Virginia Tech and Laban Rutto, Virginia State

5:45-6:00 Wrap-Up, choose site for next year, thank you
FRIDAY AFTERNOON TOURS
ALL AFTERNOON TOURS ARE SOLD OUT. There are two tours planned for Friday afternoon. One (with two buses) includes the following stops: Riverbend Malt House, the NCSU Research Hop Yard, North River Farms (barley), and Sierra Nevada Brewery, We are referring to that as the Sierra Nevada tour. The other tour, which we are referring to as the New Belgium tour is a single bus that will tour Sticky Indian Hops, H & K Farms Hop Yard, Riverbend Malt House, and New Belgium Brewing. The Friday ticket includes lunch at the hotel starting at 11:00 AM. The buses will start boarding around 11:45 for a noon departure. The buses will return to the hotel around 6:00 PM (remember, it is Friday in Asheville!).

FRIDAY EVENING BREWERY TOURS
ALL REGISTERED GUESTS ARE WELCOME. DOESN'T MATTER IF YOU HAVE A FRIDAY, FRIDAY-SATURDAY, OR SATURDAY TICKET. There will be a single bus making a continuous circuit including the breweries and the hotel. This will run from 6 pm to 10 pm (or start as soon as we get the bus back from the Friday afternoon tours and unloaded). You are welcome to get on and off at will, but if you miss the last bus, you need to find your way back to the hotel (lots of taxi and Uber opportunities in Asheville). Catawba Brewing Co. is our special partner for the evening. They are going to brew a conference beer made with local ingredients! Attendees will get a ticket for one glass of the conferernce beer, but after that you will have to buy all your own beer and food that evening. Catawba Brewing Co. is also offering a brewhouse tour and tasting for our group, but you have to register and pay for that separately through this Catawba Eventbrite page. One World Brewing is also offering a ticket for a glass of beer for our attendees on the Friday evening brewery tour.

TICKETS
Click on the green "Tickets" button in the upper right to get more information on tickets and to order tickets for attending the event or for being an exhibitor or sponsor. Tickets are transferrable and refundable up to February 1 (more info below). We plan to hold the conference regardless of weather conditions, so please plan accordingly. We reserve the right to make modifications to the program to accommodate adverse weather and other unforeseeable situations (e.g., speaker illness).
SPONSORS
We welcome sponsors for our event. Sponsorships give you the opportunity to showcase your business and allow us to make this a special conference affordable for attendees. Sponsorships also support scholarships. All sponsorships include an exhibit table for the Saturday event, one registration for Saturday, your company logo on all our promotions, and more depending on your level of sponsorship. Details are included on the sponsorship ticket descriptions in the "get tickets" link above. If you need to be invoiced and send a check, please contact Jeanine_Davis@ncsu.edu and please put hops conference sponsorship in the subject line.

EXHIBITORS
Registration for Saturday for one person is included in the exhibitor package which includes a skirted table, two chairs, and a wastebasket. An exhibit table is also included in all the sponsorships. Register under ticket sales (green button at upper right). Exhbitors can set up on Friday after 4 pm or Saturday morning from 7 am to 8 am.

INTERNSHIPS AND STUDENT RATES
These will be posted if funding becomes available to support them.
BOOKING GUEST ROOMS AT THE CROWNE PLAZA RESORT
GROUP RATE ROOMS ARE SOLD OUT. Rooms are still available at the regular rates last we checked: Call the toll-free number 1-888- 211-7755 (24/7) make your reservation online at www.ashevillecp.com.
We suggest that you use your favorite discount on-line booking service or similar to find rooms in the Asheville area.
POSTER AREA (no boards or easels will be provided)
There will be a poster area available for you to exhibit posters on research and extension activities related to hops and brewing. This is targeted towards students, researchers, extension specialists and agents, and growers involved in on-farm research. This is not for promoting products or services and those will not be allowed (please reserve a commercial exhibit space for those). If you want to bring a poster, please email Holly Scoggins at hopyard@vt.edu and let her know. We will not have poster boards to hang on, so please bring your poster mounted on a board and an easel to set it on.
CONFIRMED SPEAKERS FOR SATURDAY (in alphabetical order)

John Bryce, the Lupulin Exchange, Charlottesville, VA. John is a brewer and entrepreneur. He built his first brewery at the age of 23 and continued his career at several VA breweries. He currently serves as Technical Outreach Director of The Master Brewers Association Of The Americas (MBAA). He and his partner started an online marketplace for hops to help brewers and growers. He will share what he has observed about the South Atlantic region hops and what the market is looking for variety wise.
Dr. Jeanine Davis, Associate Professor in Horticultural Science, NC Alternative Crops and Organics Program, NC State University. Jeanine is located in western NC, just across the river from the Sierra Nevada Brewery. She has been conducting research and extension activities with the NC hops industry for over eight years. She established a replicated variety trial in Mills River in 2011 where she and her staff test varieties for the region, experiment with cultural practices, and have initiated a hops breeding program. She will share what they have learned in their six years of production.
Phillip Davis, grower, Sticky Indian Hop Farm, Candler, NC. Phillip has been growing hops for over six years. He has experimented with different varieties and methods and built a harvester. He will share his experiences growing hops and selling to local breweries.
Justen Dick, Kelly Ridge Farms. Justen is a licensed environmental geologist with 15 years of experience, specializing in soil and groundwater bioremediation technology. His personal hobby is home brewing which led him to add a hop yard to his farm. He has incorporated cutting-edge growing practices in his yard and conducts research in concert with Emory and Henry College. Justen will share his experiences with building and operating a hop harvester and his experiments on using artificial lighting to extend daylength in his hopyard.

Dr. Colleen Doherty, Assistant Professor in Biochemistry, NC State University. Colleen and her lab are working to to understand how plants integrate different environmental signals when responding to an external abiotic stress such as drought. In particular, they are interested in how plants measure and track time to coordinate their activities. She is presently working on hops and trying to find a molecular marker for the photoperiod related gene that makes hops so sensitive to daylength. That will help breeders develop hop varieties for southern growers. If Colleen is unavailable because of her academic schedule, her graduate student, Eric Waddell, will give the presentation on hops and daylength with Justen Dick.

Stan Driver, grower, Hoot'n Holler Hops, Lyndhurst, VA. Stan is the pioneer South Atlantic hops grower. He started growing hops over 20 years ago and about nine years ago began growing them with Blue Mountain Brewery. He now works with growers throughout the region to help them establish their own hop yards. He will share what he has learned about growing hops and why he started the Old Dominion Hops Cooperative.

Heidi Dunkelberg, grower, H&K Farms, Beaverdam, NC. Heidi is a small scale hops grower and avid brewer. She has been growing hops for eight years using a unique trellis system that works well for her. She will share her experiences selling hops to local breweries.
Randy Green, grower, Green Diamond Hopyard, Shipman, VA. Randy is the Managing Member of the Green Diamond Hopyard, LLC, a family owned hopyard founded in 2013. The hopyard consists of 400 crowns of Cascade and 35 crowns each of Centennial and Nugget. Raised in a farming community, Randy is a retired federal employee and been an avid gardener for most of his life.

Adam Hopkins, Area Farm Management Specialist for University of Tennessee Extension. Adam will talk about what every grower needs to know about running a farm operation as a business including setting goals, keeping financial records and understanding tax laws. Learn why business planning and record keeping are necessary to running a successful hop yard.
Dr. Ken Hurley,
Director Enology Analytical Services Laboratory, Department of Food Science and Technology, Virginia Tech, Blacksburg, VA. You can send your hop samples to Ken's lab of analysis of alpha and beta acids, essential oils, and moisture. Ken will share what he has learned about hops grown in the South Atlantic region and how they compare with hops grown further north. He will also provide information on how you can produce the highest quality final product.
Scott Jennings, Head Brewer at Sierra Nevada, Mills River, NC. Scott has visited hopyards across the globe and brewed beer with varieties from many regions. He will share what he has learned and give us his take on hops growing in the South Atlantic.
Patrick Jones, Deputy Director for Pesticide Programs, North Carolina Department of Agriculture & Consumer Services. Patrick will join Laura Siegle from Viriginia Extension to discuss pesticide use on hops in North Carolina.
Matt Norman, head brewer, Frog Level Brewing, Waynesville, NC.Matt will participate in the brewers panel and talk about his experiences buying and using locally grown hops.
Solomon Rose, Organarchy Hops Farm. Solomon is the founder and owner of this Maryland hops farm. The farm grows and processes hops for themselves and other growers. Solomon will talk about his experience processing hops and using a harvester.
Dr. Laban Rutto, Associate Professor at Virginia State University. Rutto's research interests include the agronomy of specialty crops, domestication and improvement of neglected and alternative crops, phytoremediation of agriculture mediated soil and water contamination, and soil-plant-microbe interactions in managed and natural ecosystems. In 2016, he obtained a federal multi-state grant to support research and extension activities to help grow the hops industry. That grant supported the construction of his research hop yard in Petersburg and helps fund extension efforts, including this conference being coordinated by his project partners in North Carolina.

Dr. Holly Scoggins,
Associate Professor in Horticulture, Virginia Tech. Holly teaches courses in ornamental plant production, herbaceous landscape plants, greenhouse management, and public gardens maintenance and management. Her research interests include improving greenhouse and nursery production systems for herbaceous perennials, nutrition and rhizosphere management. Her extension work includes information for home gardeners as well as greenhouse and nursery growers. Holly became interested in hops several years ago and in 2016 established a research hop yard at Virginia Tech. Holly will share their first year results. Her experiences are similar to what all new growers experience-including some surprises!
Laura Siegle,

Agriculture and Natural Resources Extension Agent for Amelia County, Virginia. She assists crop and livestock producers with farm services and support and particularly enjoys working on programs related to dairy cattle, horses, beef, and field crops. Outside of her work in Amelia County, she has a particular focus on hops production and has been working on state-wide hop programs and hops outreach since 2013. Laura will share what she has learned working with hop growers in Virginia and about hops and pesticides.

Kevin Sondey, Director, Brewing Operations, Catawba Brewing Co., Asheville, NC. Kevin is a North Carolina native who started his brewing career in 1994 at a small 3 BBL brewpub in Portland, OR. He attended the Siebel Institute of Technology and landed at Stoudt's Brewing Company learning to brew German style lagers. He returned to his hometown of Wilmington, NC in 1996 to run Wilmington Brewing Company as their brewmaster, overseeing production at three locations. He spent time at Dogfish Head as packaging manager, brewer, and quality assurance manager. North Carolina called him home and he had a short stint at Highland Brewing Company before taking his current position. Kevin will participate in the brewers panel to talk about how our local growers are doing and how they can improve what they offer.
FREQUENTLY ASKED QUESTIONS
How can I contact the organizer with any questions? Contact Jeanine_Davis@ncsu.edu and include "hops conference" in the subject line. You will get a return email from Jeanine or one of her assistants, Leo Stefanile or Margaret Bloomquist.

Is my registration/ticket refundable or transferrable? Tickets are refundable through February 1. They are transferrable anytime, but it is the responsiblity of the ticket holder. You may transfer them to someone else by updating your order information with the new attendee's information. If you are selling your ticket to someone else, that financial transaction is your responsibility. To transfer your ticket, go to Eventbrite.com and log in and find this event. You can easily edit the attendee information. If you are not sure if you have an account with Eventbrite, enter your email and it will confirm by either surfacing a "Password" field to log in or providing a link to "Sign up for free". You can also edit the attendee by opening the email that was sent to you around March 17 and clicking on the gray my tickets button in the upper right hand corner and clicking on edit.

What are the fees included in my registration? The fees pay for the Eventbrite service. They allow us to take your payments on-line, provide us with an easy and efficient way to handle registration, print name tags, and most importantly, communicate with you before and after the conference. So do not ignore emails from Eventbrite, please!
Where is my receipt? Eventbrite sends out your receipt right after you register on-line. If it is not in your inbox, please check your spam and junk folders.
CONFERENCE COMMITTEE
Jeanine Davis, Leo Stefanile, and Margaret Bloomquist with North Carolina State University; Holly Scoggins with Virginia Tech; Laura Siegle with Virginia Extension; Laban Rutto with Virginia State University; Stan Driver with Hoot'n Holler Hops; David Goode with Piedmont Hops; Phillip Davis with Sticky Indian Hops; Heidi Dunkelberg with H&K Hops Farm; and Brent Manning with Riverbend Malt House.
EQUAL EMPLOYMENT OPPORTUNITY AND ADA ACCOMMODATION STATEMENTS
North Carolina State University and North Carolina A&T State University commit themselves to positive action to secure equal opportunity regardless of race, color, creed, national origin, religion, sex, age, veteran status or disability. In addition, the two Universities welcome all persons without regard to sexual orientation.
Virginia Cooperative Extension programs and employment are open to all, regardless of age, color, disability, gender, gender identity, gender expression, national origin, political affiliation, race, religion, sexual orientation, genetic information, veteran status, or any other basis protected by law. An equal opportunity/affirmative action employer. Issued in furtherance of Cooperative Extension work, Virginia Polytechnic Institute and State University, Virginia State University, and the U.S. Department of Agriculture cooperating. Edwin J. Jones, Director, Virginia Cooperative Extension, Virginia Tech, Blacksburg; M. Ray McKinnie, Interim Administrator, 1890 Extension Program, Virginia State University, Petersburg.
If you are a person with a disability and desire any assistive devices, services or other accommodations to participate in this activity, please contact Jeanine Davis at Jeanine_Davis@ncsu.edu or 828-684-3562.