2017 South Atlantic Hops Conference
Description
EARLY BIRD REGISTRATION IS NOW OPEN!!! SAVE $50 ON THE TWO DAY EVENT BY REGISTERING EARLY (save $25 for a single day pass)

We are currently recruiting sponsor and exhibitor registrations. Please click on the green "Get Tickets" button in the upper right to see the options and take advantage of the prime sponsorships and limited number of exhibit spaces (note: all sponsorships include exhibit space for Saturday).

---
KEYNOTE SPEAKER: SCOTT JENNINGS, HEAD BREWER, SIERRA-NEVADA BREWERY IN MILLS RIVER, NC speaking on The Hops Industry Across the Globe and Where South Atlantic Growers Fit In
---
The 2017 conference will highlight hop growing and research in the South Atlantic region. Because our industry is so young, in previous years we have brought in experts from the Pacific Northwest and northern states where they have more experience growing hops. But we now have growers and researchers who have been growing hops for six, eight, and more years. So this year we are going to hear exclusively from growers, researchers, brewers, and other related individuals from this region. We will present the latest research results on growing and hop cone chemistry from NC State University, Virginia Tech, and Virginia State University. There is also some great grower based research taking place that will be presented.

The event will start on Friday with lunch at the hotel followed by a tour of hop/beer related businesses (will post as soon as the details are finalized). That will be followed by a brewery tour where a bus will run a continuous loop among the hotel and breweries (will post the breweries as soon at the details are finalized). You will be able to buy dinner and beer on the tour (Friday evening food and beer NOT included in our package). The educational program and tradeshow will take place on Saturday at the hotel.

CONFIRMED SPEAKERS FOR SATURDAY (in alphabetical order)

Dr. Jeanine Davis, Associate Professor in Horticultural Science, NC Alternative Crops and Organics Program, NC State University. Jeanine is located in western NC, just across the river from the Sierra Nevada Brewery. She has been conducting research and extension activities with the NC hops industry for over eight years. She established a replicated variety trial in Mills River in 2011 where she and her staff test varieties for the region, experiment with cultural practices, and have initiated a hops breeding program. She will share what they have learned in their six years of production.
Phillip Davis, Sticky Indian Hop Farm, Candler, NC. Phillip has been growing hops for over six years. He has experimented with different varieties and methods and built a harvester.He will share his experiences growing hops and selling to local breweries.
Heidi Dunkelberg, H&K Farms, Beaverdam, NC. Heidi is a small scale hops grower and avid brewer. She has been growing hops for eight years using a unique trellis system that works well for her. She will share her experiences selling hops to local breweries.
Kelly Gaskill, Research Assistant in the NC Alternative Crops and Organics Program in the Department of Horticultural Science at NC State University. Kelly helped build the research hop yard in Mills River six years ago and has maintained it ever since. She is familiar with many varieties of hops and has experimented with many cultural practices to improve growth and yield in the Southeast. She will share her experiences working with a commercial hop harvester.
Dr. Ken Hurley, Director Enology Analytical Services Laboratory, Department of Food Science and Technology, Virginia Tech, Blacksburg, VA. You can send your hop samples to Ken's lab of analysis of alpha and beta acids, essential oils, and moisture. Ken will share what he has learned about hops grown in the South Atlantic region and how they compare with hops grown further north. He will also provide information on how you can produce the highest quality final product.
Scott Jennings, Head Brewer at Sierra Nevada, Mills River, NC. Scott has visited hopyards across the globe and brewed beer with varieties from many regions. He will share what he has learned and give us his take on hops growing in the South Atlantic.
Dr. Holly Scoggins, Associate Professor in Horticulture, Virginia Tech. Holly teaches courses in ornamental plant production, herbaceous landscape plants, greenhouse management, and public gardens maintenance and management. Her research interests include improving greenhouse and nursery production systems for herbaceous perennials, nutrition and rhizosphere management.  Her extension work includes information for home gardeners as well as greenhouse and nursery growers. Holly became interested in hops several years ago and in 2016 established a research hop yard at Virginia Tech. Holly will share their first year results. Her experiences are similar to what all new growers experience-including some surprises!
Laura Siegle, Agriculture and Natural Resources Extension Agent for Amelia County, Virginia. She assists crop and livestock producers with farm services and support and particularly enjoys working on programs related to dairy cattle, horses, beef, and field crops. Outside of her work in Amelia County, she has a particular focus on hops production and has been working on state-wide hop programs and hops outreach since 2013. Laura will share what she has learned working with hop growers in Virginia and about hops and pesticides.

TOURS
We are still finalizing the details on all the stops but we have three big buses reserved and Sticky Indian Hops is the hop yard we will visit.
While we get our speakers, topics, tours, and schedules lined up for 2017, we welcome you to review the agenda from the March 2016 conference.

TICKETS
Click on the green  "Tickets" button in the upper right to get more information on tickets and to order tickets for attending the event or for being an exhibitor or sponsor. Tickets are transferrable and refundable up to February 1 (more info below). We plan to hold the conference regardless of weather conditions, so please plan accordingly. We reserve the right to make modifications to the program to accommodate adverse weather and other unforeseeable situations (e.g., speaker illness).
SPONSORS
We welcome sponsors for our event. Sponsorships give you the opportunity to showcase your business and allow us to make this a special conference affordable for attendees. Sponsorships also support internships and student rates. All sponsorships include an exhibit table for the Saturday event, one registration for Saturday, your company logo on all our promotions, and more depending on your level of sponsorship. Details are included on the sponsorship ticket descriptions in the "get tickets" link above.

EXHIBITORS
There is limited space at this conference for exhibitors (we are working on getting more). Registration for one person is included in the exhibitor package which includes a skirted table, two chairs, and a wastebasket for Saturday. An exhibit table is also included in all the sponsorships. Register under ticket sales (green button at upper right).

INTERNSHIPS AND STUDENT RATES
These will be posted as funding becomes available to support them.
BOOKING GUEST ROOMS AT THE CROWNE PLAZA RESORT
We encourage you to stay at the Crowne Plaza Resort because it is convenient and comfortable but also because our contract requires us to fill a certain number of rooms! Our group rates for March 23 and 24 are $119 for a double ($134.47 with all the taxes) and $144 for a king ($162.72 with all the taxes). The group rates are available for two days before and after the event nights of March 23 and 24 and count toward our room numbers, but please note that Saturday night's group rate is $129 ($145.77 with all the taxes included). These rates are available until midnight on March 1, 2017 and room numbers are limited. The group rate includes complimentary Wi-Fi in meeting and sleeping rooms, complimentary self-parking, 10% discounts at Adelaide Spa & Salon and Asheville Adventure Center, downtown shuttle service for $5 per person roundtrip, and airport shuttle for $20 per person ($5 for each additional person), one way.

To call in your reservation: Call the toll-free number 1-888- 211-7755 (24/7) and mention the group name South Atlantic Hops Conference in order to receive the special group rate (and give us credit for the stay).
To make your reservation online: Go to: www.ashevillecp.com. Check Availability (enter dates of stay) and Enter Group Code: SAH. This reservation LINK will automatically add the group code and book you a room for March 23 and 24.
POSTER AREA (no boards or easels will be provided)
There will be a poster area available for you to exhibit posters on research and extension activities related to hops and brewing. This is targeted towards students, researchers, extension specialists and agents, and growers involved in on-farm research. This is not for promoting products or services and those will not be allowed (please reserve a commercial exhibit space for those). If you want to bring a poster, please email Holly Scoggins at hopyard@vt.edu and let her know. We will not have poster boards to hang on, so please bring your poster mounted on a board and an easel to set it on.
FREQUENTLY ASKED QUESTIONS
Why does this conference cost more than the 2015 and 2016 conferences? The venue for the 2015 conference in Winston-Salem was free and we had an amazingly affordable caterer. The venue for the 2016 conference in Richmond was a budget-friendly motel. Attendees from the 2016 conference made it very clear that we needed to move to a higher end hotel AND they also voted to hold the 2017 conference in Asheville. Asheville is a major tourist area with very limited facilities to handle a conference of this size. In other words, it costs more in Asheville! We have done everything we can to keep costs low. The cost of a couple, registering for both days at the early bird rate and staying at the hotel for one night is $390. That is a very affordable investment for the information and networking opportunities that this conference will provide. Besides, think of all the fun you will have spending the weekend in Asheville!

How can I contact the organizer with any questions? Contact Jeanine_Davis@ncsu.edu and include "hops conference" in the subject line. You will get a return email from Jeanine or one of her assistants, Kelly Gaskill or Margaret Bloomquist.

Is my registration/ticket refundable or transferrable? Tickets are refundable through February 1. They are transferrable anytime, but it is the responsiblity of the ticket holder.

What are the fees included in my registration? The fees pay for the Eventbrite service. They allow us to take your payments on-line, provide us with an easy and efficient way to handle registration, print name tags, and most importantly, communicate with you before and after the conference. So do not ignore emails from Eventbrite, please!
Where is my receipt? Eventbrite sends out your receipt right after you register on-line. If it is not in your inbox, please check your spam and junk folders.
2017 CONFERENCE SPONSORS (TO DATE)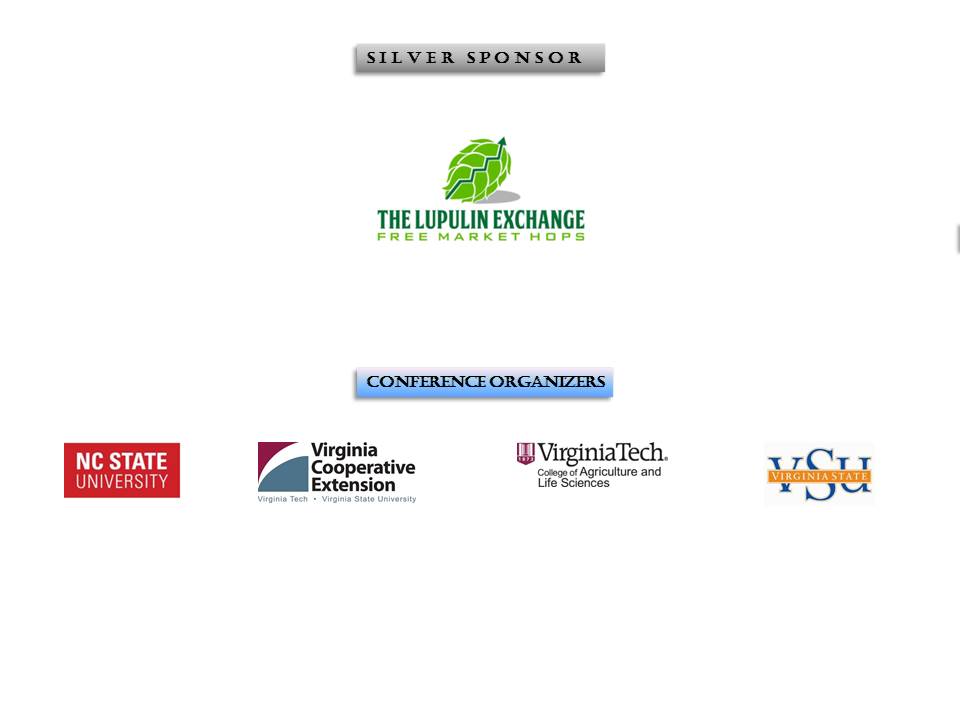 CONFERENCE COMMITTEE
Jeanine Davis, Kelly Gaskill, and Margaret Bloomquist with North Carolina State University; Holly Scoggins with Virginia Tech; Laura Siegle with Virginia Extension; Laban Rutto with Virginia State University; Stan Driver with Hoot ' Holler Hops; David Goode with Piedmont Hops; Phillip Davis with Sticky Indian Hops; Heidi Dunkelberg with H&K Hops Farm; and Brent Manning with Riverbend Malt House.
EQUAL EMPLOYMENT OPPORTUNITY AND ADA ACCOMMODATION STATEMENTS
North Carolina State University and North Carolina A&T State University commit themselves to positive action to secure equal opportunity regardless of race, color, creed, national origin, religion, sex, age, veteran status or disability. In addition, the two Universities welcome all persons without regard to sexual orientation.
Virginia Cooperative Extension programs and employment are open to all, regardless of age, color, disability, gender, gender identity, gender expression, national origin, political affiliation, race, religion, sexual orientation, genetic information, veteran status, or any other basis protected by law. An equal opportunity/affirmative action employer. Issued in furtherance of Cooperative Extension work, Virginia Polytechnic Institute and State University, Virginia State University, and the U.S. Department of Agriculture cooperating. Edwin J. Jones, Director, Virginia Cooperative Extension, Virginia Tech, Blacksburg; M. Ray McKinnie, Interim Administrator, 1890 Extension Program, Virginia State University, Petersburg.
If you are a person with a disability and desire any assistive devices, services or other accommodations to participate in this activity, please contact Jeanine Davis at Jeanine_Davis@ncsu.edu or 828-684-3562.