2017 SMTULSA Social Business Conference

Thursday, March 30, 2017 at 8:00 AM

-

Friday, March 31, 2017 at 5:00 PM (CDT)
Event Details
Welcome to Tulsa's Premier Social Media and Business Conference.
"I love to come to SMTULSA Conference every year. I'm so lucky because it's within driving distance for me. Also because of the caliber of speakers here, it is the kind of event that's worth flying to. The speakers are all people who are actually doing the work and they're here to share what they've learned. That is so different from the kind of event where everyone is bringing a canned presentation or they've given their talk twenty times. These are people in the field, working in social media, making a difference in business." Becky McCray, Small Biz Survival
With competition tight and technology changing rapidly, business owners and marketing teams who attend SMTULSA Conference benefit from the know-how of experts who are actively using
the latest technological and analytics tools for digital and social marketing.
Connect with and learn from like-minded professionals facing similar challenges.
"You are doing a fabulous job of delivering tons of really good content, and its regional nature offers a lot of advantages from networking opportunities over large national and international conferences." Tom Bown, Web Site Optimizers - Dallas
Only 100 total tickets available
$300 Early Bird Registration August 1 - December 31, 2016
$375 Registration January 1, 2017 - February 28, 2017
$400 Registration March 1, 2017 - March 30, 2017 
Register via our all new Team Pricing and save even more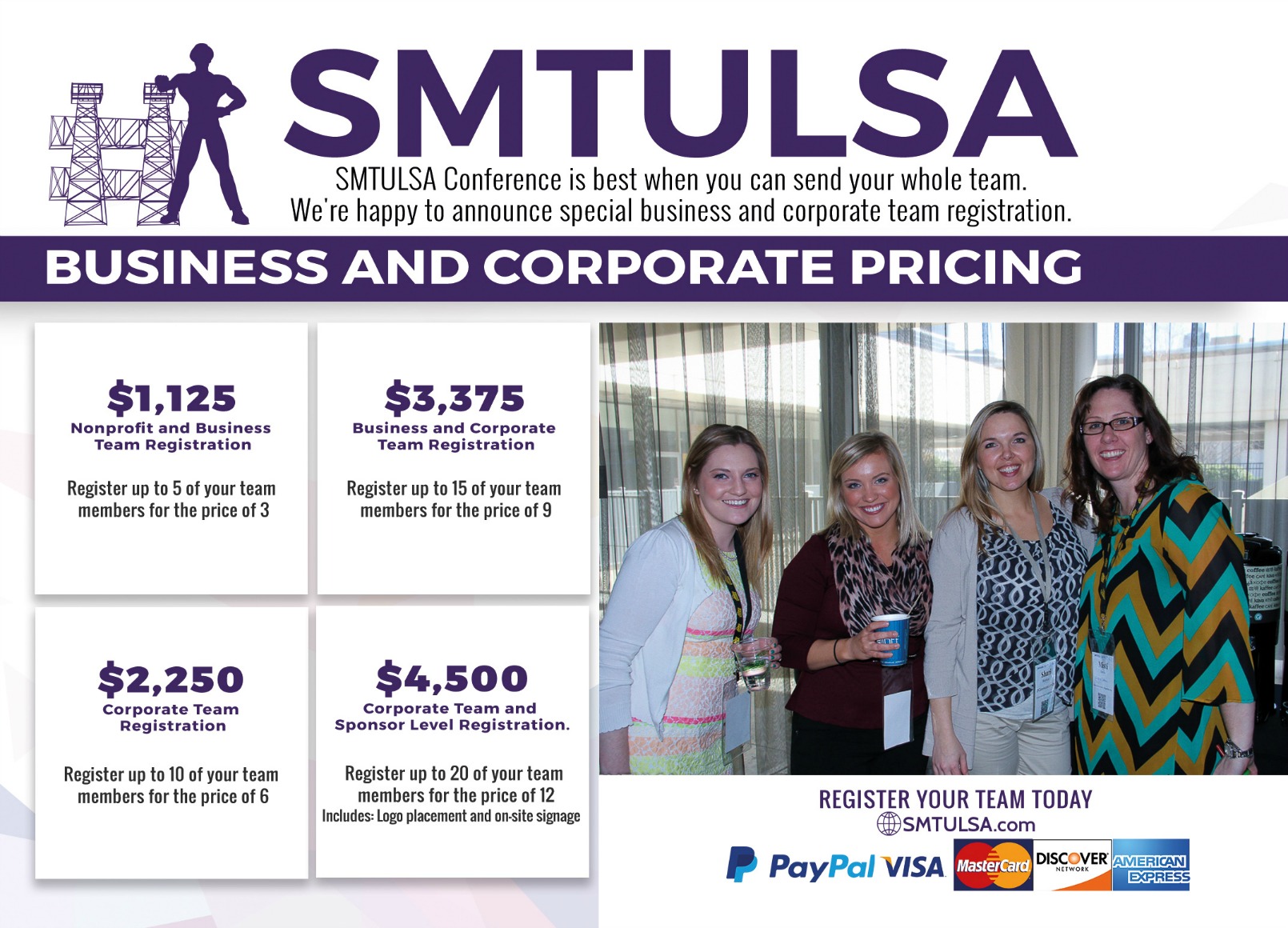 Your early registration secures your seat at Tulsa's premier social media and business conference. Signup for our email updates http://eepurl.com/OiVyT
Presented by: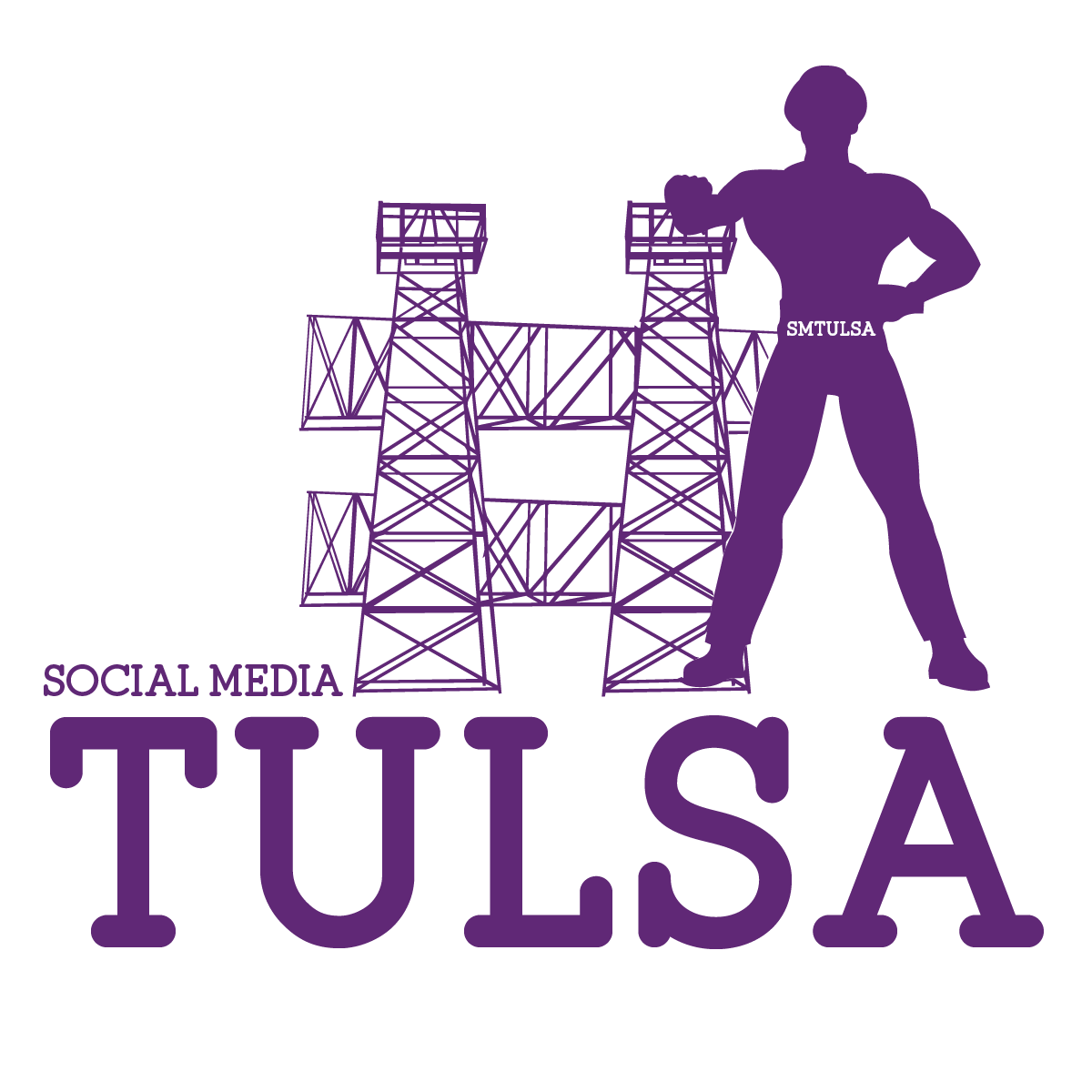 Shayla Price

B2B Marketing Strategist

@shaylaprice

Sheila Scarborough

Tourism Currents

Speaker, Writer, Trainer, Co-founder @SheilaS

Anthony Antonicello

Delivra

Marketing Automation Expert @AjAntonicello

Robert Bochnak

Harvard Business Schools Alumni Office

Director of Social Media

Tom Bowen

Web Site Optimizers

President & Founder @WSOMarketing

Deb Brown

Webster City Area Chamber of Commerce in Iowa

Executive Director @Debworks

JACOB CHAPPELL

Soci

Vice President of Sales @JacobChappell

Ryan Daly

OK Words and Pics

Solopreneur @okwordsandpics

John Thomas Taylor Jr.

Tulsa Jazz

Founder @TulsaJazz1

Cheryl Lawson

Social Media Tulsa

Founder & CEO @SMTULSA @PartyAficionado

Nick Marino

Social Entrepreneur, Philanthropist, Marketing Junkie & The Most Energetic Guy You Will Ever Meet

@ThatsJustNick

Becky McCray

Small Biz Survival

Entrepreneur @BeckyMcCray

Paula McDade




Nonprofit Leader & Visionary @paulamcdadecom

Lollie Moore

Consumer Affairs

Social Media Coordinator @alolliecake

Carol Sankar

Carol Sankar

Business Advisor @CarolSankar

Eric T. Tung

Go To Marketers

Digital And Social Media Manager @EricTTung
Become a sponsor: email Cheryl@smtulsa.com
Registration is non-refundable but fully transferrable
 We reserve the right to change or ammend any portion of the conference. 

Anthony Antonicello

Delivra

Marketing Automation Expert @AjAntonicello

Robert Bochnak

Harvard Business Schools Alumni Office

Director of Social Media

Tom Bowen

Web Site Optimizers

President & Founder @WSOMarketing

Deb Brown

Webster City Area Chamber of Commerce in Iowa

Executive Director @Debworks

Jared Carrizales

Heroic Search

Founder @JaredCarrizales

JACOB CHAPPELL

Soci

Vice President of Sales @JacobChappell

Ryan Daly

OK Words and Pics

Solopreneur @okwordsandpics

John Thomas Taylor Jr.

Tulsa Jazz

Founder @TulsaJazz1

Cheryl Lawson

Social Media Tulsa

Founder & CEO @SMTULSA @PartyAficionado

Nick Marino

Social Entrepreneur, Philanthropist, Marketing Junkie & The Most Energetic Guy You Will Ever Meet

@ThatsJustNick

Becky McCray

Small Biz Survival

Entrepreneur @BeckyMcCray

Paula McDade




Nonprofit Leader & Visionary @paulamcdadecom

Lollie Moore

Consumer Affairs

Social Media Coordinator @alolliecake

Shayla Price

B2B Marketing Strategist

@shaylaprice

Rick Rockhill

Lucy Pet Products

Executive Vice President @RickRockhill

Carol Sankar

Carol Sankar

Business Advisor @CarolSankar

Sheila Scarborough

Tourism Currents

Speaker, Writer, Trainer, Co-founder @SheilaS

Akram Taghavi-Burris

Akram's Ideas

@AkramsIdeas

Eric T. Tung

Go To Marketers

Digital And Social Media Manager @EricTTung

Mandy Vavrinak

Crossroads Communication

@Mandy_Vavrinak
When & Where

777 West Cherokee Street

Catoosa, OK 74015


Thursday, March 30, 2017 at 8:00 AM

-

Friday, March 31, 2017 at 5:00 PM (CDT)
Add to my calendar
Organizer
About Party Aficionado
Event technology and branding specialists specializing in event marketing and social business brand building. Learn more, visit partyaficionado.com
About Social Media Tulsa:
The area's social media community, Social Media Tulsa,all began with Social Media Day Tulsa in 2010 at Fat Guy's Burger Bar in the historic Greenwood district. A community of social media and digital marketing influencers, Social Media Tulsa is now the go to resource for businesses and local events. Social Media teams have managed some of your favorite events in Tulsa: Center of the Universe Festival, Route 66 Marathon, Scotfest, and of course SMTULSA Social Business Conference. Learn more, visit socialmediatulsa.com