Actions and Detail Panel
2017 Silicon Valley Technology Ball Series of Events
Wed, April 19, 2017, 4:00 PM – 7:00 PM CDT
Description
Join Silicon Valley CIOs, CTOs and VPs of IT
at the 2017 Silicon Valley Technology Ball Series of Events.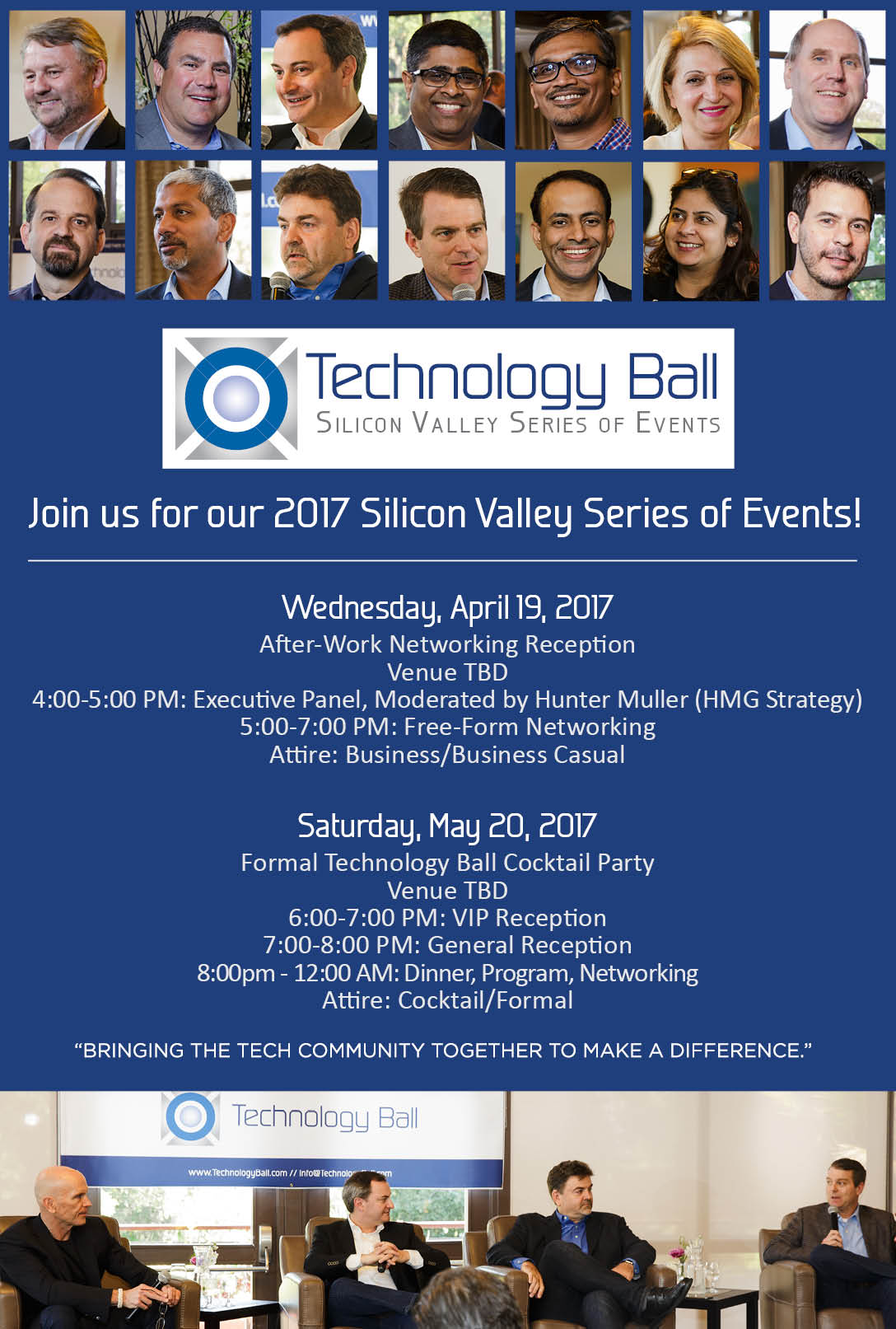 SILICON VALLEY TECHNOLOGY BALL WEBSITE
2017 EVENT BROCHURE
CURRENT CIO ROSTER
The Technology Ball team is pleased to host the 2017 Silicon Valley Technology Ball Series of Events on the evenings of Wednesday, April 19 and Saturday, May 20, 2017.
The unique Technology Ball format brings the technology community together, providing rare opportunities for leading CIOs, CTOs and VPs of IT (Executive Hosts) to mingle with Senior Level Representatives from Sponsoring Companies. Proceeds from Technology Ball events support MentorNet and the organization's STEM Education initiatives to create future technology leaders.
If you are interested in learning more about the 2017 Silicon Valley Technology Cocktail or future events, please email SiliconValley@TechnologyBall.com or view the 2017 Event Brochure.
For more information or to discuss sponsorship opportunities, please contact:
Karen Krygowski Bruno
President & Founder
Karen@TechnologyBall.com
(626) 485-6288


Current Silicon Valley Technology Ball Executive Host Roster
• Alan Pye, CIO, Altera
• Shyam Namashivayam, Head of IT Business Systems, Altera
• Shamyo Chatterjee, VP of Cloud Operations, Appttus Inc.
• Chris Miller, CIO, Avanade
• Jonathan Reichental, Ph.D., CIO, City of Palo Alto
• Mike D. Kail, Chief Innovation Officer, Cybric
• Eric Johnson, CIO, DocuSign
• Arun Ganesan, CTO & VP, Technology, Esurance
• Giri Chodavarapu, VP, Global IT, Finisar
• Sunny Azadeh, VP, IT & Information Services,
Guidewire Software
• Karl Mosgofian, CIO, Harmonic
• Todd Tuomala, VP, IT, Infinera Corporation
• Josh de la Cuesta, VP, IT & CIO, Integrated Device Technology
• Patty Hatter, General Manager of Services, Intel Security
• Shreyas Shah, SVP/CIO, Lumentum
• Walter Curd, VP & CIO, Maxim Integrated
• Mark Tonnesen, CIO, CSO & VP Operations, Neustar, Inc.
• Vikas Kawatra, Head/VP of IT, Pharmacyclics
• Ralph Loura, CTO, Rodan + Fields
• Ross Meyercord, CIO, Salesforce.com
• Jon Walton, CIO, San Mateo County
• Savio Thattil, CIO Americas, Sephora
• Sheila Jordan, CIO, Symantec
• Aashish Chandra, Global Head of Technology,
Tata Consultancy Services
• Prakash Iyer, Vice President, Software Architecture & Strategy,
Trimble Navigation
• Shobhana Ahluwalia, Head of Corporate Systems, Uber
• Todd Dekkinga, Executive Director, IT, Versartis, Inc.
• Anil Earla, Head of Information & Data Analytics, Visa
• Walt Thinfen, CIO & VP of Customer Care, Visioneer, Inc.
• Shokie Lopez, SVP, IT, Wente Family Estates


* The Technology Ball team reserves the right to deny event access to registered attendees. Advanced notice would be provided, and all fees refunded.