2017 Silicon Valley LIT College Tour

Saturday, September 9, 2017 from 9:00 AM to 1:30 PM (PDT)
Event Details
The 2017 Silicon Valley LIT College Tour "The Ultimate Student Leadership Conference" is scheduled at San Jose State University on Saturday, September 9, 2017, 9 a.m. - 1:30 p.m. Get ready for an action-packed day of LIT = Leadership, Innovation, Transformation!

Our full-day leadership boot-camp offers rapid-fire learning, career development and transformational experiences via 3 learning tracks, 2 keynotes and workshop, and 20+ industry experts, emerging leaders and student influencers from diverse industries including Entrepreneurship, STEM, Marketing, Media, Entertainment, Law, Finance and related fields.
2017 Silicon Valley LIT College Tour Program: (Subject to change) 

9:00 a.m.          Registration opens in Room 4A

9:20 a.m.          Opening remarks – LIT Team

9:30 a.m.          Opening keynote – Frank Carbajal "Building An Inclusive FUTURE, Drives Leadership"

9:50 a.m.          Panel 1 – Meet the Recruiters
Moderator: Shinjini Das, The Go-Getter Girl; CEO, Das Media Group
Tariq Meyers, Head of Inclusion & Diversity, Lyft
Scott Tomtania, Recruitment Manager, Facebook    
Maria Medrano, Director of Transformational Intelligence, Cisco
Karina Deras, Staffing Services Associate, Google

10:35 a.m.         Panel 2 – Entrepreneurs & Tech: Launching & Funding Your Startup
Moderator: Mario Cobián, CEO, Cobian Marketing Group
Martha Hernandez, CEO, madeBOS
Jesse Martinez, Entrepreneur in Residence, Salesforce
Sweta Patel, SEJ Top Influencer; Best-selling Author

11:20 a.m.         Break

11:45 a.m.         Panel 3 – Communications & Marketing: Personal Branding
Moderator: Rene Shimada Siegel, CEO, Connext; Professor PR, SJSU 
Blanca Garza, Emmy-award winning Journalist, Telemundo 48/NBC
Ryan Rucker, Regional Recruiter Pacific Northwest, Skechers
Maria Gianotti, Director of Demand Generation, Vibes; President, ALPFA, Bay Area

12:30 p.m.         Financial Literacy Workshop "Stop Stressing and Start Finessing: 3 Keys To Boost Your Financial Awareness" presented by Eddy Gramajo, Revenue Accountant, Pandora; Founder of Lite App

12:55 p.m.         Closing Keynote - Sweta Patel "Startups & Funding"

1:20  p.m.          Closing remarks LIT Team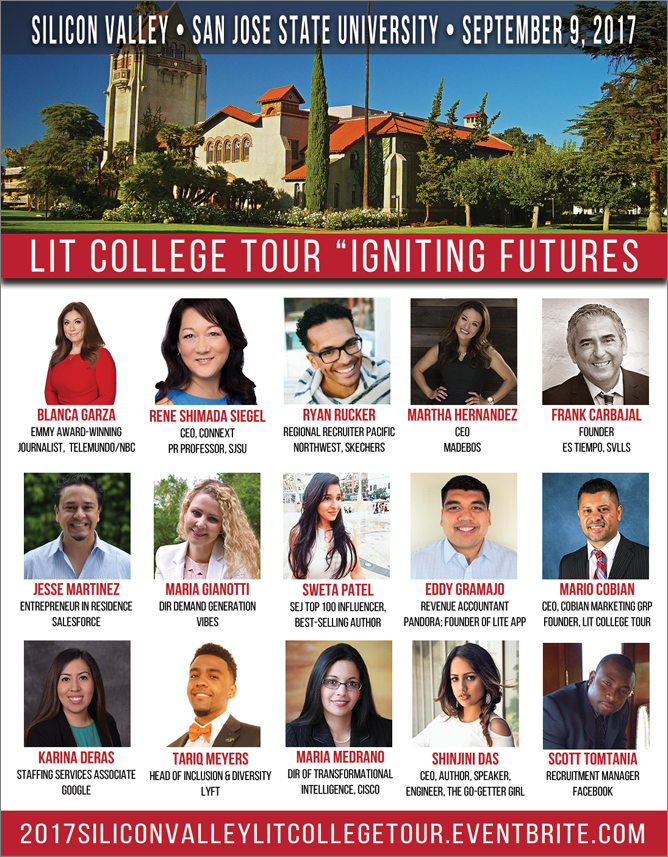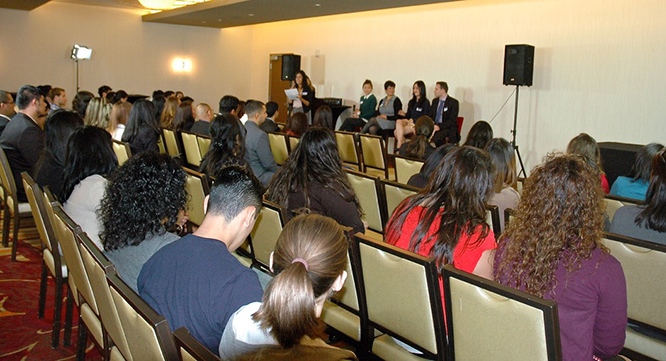 When & Where

San Jose State University
One Washington Square
Student Union, Rooms 4A-4B
San Jose, CA 95192


Saturday, September 9, 2017 from 9:00 AM to 1:30 PM (PDT)
Add to my calendar
Organizer
What is LIT? = Leadership. Innovation. Transformation.   LIT College Tour is a national initiative designed to empower first-generation and under-represented college students with the 21st century skills of today.
We bridge the gap between college and real world by building collaborative partnerships with business, education, community, government and student leaders who share actionable insights for "Igniting Futures."
The program is designed to support student success, career exploration, internship and job search, and professional development. Students get a chance to build their leadership skills, meet face-to-face with recruiters, network with potential mentors and gain valuable tips from speakers.
LIT College Tour conferences provide industry-informed curriculum via several learning tracks, keynotes, workshops and panel sessions . The program is presented by professionals, educators and entrepreneurs from diverse industries including STEM, Finance, Communications, Marketing, Medical, Law, Entertainment and other sectors.
Who speaks at LIT? Executive's of Fortune 500's companies, Emmy-award winning journalists, tech stars, entrepreneurial innovators and other thought leaders.
The tour is hosted in 6 top 10 U.S. cities including NYC, LA, Miami, Houston, Chicago and Silicon Valley, and has served over 5,300 student leaders since it's inception.
Founded in 2014 by Mario Cobian, CEO, Cobian Marketing Group, LIT College Tour is a 501(c3) non-profit Federal Tax ID: 46-5081482.