Description
FUN-FILLED TWO DAY EVENT!
Friday, October 6, 2017 - 9:00AM TO 5:00PM
Saturday, October 7, 2017 - 1:00PM TO 6:30PM
The After Work Program's A Taste of Theater Festival is a theater experience to expose, educate and entertain a diverse audience of professional, intermediate and novice playwrights, thespians and production staff members.
FRIDAY: Seminars and Workshops: 9:00A to 5:00P // Performances: 6:30pm to 10:00pm
SATURDAY: Seminars and Workshops: 1:00P to 5:00P // Performances: 6:30pm to 10:00pm
Playwrights you will receive the following for your participation:
1. 15 minutes to showcase the best scene in representation of your play.
2. Provide behind the playwriting scenes experience to the audience by expressing why you wrote the play.
3. A Table to sell tickets to your performance if needed.
4. All access passes to the workshop
5. All access passes to both nights of the performances.
7. One Year free All access passes to A Taste of Theater software.
8. A nationally televised TV episode of A Taste of Theater TV.
9. Networking opportunities with playwrights from other areas.
10. Free selective props and set to use at the venue to use as a canvas for your show.
11. Marketing data for emailing theater watchers. Every person who attends the presentation of the plays votes with their email address. The playwright will walk away with this info to contact them.
12. Listing of your play on the website and promotional materials.
13. Free All access passes to our Acting With The Stars Competition
14. Discounted tickets for your cast to attend the Acting With The Stars Competition and Acting Workshop.
15. Branding as a playwright.
16. Cast receives free access to the event the night of the performance.
17. A Chance for you to Win the A Taste Of Theater Award.
18. Opportunity for you to join A Taste of Theatre Team for help with future projects.
19. Free A Taste of Theater Shirt.
20. Free A Taste of Theatre Gym Bag.
21. Free Tech (Light & Sound)
22. Free constructive feedback from our Celebrity Judges and Industry Professionals to enhance your writing/directing/and actors for your future events!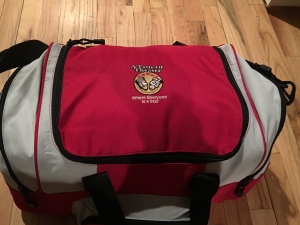 Each Registrant Receives a Gym Bag
&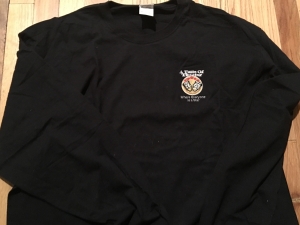 Each Registrant also receives a Long Sleeve Shirt
But Wait There's More!
Your TV Episode will air all over the US from Seattle WA to Searsport Maine.