2017 SEWNY Simulation Conference: From Reaction to Results
Description
Welcome to the 2017 SEWNY Simulation Conference: From Reactions to Results!

---
WE ARE SO PLEASED TO WELCOME SANDY SWOBODA, SENIOR RESEARCH NURSE FROM JOHN HOPKINS SCHOOL OF NURSING AS OUR KEYNOTE SPEAKER THIS YEAR!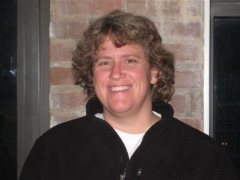 Sandy Swoboda is currently a Simulation Educator and a leader of the Simulation Team at Johns Hopkins University School of Nursing. She was the Co-Coordinator of the NCSBN Simulation Study at the school and has over 16 years of experience as an educator, lecturer and mentor in the clinical education setting. She has 20 years of clinical trial experience and has served as a Senior Research Program Coordinator in the Department of Surgery at the School of Medicine, in charge of all aspects of clinical trials in the Surgical ICU including multicenter pharmaceutical sponsored trials and site investigator/self-initiated studies. Areas of expertise include simulation education, debriefing, Interprofessional Simulation, simulation development, clinical trial management including consent, data collection, database creation and management and data analysis. She has presented at national meetings including: (The Society of Simulation in Health Care, INACSL, Society of Critical Care Medicine/American Association of Critical Care Nursing/Surgical Infection Society/ATI Nurse Educators Meeting). Areas of research interest include simulation education, psychosocial issues and long term consequences of hospitalization, infection control and hand hygiene. As a surgical critical care nurse she continues to provide bedside care and serve in a leadership capacity to the staff.
---
THE SCHEDULE OF THE DAY! SOMETHING FOR EVERYONE!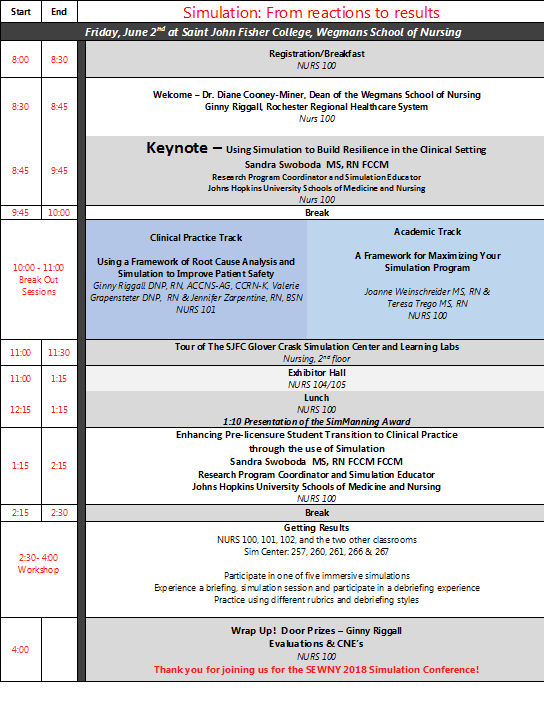 Contact hour credit for this offering is pending through Rochester Regional Health System Department of Clinical Education & Nursing Research. Rochester Regional Health System Department of Clinical Education & Nursing Research is an approved provider of continuing nursing education by ANA Massachusetts, an accredited approver by the American Nurses Credentialing Center's Commission on Accreditation.
---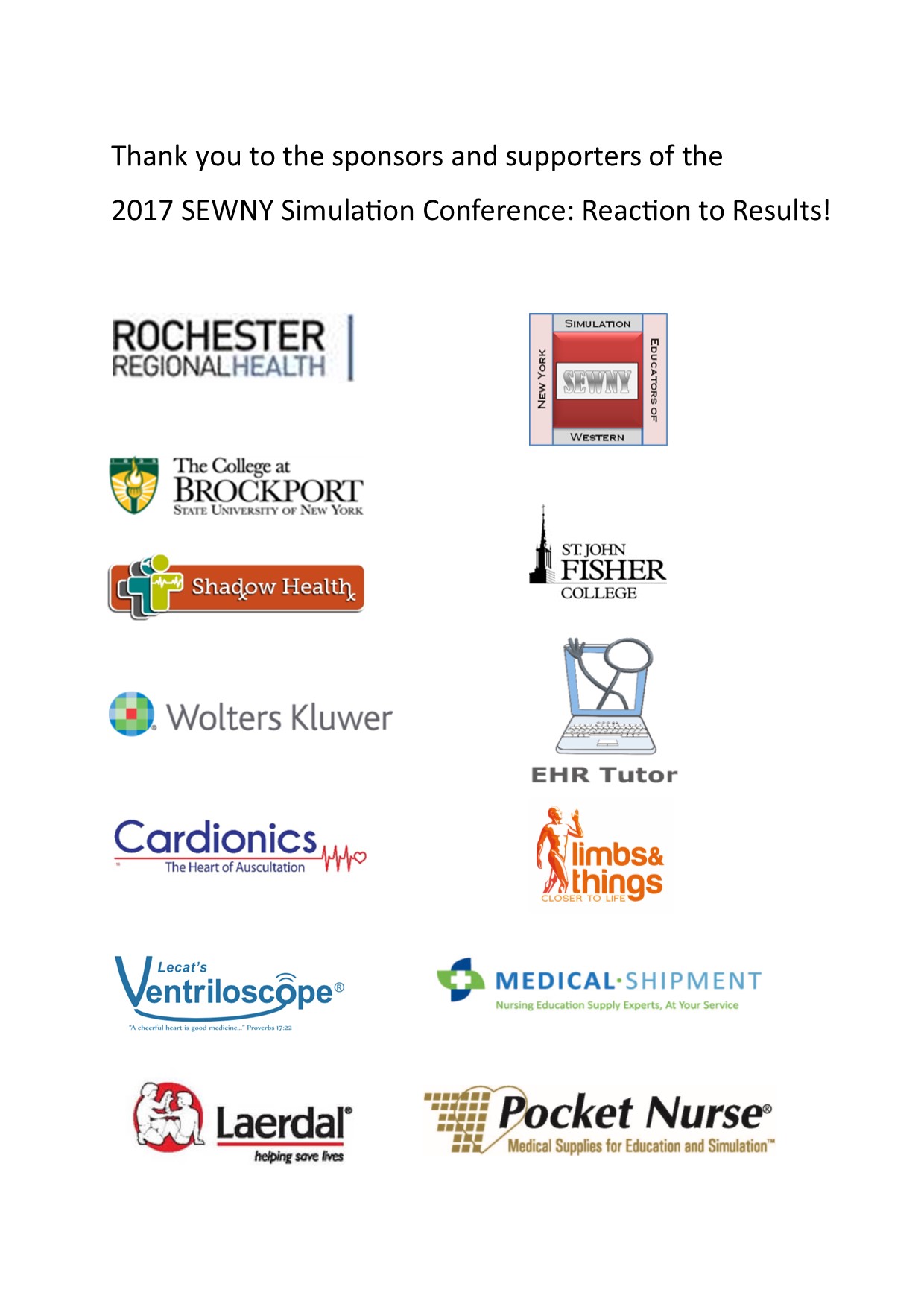 ---
Hotel Accommodations
Woodcliff Hotel & Spa is offering a Conference Discount. Ask for the SEWNY Conference Room Block. They also offer complementary airport shuttle (call to make arrangements). SEWNY has paid for transportation from the hotel to SJFC at 745 am and shuttle from SJFC to the hotel at 415pm (10 person max). Space is limited at the special price of $129/night! This price is only available until May 8, 2107!
Woodcliff Hotel & Spa
199 Woodcliff Drive
Fairport, NY 14450
1-800-381-4000
Date and Time
Location
St. John Fisher College
Wegmans School of Nursing
3690 East Avenue
Rochester, NY 14618