Event Information
Location
New Jersey
Salem County, NJ
Description
Hey Family - If you missed the deadline and you want to attend the Seals Family Reunion, call or text me at 609-932-0426. You can also email me at krmedley@comcast.net.
The 2017 Seals Family Reunion Planning Committee is excited to announce the details of our 2nd Seals Family Reunion! Like last year, we look forward to seeing one another, meeting family, laughing and having a great time during our action-packed reunion weekend.
~ We are the Descendants of Wyatt & Warnetta Seals. ~
This year our Reunion colors are Purple & Gold. You will see these colors vibrantly displayed all weekend long.
Your Paid Reunion Registration will allow you Admission, Food & Participation at Friday Night's Meet & Greet Reception, Saturday's Seals Family Reunion Picnic, and Saturday Night's Seals After-Picnic Party (Adults Only). Sunday's Seals Family Brunch and Reunion T-Shirts must be purchased separately.
Note: Custom reunion wristbands will be issued Friday & Saturday and must be worn to validate your paid registration. Thank you!
Anyone connected to the Seals Family is invited to Register to attend our Seals Family Reunion, this includes good friends and neighbors!
Note: Reunions cost money, so individuals must be registered to partake & participate in any of our Seals Family Reunion events. Thank you!
Sincerely,
Your Seals Family Reunion Planning Committee
---
2017 Seals Family Reunion
Activities Schedule
Friday, June 30, 2017
3:00 pm – Until Check-In at Hotel: Super 8 or Comfort Inn & Suites
7:00 pm – 10:00 pm SEALS FAMILY MEET & GREET RECEPTION, TALENT & KARAOKE SHOW Ø Salem Fraternal Order of Eagles, 232 E Broadway, Salem, NJ 08079 Ø Awards to WINNERS of our Seals Got Talent & Karaoke Show! - Participate for your chance to a Win a 1st, 2nd or 3rd Place Medal! - There will be Adult & Children categories, so SIGN UP when you arrive Ø Pick-up your Reunion T-Shirts.
This is our Seals Family Reunion Kick-Off Event! Greet family, enjoy food, music, dancing, and an awesome Talent & Karaoke Show.
Talent Show Participants - Please bring your music to the Meet & Greet on CD or digital file. Karaoke Participants – A list of songs will be available on-site for you to choose from.
Saturday, July 1, 2017
11:00 am Travel to the Seals Family Reunion Picnic Ø Wear your Seals Family Reunion T-Shirt & Wristband Ø Don't forget to bring your picnic contribution (food or drink).
12:00 pm – 7:00 pm SEALS FAMILY REUNION PICNIC Ø Thundergust Picnic Area (Parvin State Park), 857 Parvin Mill Road, Elmer NJ 08318 Ø On-site Registration/Check-In to receive Reunion wristband.
9:00 pm – 12:00 am SEALS REUNION AFTER-PICNIC PARTY

(For Adults 21 & older/No Dress Code

)

Ø The Inn at Salem Country Club, 91 Country Club Road, Salem NJ 08079 (Once on Country Club Rd., take the first right - Refreshments & desserts available. BYOB! Ø You must wear your Seals Family Reunion Wristband or pay $10.00 at the door.
Sunday, July 2, 2017 (Breakfast Registration ends on Fri., June 23rd)
9:45 am Check-Out of the Hotel/ Depart.
10:30 am – 1:00pm SEALS SUNDAY BRUNCH & FAREWELLS! Ø The Telford Inn, 145 Bridgeton Pike, Mantua Township, NJ 08051. Ph. (856) 468-0535
The Brunch must be

purchased separately and only to the 1st 50 people

.

Our private room holds

50 people max. Additional restaurant seating is available on a 1st come-1st served basis, so we invite you to join us even if reunion brunch registrations are sold out.

Brunch Pricing:11 yrs. & Older = $12.95/ 3-10 yrs. = $8.95/ 2 & under = Free *Note: Add 7% tax & 18% service fee.

Brunch Menu: Omelet Station, Waffle Station, Banana Foster's Station, Eggs any style, Pancakes, French Toast, Home Fries, Bacon, Sausage, Scrapple, Ham, Chipped Beef with Biscuits, Salmon, Apple Fritters, Sticky Buns, Donuts, Bagels, Danish, Fresh Fruit, Homemade desserts & coffee. Other drinks sold separately.
---
Registration Instructions
2017 Seals Family Reunion Registration Fees:
Fee covers admission, food & activities at the Meet & Greet Reception, Picnic at Thundergust, and (Adults Only) Seals Reunion After-Party!
Adults (ages 16 & older): $25 * Children (ages 6-15 years old): $10 * Infants/Toddlers (5 & Under): FREE

Register for all events and order t-shirts In-Person Only( Cash).
No checks will be accepted.

To Register In-Person, please contact me (Taffy) via telephone, text, Facebook message or email to 609-932-0426 or krmedley@comcast.net
---
Seals Family Reunion Picnic, Saturday, July 1, 2017, 12PM – 7PM
Thundergust Picnic Area at Parvin State Park, 857 Parvin Mill Road, Elmer, NJ 08318
Our Seals Family Reunion Picnic will occur at the park's private picnic area called 'Thundergust'. There will be Seals Family Members welcoming you as you arrive at the park. Thundergust is equipped with the following equipment & facilities:
Private entrance

Private parking area

Indoor Men's & Women's Restrooms

Overhead Canopies

(16) Picnic Tables
Charcoal grills
Playground equipment
Ball fields
With your paid Seals Family Reunion Registration you are entitled to a variety of meats, which will be grilled and served onsite, as well as various side dishes. We've asked that each family bring a dish and/or dessert to compliment the meat entrées and please being enough to share with the family!
You will be offered up to 3 servings of each of the following meats;
Hamburgers

Hot dogs (All Beef)

BBQ Chicken

*Exception - BBQ Ribs (1 serving per person to keep our costs low.)
Again this year, we will have friendly competitions where WINNERS WILL RECEIVE MEDALS! They include:
Volley Ball Tournament

Individual & Relay Races

Battle of the Branches/Tug-of-War
Individual Races
Recreationally, there will be a host of entertainment & activities for adults & children including:
DJ for entertainment

Sack Races

Mini All-stars Hoops Game

Kick Ball or Dodge Ball Games
Roaring River Dry Slide (27' tall!)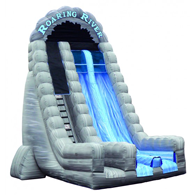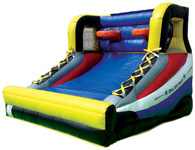 ---
2017 Seals Family Reunion T-Shirts
It's time to order your Custom Designed T-Shirt to Commemorate this year's reunion. REUNION T-SHIRTS MUST BE ORDERED IN ADVANCE and ARE NOT INCLUDED IN THE REGISTRATION FEE.
We ask that every family member purchase a Reunion T-Shirt and please Wear your T-Shirt on Saturday at the Seals Family Reunion Picnic, where we will take our Official 2017 Seals Family Reunion Portraits to remember for years to come. See last year's photo below… Beautiful!!!

Description:
100% Cotton

Crew neck

All t-shirts are

Purple

with

Gold

Imprinting

Available in a variety of sizes.
This year you have (2) beautiful designs to choose from; A Full Color design & a 2-Color Gold & White design.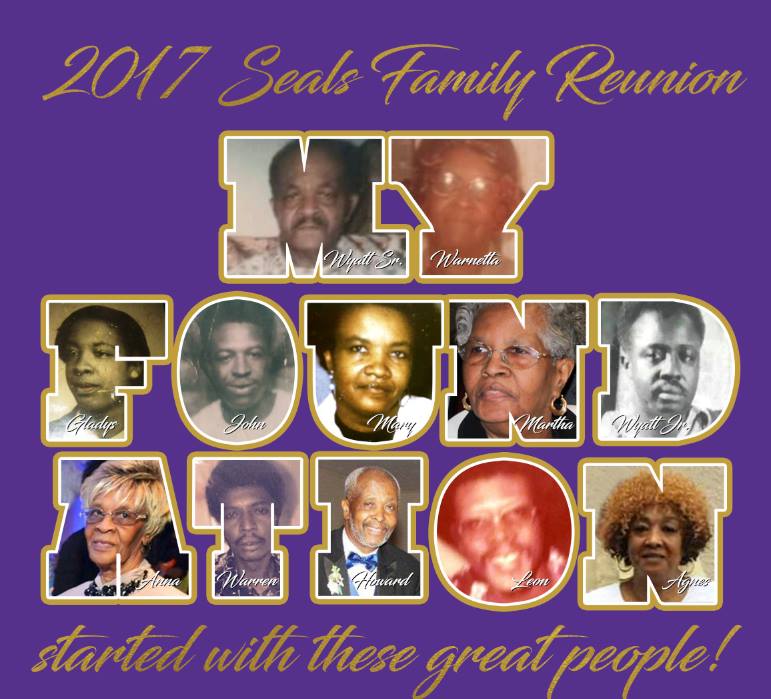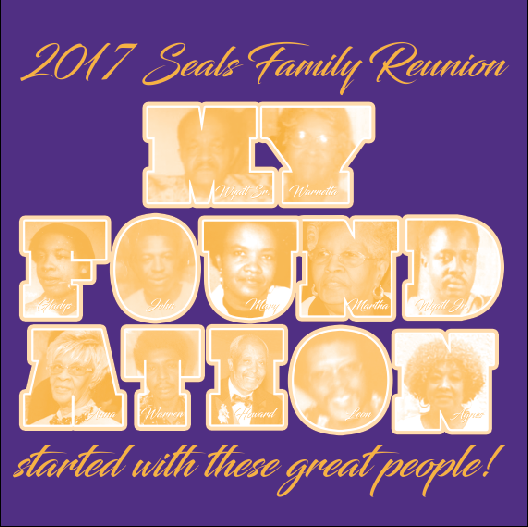 Sizes & Cost per shirt:
Adult Sizes: XS, S, M, L, XL: Color @ $20.00 or Gold @ $15.00
Adult Plus Sizes: 2X, 3X, 4X: Color @ $25.00 or Gold @ $20.00
Child Sizes: XS (2-4), S (4-6), M (8-10), L (10-12), XL (14-16) : Color @ $13.00 or Gold @ $8.00
Distribution: T-Shirts will be distributed at the 'Meet & Greet Reception' on Friday Night and at the Seals Family Reunion Picnic on Saturday.
ORDER YOUR T-SHIRTS TODAY! T-SHIRTS WILL NOT BE SOLD AT THE REUNION DON'T MISS THE OPPORTUITY TO PURCHASE YOUR VERY OWN 2017 SEALS FAMILY REUNION T-SHIRT.
FAQs
Where can I contact the organizer with any questions?
Call or email Taffy (Howard's middle daughter) 609-932-0426, krmedley@comcast.net
Date and Time
Location
New Jersey
Salem County, NJ