Sales Have Ended
Registrations are closed
Registration is no longer available for this event. Please contact Samantha with any questions at 518-622-3620 x104 or samantha@gcswcd.com. Thank you!
Sales Have Ended
Registrations are closed
Registration is no longer available for this event. Please contact Samantha with any questions at 518-622-3620 x104 or samantha@gcswcd.com. Thank you!
Description
The 11th Annual Schoharie Watershed Summit is focused on "Forests of the Future: Predictions for the Schoharie Watershed." This year's program will highlight future predictions for the forests of the Schoharie Watershed, given climate change, warming temperatures, increased extreme weather events, invasive species, and other impacts. As always, the summit will continue the tradition of providing a forum for discussion about water quality.
This program is for all water resource stakeholders: municipal officials, planners, engineers, watershed managers, regulators, and property owners. Afternoon workshops count towards municipal credits for planning and zoning board members. The summit brings diverse interests together to learn from one another and to network as we seek to understand each other's roles in this living watershed.
Morning refreshments and lunch will be provided. Registration for the summit is free.
Please plan to arrive early for networking and morning refreshments. Registrations opens at 8:00am and the presentations will begin promptly at 9:00am.

Keynote Address:
"Resilient Forests in a Rapidly Changing World: Direct and Indirect Human Impacts on the Forests of the Schoharie Watershed"
Dr. Charles Canham (Cary Institute of Ecosystem Studies)
Featured Presentations:

"Climate Change Across Seasons Experiment: Simulating Future Climate in a Forest Ecosystem"

Dr. Rebecca Sanders-DeMott (University of New Hampshire)

"The Menace of Climate Change and Invasive Species on the Health of New York's Forests: Past, Present and Future"
Dr. Jerry Carlson (New York State Department of Environmental Conservation)
Afternoon Workshop Sessions (choose two):

Catskill Forest Pests' Update
Dan Snider & John Thompson (Catskill Regional Invasive Species Partnership) - CRISP staff will be discussing invasive forest pests in the Catskill Park and surrounding land, with a focus on hemlock woolly adelgid and emerald ash borer. These insects represent active threats to the Catskill's ecosystem and economy. The discussion will include the current state of the infestations, the most up-to-date research being conducted, and best management practices for landowners and towns to mitigate the invasive species' impact to their forests.

Update on the Revisions to NYC's 2017 Filtration Avoidance Determination
Dr. Pamela Young (NYS Department of Health) - NYC's FAD is scheduled to be revised and reissued in July 2017. Dr. Young will discuss the anticipated program requirements for the new 2017 FAD and the process for developing and issuing the FAD. This workshop will provide an opportunity for public comment and input on the draft 2017 FAD.

A New Discovery Tool: The New York Climate Change Science Clearinghouse
Dr. Ingrid Zabel (Cornell University) - This workshop will provide an overview and an opportunity for exploration of the New York Climate Change Science Clearinghouse, a website which serves as a regional gateway to data and information relevant to climate change adaptation and mitigation across New York State. The Clearinghouse provides climate science data, maps, tools, documents, websites, and other resources for policy makers, practitioners, researchers, and the public, to support scientifically sound and cost-effective decision making. Participants will find information in multiple ways and have the opportunity to look for content relevant to their work. They will become familiar with two new interactive tools: a Climate Data Grapher, which allows users to generate time-series graphs of observed and projected climate data, and an interactive Map and GIS Viewer with data layers applicable to a range of sectors.

Living on the Edge: Streamside Stewardship and the Important Role of Riparian Buffers
Laura Weyeneth (GCSWCD) - Join Laura Weyeneth, Catskill Streams Buffer Initiative (CSBI) Coordinator for the Schoharie Watershed, for a workshop to learn about what a healthy riparian area looks like and how to use native plants for improving water quality. Streamside landowners and managers of riparian areas have the opportunity to plant trees and shrubs along streams to enhance the riparian buffer on their property. Riparian buffers, a best management practice (BMP), are vegetated or undisturbed natural areas along streams and rivers that protect and improve water quality by reducing the impact of adjacent land use. Riparian buffers provide ecological and water quality benefits by filtering pollutants and stabilizing streambanks while enhancing wildlife habitat, providing shade and temperature control, and reducing detrimental effects of flood waters. This workshop will discuss how to select appropriate plants and planting areas to meet multiple conservation goals. Attendees will also learn about the resources available for riparian buffer projects in the Schoharie Watershed.

Registration Deadline: Friday, March 17, 2017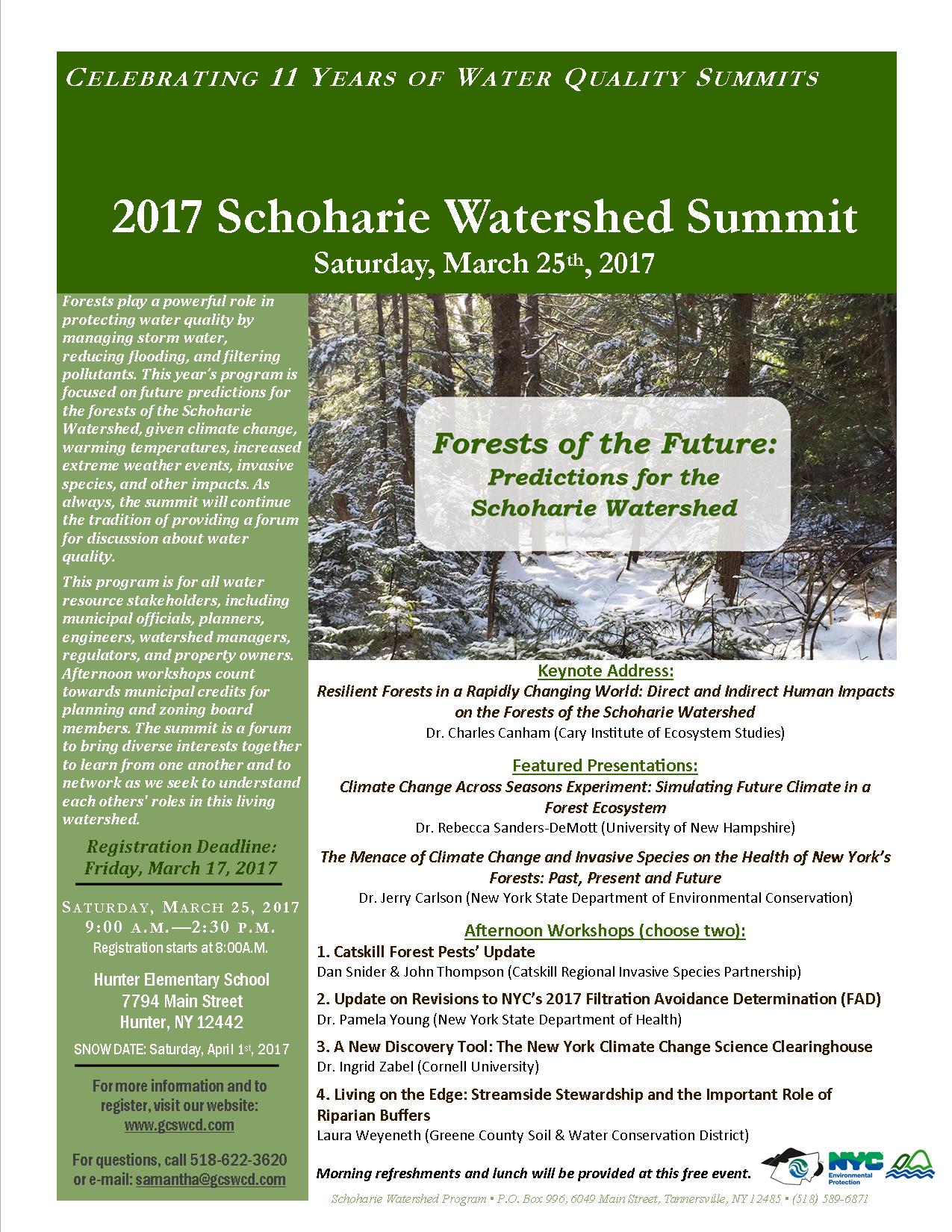 -----------------------
FAQs
Do I have to register for the event?
Yes, registrations are required in advance due to space limitations and catering needs. Registrations will be accepted first come, first served, so be sure to register early.

Is there a cost to attend the 2017 Schoharie Watershed Summit?

No, this is a free event with morning refreshments and lunch provided for attendees.

Where can I contact the organizer with any questions?
For questions, e-mail Samantha@gcswcd.com or call 518-622-3620 x104.

Do I have to bring my printed ticket to the event?
No, we will have a guest list and you will be able to sign in at the registration table between 8:00am-9:00am.

Will municipal credits be available for planning and zoning board members?
Yes, the afternoon workshop sessions are intended to offer municipal credits for planning and zoning board members. Morning presentations may also count towards municipal credits, pending on approval from individual planning and zoning boards.

-----------------------
This event made possible by Greene County Soil & Water Conservation District's Schoharie Watershed Program and NYC Department of Environmental Protection (NYCDEP).
Schoharie Watershed Program
P.O. Box 996, 6049 Main Street
Tannersville, NY 12485
518-589-6871