Description
Space is limited. Please call 707-547-5436 for tickets and sponsorships.
SANTA ROSA MEMORIAL HOSPITAL FOUNDATION
Theme: 007 James Bond
Cocktails 5:30pm
Dinner 6:30pm
Dancing 8:30pm
James Bond or Black Tie Attire

Proceeds benefit Santa Rosa Memorial Hospital Foundation
Regional Cancer Care
For more information please contact Nate Friar
707.547.5436

For paper Registration Form, click here.
For paper Sponsor Packet, click here.
Sponsorship Levels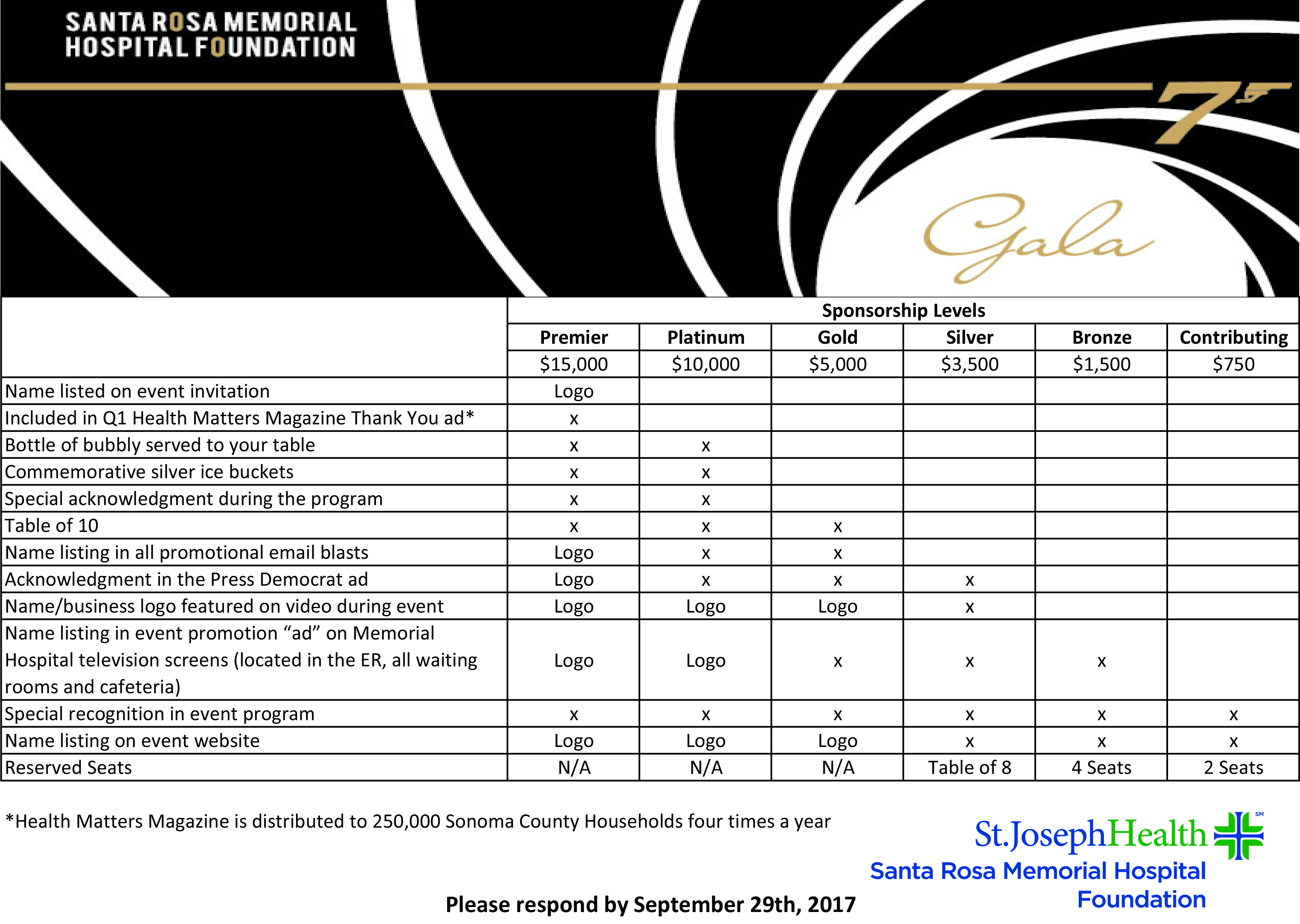 At St. Joseph Health, we provide personalized treatment to cancer patients right here in Sonoma County. We have the largest number of specialists available north of the Golden Gate, including medical oncologists, radiation oncologists, surgeons, genetic specialists, and patient navigators. Our Regional Cancer Care provides expert care that far exceeds what is considered standard for a community cancer center.
Most cancer diagnoses require more than one medical specialty for treatment. Our multidisciplinary team approach means that our patients are relieved of the burden of coordinating their own care. Our cancer experts understand the importance of developing customized treatment plans that focus on the unique medical needs of each patient. Our patients have the advantage of accessing this care right here in Sonoma County, enabling them to remain close to family, friends, and those who provide them support and comfort. At St. Joseph Health, we work as an integrated team to streamline patient care across the different specialties that are available to them.
Ours is a missionof service and we fulfill it best when we have the support of our community. Please consider joining with us as we work to improve the health and quality of life of the people of Sonoma County.
Your generous investment in our Regional Cancer Care program enables us to continue to provide a healthy future for our families, neighbors, and friends. Every dollar we raise is an investment in the wellbeing of our community.