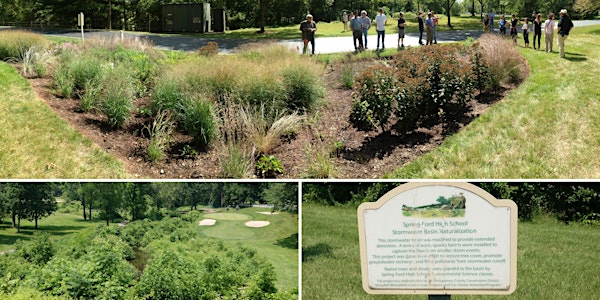 2017 SAN Bus Tour & SRRF Press Event
When and where
Location
Montgomery County, PA
Description
Join the Schuylkill Action Network for a FREE tour of restoration sites in Montgomery County, PA. This tour includes a special press event where the 2017 Schuylkill River Restoration Fund (SRRF) grant awards will be announced by the Schuylkill River Heritage Area.

---
About the Schuylkill River Restoration Fund Press Event: Over $364,000 of awards will be announced at the event. Representatives from Exelon Corporation, Philadelphia Water Department and the Delaware River Basin Commission will be in attendance to acknowledge recipients. Following the awards ceremony, a tour will be given of the property by community members at Meadowoods.
---
10th Anniversary of the Schuylkill Watershed Implementation Grant (SWIG) Projects: In 2004, on behalf of the Schuylkill Action Network, the Partnership for the Delaware Estuary and Philadelphia Water Department received a $1.15 million Targeted Watershed Implementation Grant from EPA, leveraging an additional $1.49 million in match. By the end of the grant period in 2007, more than 10 projects were implemented in the watershed, including education and outreach, agricultural restoration, and stormwater restoration. Ten years later, we're going back to two of these sites - Brookside Country Club and Spring-Ford Area High School.
---
Pick-Up / Drop-Off Locations:
---
Lunch will be provided at the SRRF press event starting at 11:30am.
---
QUESTIONS
If you have any questions about the tour, please contact Virginia Vassalotti at VVassalotti@DelawareEstuary.org or 302-655-4990 ext. 121.
If you have any questions about the SRRF press event, please contact Tim Fenchel at TFenchel@schuylkillriver.org or 484-945-0200.