Description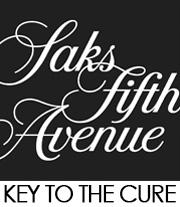 Saks Fifth Avenue New Orleans
Key to the Cure
Kickoff Gala and Charity Shopping Weekend
Benefiting the Louisiana Cancer Research Consortium
Tickets for the Key to the Cure Kickoff Gala cost $75 each and can be purchased via credit card by clicking on the link below:
The online ticket sales period will end on Tuesday, October 10. However, anyone wishing to purchase a ticket after this deadline can do so at the door on the evening of the Gala for the same price - $75 per ticket.
Kickoff Gala
Wednesday, October 11, 2016, 6 – 9 p.m. (CDT),
Saks Fifth Avenue New Orleans, 301 Canal St.
Charity Shopping Weekend
Thursday, October 12 thru Sunday, October 15
For more information click here.