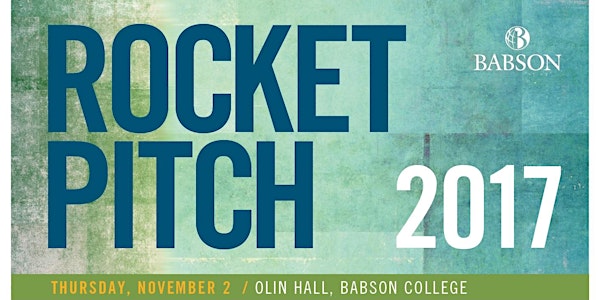 2017 Rocket Pitch
When and where
Location
Olin Hall, Babson College 231 Forest Street Babson Park, MA 02457
Description
Walk-ins are welcome.
See who our presenters are and the schedule on our website, http://www.babson.edu/rocketpitch
Join Babson College for our 18th annual Rocket Pitch! Come hear the nation's top entrepreneurship students and alumni pitch their new ventures - in three minutes or less!
Rocket Pitch is an annual event where Babson (students and alumni), Olin Engineering and Wellesley College student entrepreneurs pitch their business ideas to a large audience of students, faculty, entrepreneurs, investors, and service providers. Each entrepreneur is given three minutes and three PowerPoint slides to quickly and succinctly deliver the critical differentiating elements of their business ideas. Pitches happen in rapid succession in multiple rooms.
We're excited to announce that this year we will be featuring a live feedback forum! Following each three minute presentation, attendees in the room can provide live feedback to our presenters. An open networking reception will follow the presentations. Learn more about our new format >>

Rocket Pitch's unique, fast-paced format generates a lot of excitement—be sure to join us for one of Babson College's most electrifying events!
Agenda:
1:30 p.m. – 2:00 p.m. Registration
2:00 p.m. – 2:10 p.m. Opening Remarks
2:20 p.m. – 4:20 p.m. Presentations
4:30 p.m. – 5:30 p.m. Networking Reception
Click here for more information on Rocket Pitch.

Follow us on Twitter and Instagram! Hashtag for the event is #babsonrp.