Description
VIP Experience will include a schwag bag, meet the bands, drinks, water & access to the VIP tents at both the Urby RJO Kick Off Festival in downtown on the Jersey City on June 3 and at the flagship festival in Riverview-Fisk Park on June 10.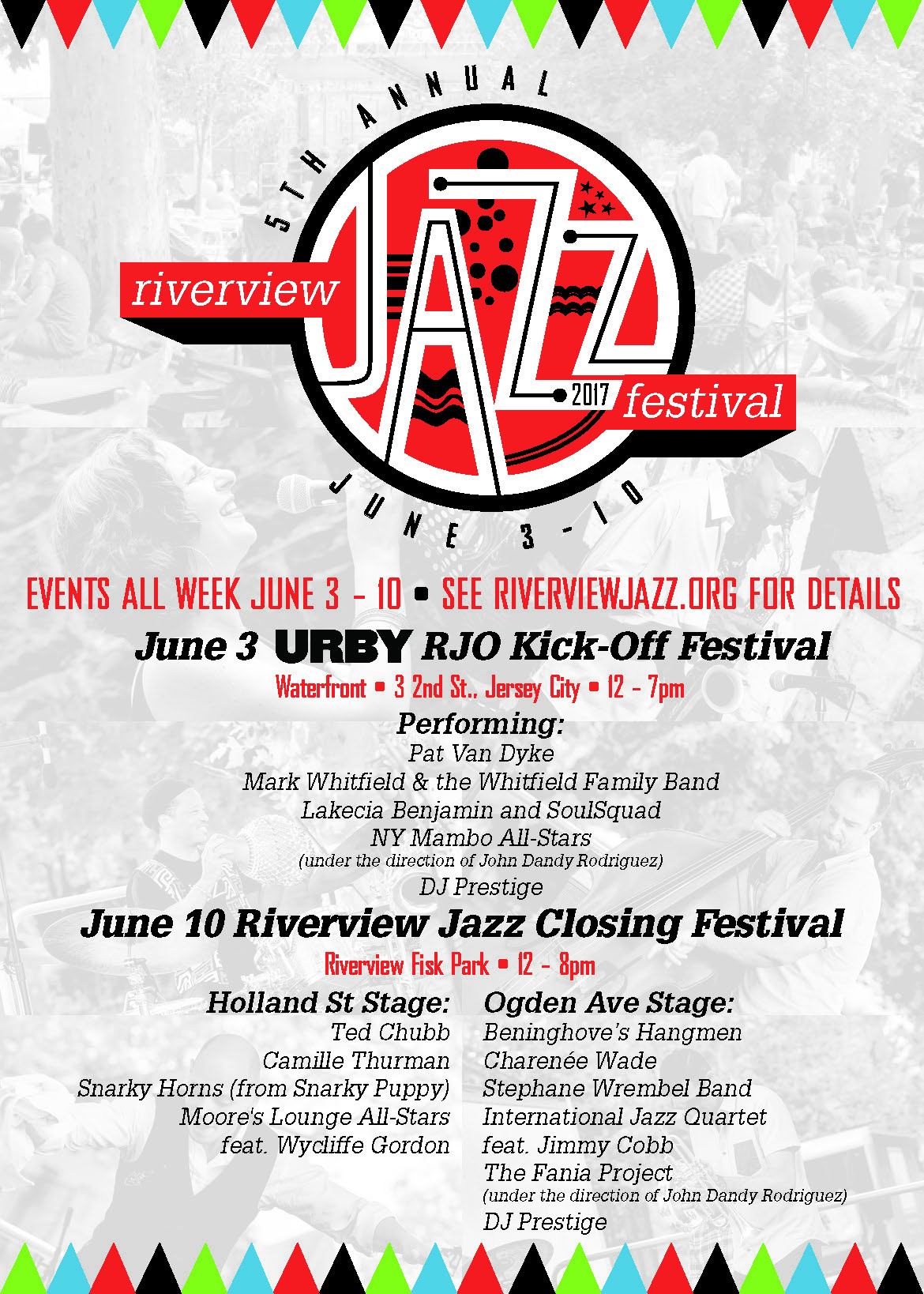 The June 3 lineup (3 West 2nd St., Jersey City) includes:
DJ Prestige​
Pat Van Dyke 12:30PM
Mark Whitfield & the Whitfield Family Band 2PM
Lakecia Benjamin & Soul Squad 3:30PM
NY Mambo All-Stars 5:30PM

The June 10 concert lineup (Riverview-Fisk Park) includes:
Ogden Ave Stage:
DJ Prestige
Beninghove's Hangmen 12:00pm
Charenee Wade 1:30pm
Stephane Wrembel Band 3:00pm
International Jazz Quartet featuring Jimmy Cobb 4:30pm
The Fania Project (under the direction of John Rodriguez) 6:30pm

Riverview Neighborhood Association (RNA)'s Historic Holland Street Stage
Ted Chubb 12:30pm
Camille Thurman Music Page 2:00pm
The Snarky Horns (from Snarky Puppy 4:00pm
Moore's Lounge aka Bill & Ruth's All-Stars feat. Wycliffe Gordon 5:30pm


A full schedule of the events throughout the week can be found on riverviewjazz.org.
The Riverview Jazz Festival has grown exponentially since its inception in 2013. Beginning with a few local bands playing on a sunny afternoon in Riverview Fisk Park in Jersey City Heights with the stunning backdrop of the Manhattan skyline, the festival has now expanded to a week-long event featuring performances all over Hudson County. In 2016, we quadrupled our size and expanded from one event to over 40 events featuring local and internationally known talent. The free-to-the-public flagship event featured two stages, an open beer garden, a vintage flea market, and numerous food trucks. Past performers include the Donny McCaslin Quartet (of David Bowie's Blackstar album), Slavic Soul Party (Balkan Brass Band), Típica 73 (a legendary salsa band from the Fania label), Dave Stryker, Pete Bernstein, Gretchen Parlato, Winard Harper and many more. Hundreds of musicians perform throughout the week at numerous local establishments and non-traditional venues.