Description
NOTICE: ON-LINE REGISTRATION HAS NOW ENDED. WALK-IN REGISTRATION WILL BE AVAILABLE ON FRIDAY, NOVEMBER 10th & SATURDAY, NOVEMBER 11th AT AN INCREASED PRICE OF $40. DOORS OPEN AT 6PM ON FRIDAY & AT 8AM on SATURDAY—GET THERE EARLY FOR A GOOD SEAT. It's Time to be Refreshed!!!




2 Days | 6 Sessions | Many lives forever CHANGED
2017 Refresh Women's Conference: "Destined for Change"
Fri. November 10th - Sat. November 11th
Decatur, AL
---
It's back!! Refresh Women's Conference is a 2-day conference bringing women of all ages from different stages together to be encouraged through the word of God, feel refreshed and encounter God in a way that will change you and the way you walk in life forever. This conference is presented by Bridge Builders Church International and hosted by Pastor Alesia S. Crayton. We have gathered an awesome group of speakers and worshippers to pour into you. There is a power released as women unify together. That unity will enable us all to receieve a fresh anointing for a new season. Your family, career, business, finances, and relationships will indeed be REFRESHED! We believe that your life could totally transform in 2 days! Do you?
REGISTER TODAY!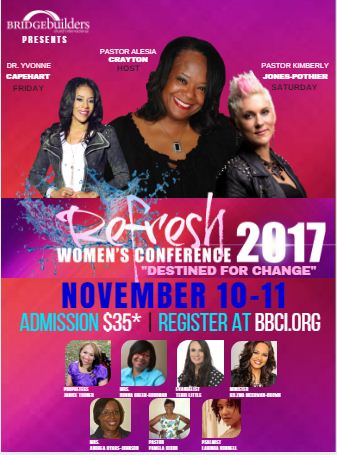 Special Guests:
Dr. Yvonne Capehart
Pastor Kimberly Jones-Pothier "Real Talk Kim"
Prophetess Janice Turner
Mrs. Donna Green-Goodman
Evangelist Terri Little
Minister Kilzma McCowan-Brown
Mrs. Andrea Byars-Johnson
Pastor Pamela Dixon
Larinda Donnell
---
Conference Schedule
Friday, November 10th
Conference Check-in 6:00 PM
Prayer 6:30 PM
Evening Service 7:00 PM
Saturday, November 11th
Conference Check-in 8:00 AM
Prayer 8:30 AM
Morning Service 9:00 AM
Special Presentation 9:30 AM
Break-out Sessions 10:15 AM
*Pick 1 out of 4 Break-Out Session Options
General Session 11:00 AM
Featured Break-out Sessions (Attendees will choose (1) when they register.See descriptions at www.bbci.org/refreshing)
Relationships Uncut: Desire, Restraint, & Hope

Fix My Finances: Can I Afford My Life?

You Take My Breath Away: Intimacy With God

MOMentum: Becoming Inspired By Motherhood & Living Life On Purpose
---
Discounted Hotels (Limited Rooms Available)
We've negotiated discounts and secured a limited number of reduced-rate hotel rooms to make your trip to Decatur, AL affordable. Rooms at the below mentioned hotels are limited and available on a first come, first-serve basis. Book early by calling the hotel using the group name "Refresh 2017" for best selection and price >>
Best Western River City Hotel (1.3 mi from Conference venue)
1305 Front Ave SW, Decatur, AL 35603, TEL (256) 301-1388
HOME2 SUITES BY HILTON DECATUR INGALLS HARBOR (6.0 mi from Conference venue)
807 Island Way NW, Decatur, AL 35601, TEL (256) 822-1030
Holiday Inn Express & Suites Decatur (1.5 mi from Conference venue)
2407 Beltline Rd, Decatur, AL 35601, TEL (256) 822-2800
DoubleTree by Hilton Hotel Decatur Riverfront (6.9 mi from conference venue)
1101 6th Avenue NE, Decatur, Alabama 35601, TEL: 256-355-3150
---
FAQs
Where is the event located?
Bridge Builders Church International: 1801 Beltline Road SW Building 300 Decatur, AL 35601
When will doors open each day?
Doors will open at 6:00 pm on Friday and 8:00 am on Saturday for conference registration, conference check-in, and seating.
What does the registration fee include?
Access to all general & break-out sessions, Conference Package, & Refreshments on Saturday, November 11th
Will childcare be available?
No childcare will be provided. Children ages 17 and under get in free.
How can I contact the organizer with any more questions?
Please send all questions to bbci.liveonline@gmail.com, visit www.bbci.org, or call us at our church office number (256) 432-0413
What's the refund policy?
It is the policy of Refresh Women's Conference that we do not provide refunds for registration.