Description
ATTENTION:
ONSITE registration is AVAILABLE at the Conference. We look forward to seeing you there.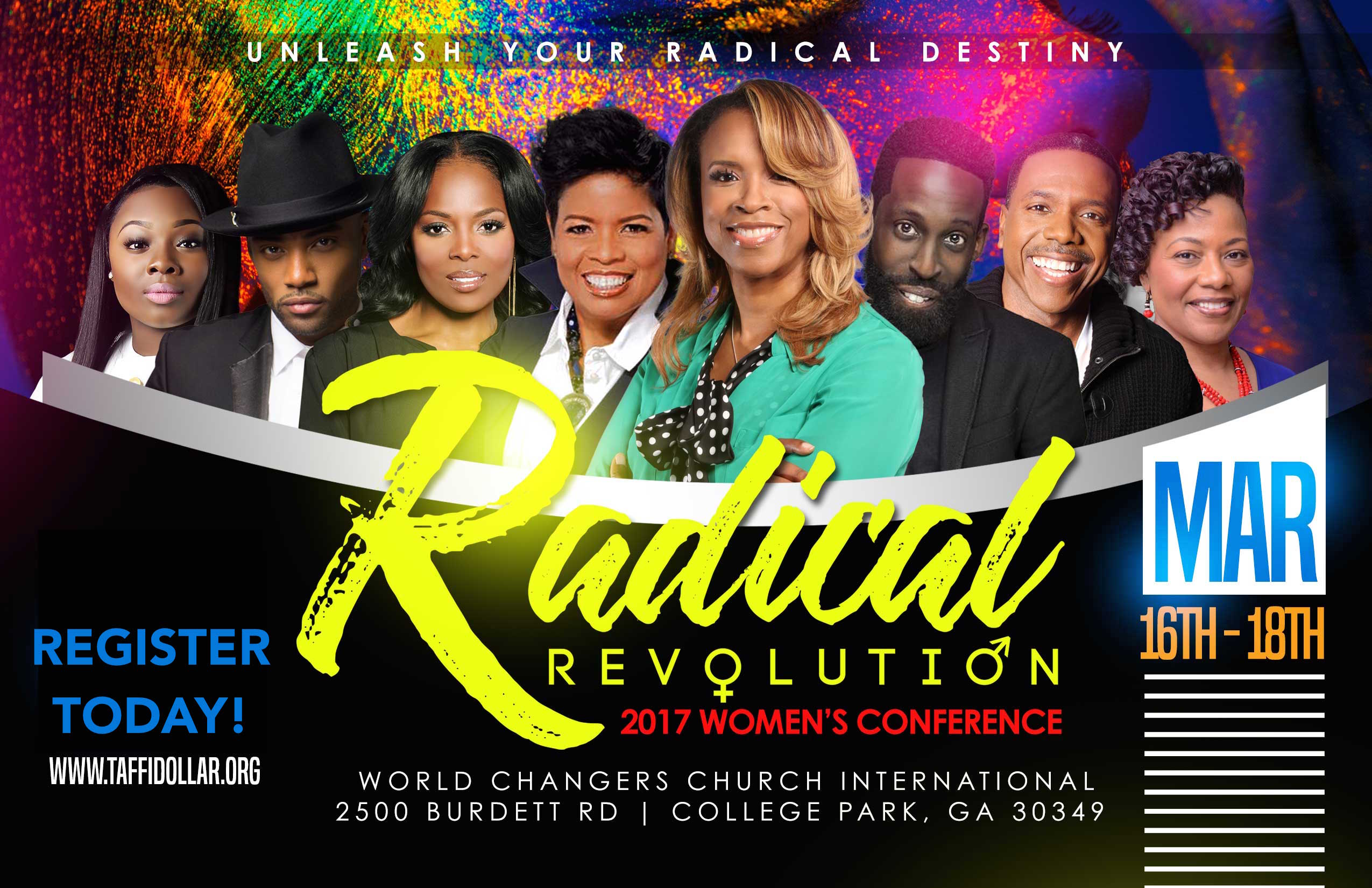 Musical Guests: Tye Tribbett and Jekayln Carr
Featured Speakers: Taffi Dollar, Connie Smith, Dr. Bernice King, Cynthia Brazelton, Mimi Haddad

Preliminary Speakers: Dr. Catherine Brewton, Minister Carol Jones, Toya Exnicious, Alyssa Worrell
Male Panelists: Dr. Creflo Dollar, Willie Moore Jr., Minister Michael Smith, Stevie Baggs Jr.

Radical Revolution Conference at a Glance
Thursday March 16, 2017
8am: Registration
- World Dome
10am: Brunch & Jazz
*The meal portion of this event is NOT included in your conference ticket. However you can attend the brunch, and purchase your meal a la carte or by purchasing an all-inclusive $40 meal ticket while supplies last.
- Fellowship Hall
2pm: General Session #1
- World Dome
5pm: The Revolution Rally
- Fellowship Hall Parking Lot
8pm: General Session #2
- World Dome
Friday March 17, 2017
8AM - Prayer
10am: General Session #3
- World Dome
2pm: The Embracing You Listening Lounge
- Fellowship Hall
4pm: "It's a Man's World" Men's Panel
- World Dome
6pm: Book Signing with Taffi Dollar (Gender Roles)
- World Dome Lobby
8pm: General Session #4
- World Dome
Saturday March 18, 2017
8am: The Revolution Prayer
- Administration Meeting Room
10am: Breakout Session #1
- World Dome
11:15am: Breakout Session #2
- World Dome
1pm: General Session #5
- World Dome
PLEASE NOTE: No ticket refunds will be issued.
For more information about FLIGHT DISCOUNTS Call 770-210-5846.
Join Pastor Taffi Dollar and the Radical Women's Ministry for the 2017 Radical Women's Conference: Radical Revolution! This dynamic conference will be held at World Changers Church International in College Park Georgia. Join women from all over the world to gain knowledge and insight on gender roles in relationships, leadership, and business. This Radical Revolution experience is sure to be life-changing for women and girls seeking the power to lead better lives and be of service to God, their husband, and family So ladies, expect to become an inspiring example to all with whom you come into contact. Get on board with the "Revolution for God" and be radical about the life you lead! Register you and your friends today.
HOST HOTELS:
Fairfield Inn & Suites 770-994-3666
Hilton Garden Hotel 404-766-0303
Atlanta Airport Marriott Hotel 404-766-7900
Also, be sure to check out the Radical Revolution Conference vendors: