Description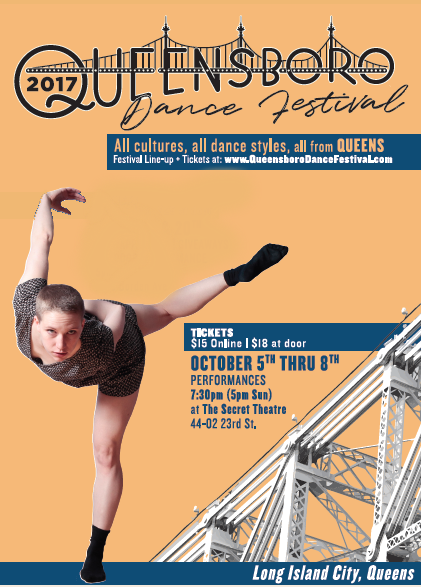 PERFORMANCES: Thursday thru Sunday, October 5-8
7:30pm Thurs-Sat | 5:00pm Sunday
The 4th annual Queensboro Dance Festival is back with 27 dance companies all from the borough of Queens! Each evening is a different, vibrant mix of contemporary & cultural dances, proudly representing a slice of the diverse talent thriving throughout Queens.
This season features a spectrum of dance styles including bellydance, Indian Kathak, hip-hop, tap, Chinese Lion Dancing, aerial silks, Japanese, modern, Colombian folk, house, Bhangra, and more!
Queensboro Dance Festival 2017 Dance Companies
RASTRO
Xiang Xu Dance Theater
New York Hung Sing Kwoon Lion Dance & Kung Fu
Project 44
CLaF Dance Project
Prashant Shah and Dancers
SUNPROJECT
Barbara Mahler's Dances
Masala Bhangra
Cole Collective
Brandon Welch
Karla Florez
Noora Dance Theater
Jackie Nowicki
Vissi Dance Theater
The Rogue Dancers
Micca
#Taplife Company
Marcela Duarte
Sheep Meadow Dance Theatre/Billy Blanken
IchiFuji-kai Dance Association
NSquared Dance
Q&A Productions
The Physical Plant
Gotham Dance Theater
LVCID
Dugal Dance Projects
For the full schedule by showdate, please visit www.queensborodancefestival.com!
All tickets $15 online, $18 at the door
Questions: thephysicalplant@gmail.com
As seen in:

Major support by: