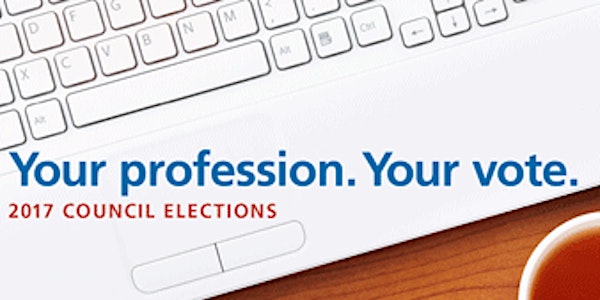 2017 Professional Engineers Ontario Council All-Candidates Debate - hosted by PEO York Chapter
When and where
Location
Vaughan Metropolitan Centre 100 New Park Place Suite 1400 (KPMG Offices) Vaughan, Canada L4K 0J3
Description
Important Event Update:
We are pleased to announce that special arrangements have been made for those who missed out on the chance to register the opportunity to listen to the debate live, starting at 9:30 am on February 4th.
Please use the following dial-in information:
Dial in number: 1-866-512-0904

Participant code: 1677956
Please join us in attending and taking part in the 2017 Professional Engineers Ontario Council All-Candidates Debate, hosted by PEO York Chapter.

York Chapter has been recognized as one of the most active chapters in PEO, and we believe that an active profession is a good profession. However, in the 2016 Council elections, only 10 per cent of eligible voters participated.

The purpose of the All-Candidates debate is to engage York Chapter members on issues facing the engineering profession, raise awareness of the 2017 PEO Elections, and to help our members make an informed decision when casting their ballot. It will be moderated by an energetic volunteer of the organization, and questions will touch on topics such as the Practice Evaluation and Knowledge (PEAK) Program and term limits for council members.

This All-Candidates Debate is open to candidates from the following categories that members of York Chapter can cast ballots for:

President-Elect
Vice President
Councillor-at-Large
East Central Regional Councillor

The list of candidates can be found here - http://www.peo.on.ca/index.php?ci_id=29214&la_id=1

Moderator: Alice Chow, P.Eng.

Please join our debate speakers who have confirmed their attendance

President-Elect Candidates
David W. Brown, P.Eng., BDS, C.E.T.
Darla D.W. Campbell, P.Eng.
Peter DeVita, MASc, MBA, P.Eng., FEC
Faizul Mohee, P.Eng.

Vice President Candidates
Nancy E. Hill, P.Eng., LL.B., FEC, FCAE
Raymond Linseman, MASc, P.Eng, FEC
Changiz Sadr, P.Eng., FEC, CAPE™


Councillor-at-Large Candidates
Hamid Batenipour, PhD, P.Eng., PMP
Nick Colucci, P.Eng., BASc, MBA, FEC
Ewald Kuczera, MSc, P.Eng.
Lisa MacCumber, P.Eng.
Fred Saghezchi, P.Eng., MASc


East Central Region Councillor Candidates
Thomas Chong, MSc, P.Eng., FEC, PMP
Peter Cushman, P.Eng.
Tina Emamverdi, BA.Sc., P.Eng.
Kam Sing Leong, P.Eng., FEC
Greg Merrill CD, P.Eng., FEC, MSc., PMP
Light refreshments will be served.