Description
TPG is excited to announce Pro Scout School is back for another year in Las Vegas. Scout School is a one of a kind event that is a must attend for anyone interested in Scouting, Player Personnel, Coaching and Basketball Operations.
This conference is a gathering of the most successful basketball executives, scouts, agents, coaches, media and general managers at the professional level. Pro Scout School will provide an interactive experience with insight into talent evaluation at the highest level.
2017 Pro Scout School will have many new additions to enhance the experience for all in attendance. This year will be even more intimate with limited tickets available.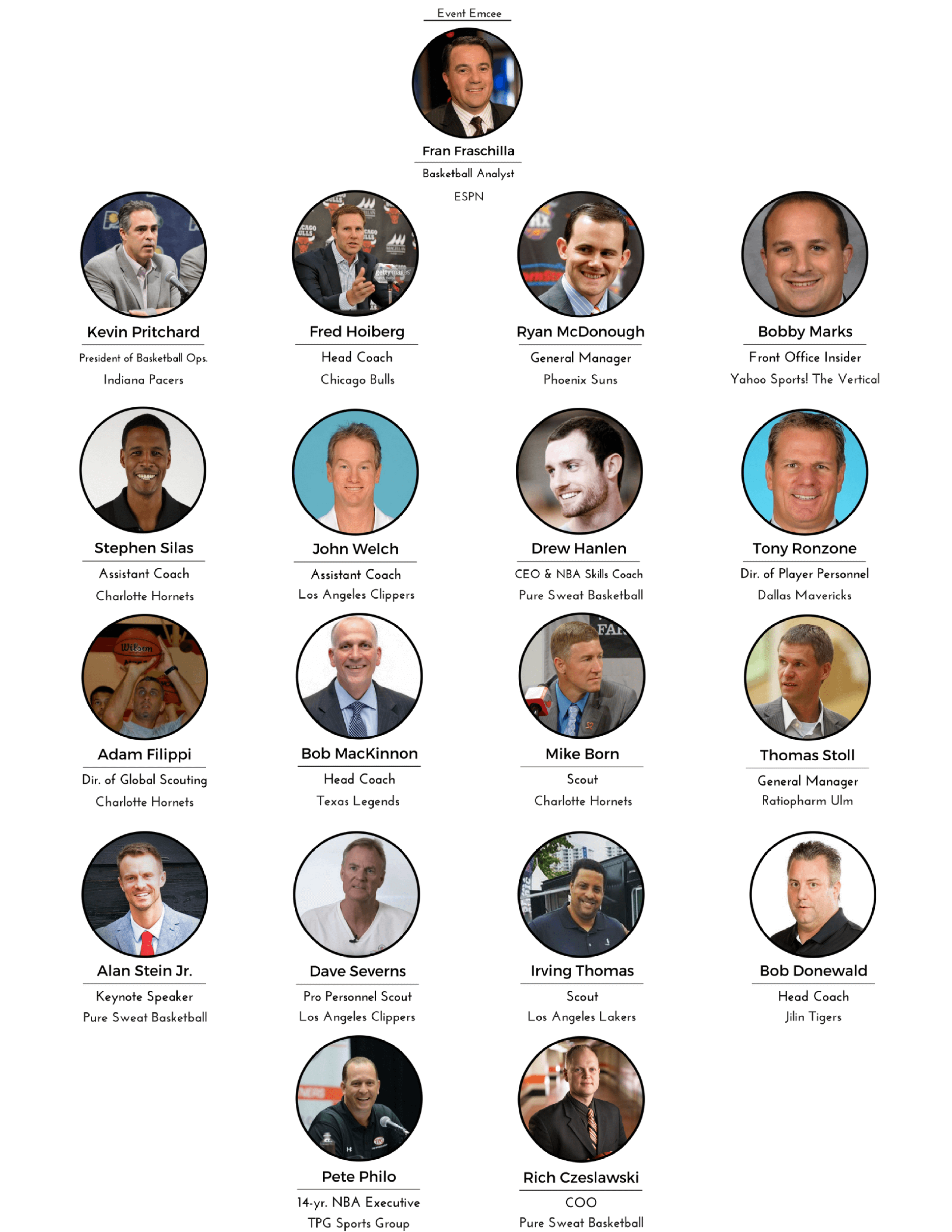 Kevin Pritchard, President of Basketball Operations, Indiana Pacers - Ryan McDonough, GM, Phoenix Suns - Fred Hoiberg, Head Coach, Chicago Bulls - Wes Wilcox, Atlanta Hawks - Bobby Marks, The Vertical - Fran Fraschilla, ESPN - Stephen Silas, Assistant Coach, Charlotte Hornets - John Welch, Assistant Coach, Los Angeles Clippers - Drew Hanlen, CEO & NBA Skills Trainer, Pure Sweat - Tony Ronzone, Director of Player Personnel, Dallas Mavericks - Adam Fillippi, Director of Global Scouting, Charlotte Hornets - Irving Thomas, Scout, Los Angeles Lakers - Bob MacKinnon, Head Coach, Texas Legends - Thomas Stoll, GM, Ulm (Germany) - Alan Stein Jr., Keynote Speaker - Pete Philo, 14 yr. NBA Exec, TPG Sports Group - Rich Czeslawski, COO, Pure Sweat
Schedule:
tpgsportsgroup.com
Dates and Location Subject to Change.
Refund Deadlines:
Full Refund by 5/1/2017
Partial Refund by 5/31/2017
No Refunds after 5/31/2017