2017 Power of Film - Grease is the Word! - a benefit for Just Like You Films

Friday, December 1, 2017 from 7:00 PM to 11:30 PM (CST)
Event Details

The pink ladies and t-birds are taking over Rydell High (Dan Meiners Studio) for  an important cause.  With this event, we will raise the necessary funds to help produce, share and more globally distribute Just Like You Films including; anxiety and depression,  facial anomalies, diabetes, cancer, autism, Down's Syndrome, and more. 
Just Like You Films is a local, nonprofit film company creating  powerful tools in the fight against bullying. Emmy Award Winning filmmaker and founder, Jen Greenstreet, and acclaimed photographer and Emmy Award Winning director of photography, Isaac Alongi, have collaborated to develop films and materials that educate the local and global community on how to communicate about difficult subjects. These films are a source for teachers, community leaders, therapists, law enforcement, and parents, to name a few. JLY Films captures real life stories that teach children and adults how all of us are more alike than we are different.
As a non-profit organization, the existence of JLY Films relies solely on the support of the community. Your sponsorship dollars will enable JLY Films to distribute its current library and continue creating powerful films that address relevant, important topics.
Please contact Susan Williams at susan@jlyfilms.org for sponsorship information.  
For inclusion in printed materials,
please submit your sponsorship by Tuesday, November 14th.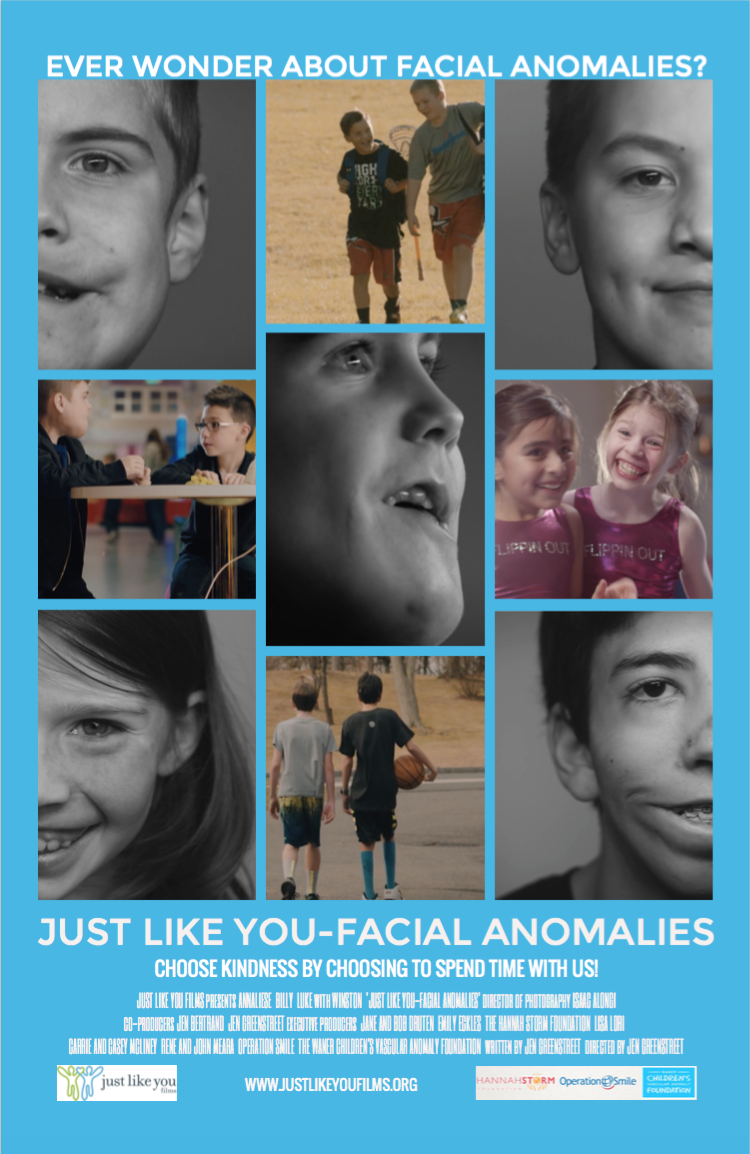 Just Like You Films is a 501(c)(3) the nonprofit film production company who's mission is to raise a global generation of kids who because of their knowledge and understanding are more empathetic and compassionate people. JLY Films was honored to be awarded 2 Mid-America Emmys in 2015 and to receive the 2013 Tash Positive Images in Media Award, the 2014 National Down Syndrome Congress' Education Award, the 2014 KC Jewish Film Festival's Trailblazer Award, the AMC Cares Award and the 2014 Autism Society of the Heartland's Making A Difference Award. JLY Films were nominated for the The 2014 Golden Door International Film  Festival's Autism Award, Best Editing Award and won the Raising Awareness Award for our Down syndrome film. JLY Films was also a 2013, 2014 and 2015 Google Ad Grant recipient.  In 2009, the Burn film received the International Health and Medical Media, Freddie Finalist Award in Children's Health.  Just Like You - Cancer is featured by the National Leukemia Lymphoma Society's School and Youth campaign to reach 14.5 million students in 29,000 schools across the US. The Burns and I Care films are featured at the Phoenix Society's World Burn Congress and their Journey Back Program. In 2013, the United Nations presented the Down syndrome film to its members in a general session.  As a result, the Brazilian delegate licensed the Down syndrome film and currently distributes it across Brazil through her organization, Movimento Down.   The National Autism Society screened Just Like You - Autism at their 2015 national conference. JLY Films are distributed on Learn 360, an educational video platform reaching 8 million kids in 25,000 schools in the United States and Canada. Down Syndrome is translated into Spanish, Portuguese, Icelandic and is closed captioned for the hearing impaired.   And, JLY Films is currently partnering with The Hannah Storm Foundation, Operation Smile, the Waner Children's Vascular Anomaly Foundation in the JLY - Facial Anomalies production.  JLY films have been viewed on the Just Like You Films' youtube channel over three quarters a million times in 120 different countries.
When & Where

"Rydell High" aka Studio Dan Meiners
2500 W Pennway St
Kansas City, MO 64108


Friday, December 1, 2017 from 7:00 PM to 11:30 PM (CST)
Add to my calendar