2017 Planter Marriage Retreat
Sales Have Ended
Registrations are closed
We are sorry, but due to the demand of this event, we are sold out.
Sales Have Ended
Registrations are closed
We are sorry, but due to the demand of this event, we are sold out.
Description
With all that you are facing as a church planter, we want to encourage you as you work on the greatest ministry, your marriage.
Our team hopes to provide you and your spouse an elegant place, an uninterrupted space, and a ton of encouragement. Our one desire is to help your marriage, at least for a weekend, to find much deserved rest and renewal.
We are excited to share that you will receive a two night stay at The Hampton Inn, two meals (Thursday dinner/Friday Lunch), and the entire conference for only $75.00. Please note: the $75.00 fee is per couple!!!
---
Guest Speaker: Brian and Amy Bloye - Westridge Church - Dallas, Georgia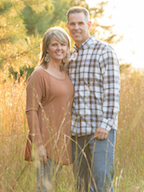 Brian Bloye is the pastor of West Ridge Church in Dallas, Georgia, and the founder of the Launch Network, an organization focused on inspiring and equipping next-generation church planters to lead strong. Brian also serves as founder and president of Engage Burkina, an organization committed to serving the people of Burkina Faso, Africa. Since 2009, 12 churches have been planted and over 100 wells dug in this nation, the world's second-poorest country.
Amy Bloye is a pastor's wife and the mother of two teenage boys. She and her husband, Brian, started West Ridge Church in 1997, and she has a passion for encouraging and connecting church planters' wives. She loves traveling to sunny places and shopping for bargains, but her best time is invested in dating her husband and hanging out with her two boys, Taylor and Zach.
---
Worship Led By: Wellspring Worship Team
---
Hotel: Hampton Inn & Suites Oceanfront Hotel - 1803 South Ocean Boulevard Myrtle Beach, SC
You and your spouse will be staying at Myrtle Beach's Hampton Inn Oceanfront Hotel for Thursday and Friday evening. An amazing continental breakfast will be available every morning. To view pictures of this hotel and find other information about the hotel, click here - http://www.hamptoninnoceanfront.com/
---
Conference Location: Wellspring Church
3432 Waccamaw Blvd, Myrtle Beach, SC 29579
---
Retreat Schedule:
THURSDAY - Jan. 19th
4:00-5:30PM Register at Hotel – Hampton Inn Oceanfront (Hotel Provided in Cost)
- It's a 10-15 minute drive time, so please plan accordingly.
6:00PM - Arrive & Register at Retreat Location (Wellspring Church, Myrtle Beach)
6:30PM - Dinner (Provided)
7:00PM - Opening/Worship
7:30PM - SESSION ONE
8:30PM - Worship
FRIDAY - Jan. 20th
10:00AM - Opening/Worship
10:30AM - SESSION TWO
12:00PM - Lunch (Provided)
1:00PM - SESSION THREE
2:00PM - DISMISS - Afternoon & Dinner Date On Your Own – Men, start planning now.
SATURDAY - Jan. 21th
ENJOY THE MORNING!
11:00AM - Checkout from Hotel