Description
$25 Early Bird Adult, 18+ $15 Ages 6-17 May 1–July 31

$30 Regular Adult $15 Ages 6-17 August 1- Sept 17

$30 Late, no shirt guarantee $15 Ages 6-17 Sept 18 –Oct 1

$35 Event Weekend, no shirt guarantee $20 Ages 6-17
*Children 5 and under Free with paid registration, no shirt provided and must be registered
Each dollar raised will go towards teaching NE Wisconsin students how they can live healthier lifestyles to reduce their risk of getting ALL types of cancer. If everyone in the United States used sunscreen, stopped smoking, and stayed in shape, nearly 2/3 of all the cancer would go away! Our mission is to inspire people in our community to lead cancer-free healthy lifestyles…with your help, with every step you take, we get closer to getting rid of cancer. For more information: www.PinkPumpkinWalk.com
Get Your 2017 PPW Event Shirt, Guaranteed When You Register By 9/17 !!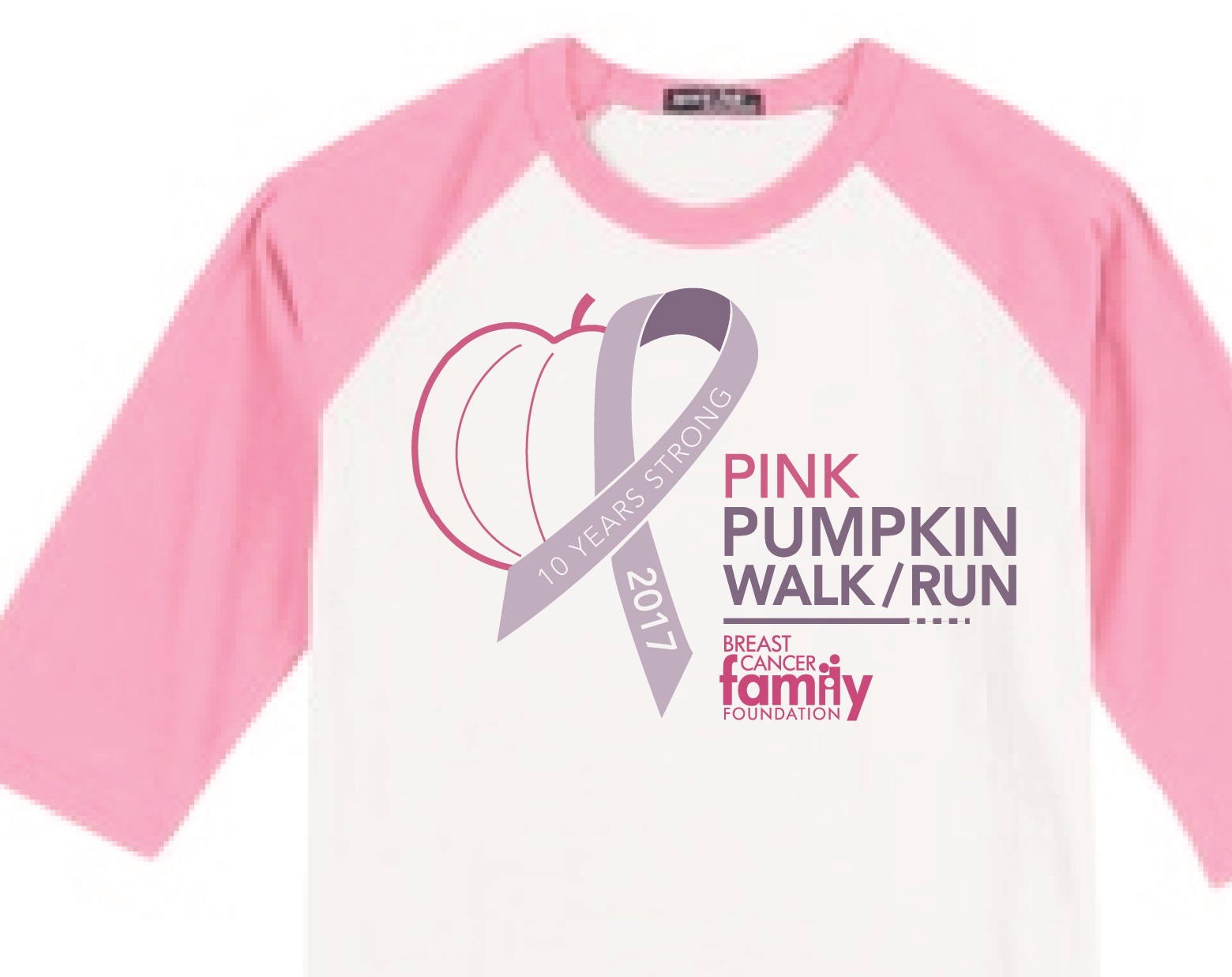 WALK/RUN LOCATION: NWTC, 2740 W. Mason St., Green Bay
Packet Pickup/ Registration: 4:00-7:00 pm Friday 10/6; 8:00-9:45 am Day of Event Saturday 10/7
*Online ticket sales end on 10/1, after 10/1 registration goes up; $35 18 & up, $20 6-17 years.

Walk/Run Kickoff: Pre-event activities 8 am; Official Walk/ Run Start 10 am, Saturday 10/7
Survivor Photo: Meet at 9:15 in our Pumpkin Patch for a 9:30 am photo, Saturday morning

Runners: Individual start/end chip times! Awards will be given to the top 5 male and top 5 female finishers.
Walkers: The walk is a non-competitive event and will not be individually chip timed.
***While we love animals, for liability reasons, we ask that you do not bring your pets to the event***
Share your stories under our Inspire Tent
All of us have been touched by cancer in some way. Our Inspire Tent allows our participants to share their story. Bring your photos, written story or small memento to share and inspire others of why we walk/ run. They will be hung under the tent for everyone to see and experience. There is no cost to participate in the Inspire Tent. If you would like your submissions returned you will need to pick up after the event. Limited additional supplies will be available day of event.
Pre-walk/run activities & celebration:
Enjoy music, refreshments, face painting, and group photos taken in the photo booth
Pink hair extensions will be available to purchase

Survivor Group Photo; Meet us in the Pumpkin Patch at 9:15 for our group Survivor photo at 9:30

For more information: www.PinkPumpkinWalk.com

* A fundraising page will be set up for all completed participants, you are under no obligation to fund-raise to particiapate in the event. If you do not wish to fund-raise please close out of the website when directed to complete the set up. This year's pledge heroes who raise $450 or more will receive a custom framed autographed picture of Ty Montgomery!