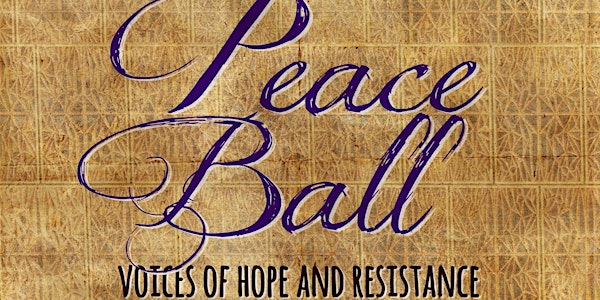 2017 Peace Ball: Voices of Hope and Resistance
When and where
Location
Smithsonian National Museum of African American History and Culture 1400 Constitution Avenue Northwest Washington, DC 20560
Description
The 2017 Peace Ball : Voices of Hope and Resistance
Thursday, January 19th, 2017

National Museum of African American History and Culture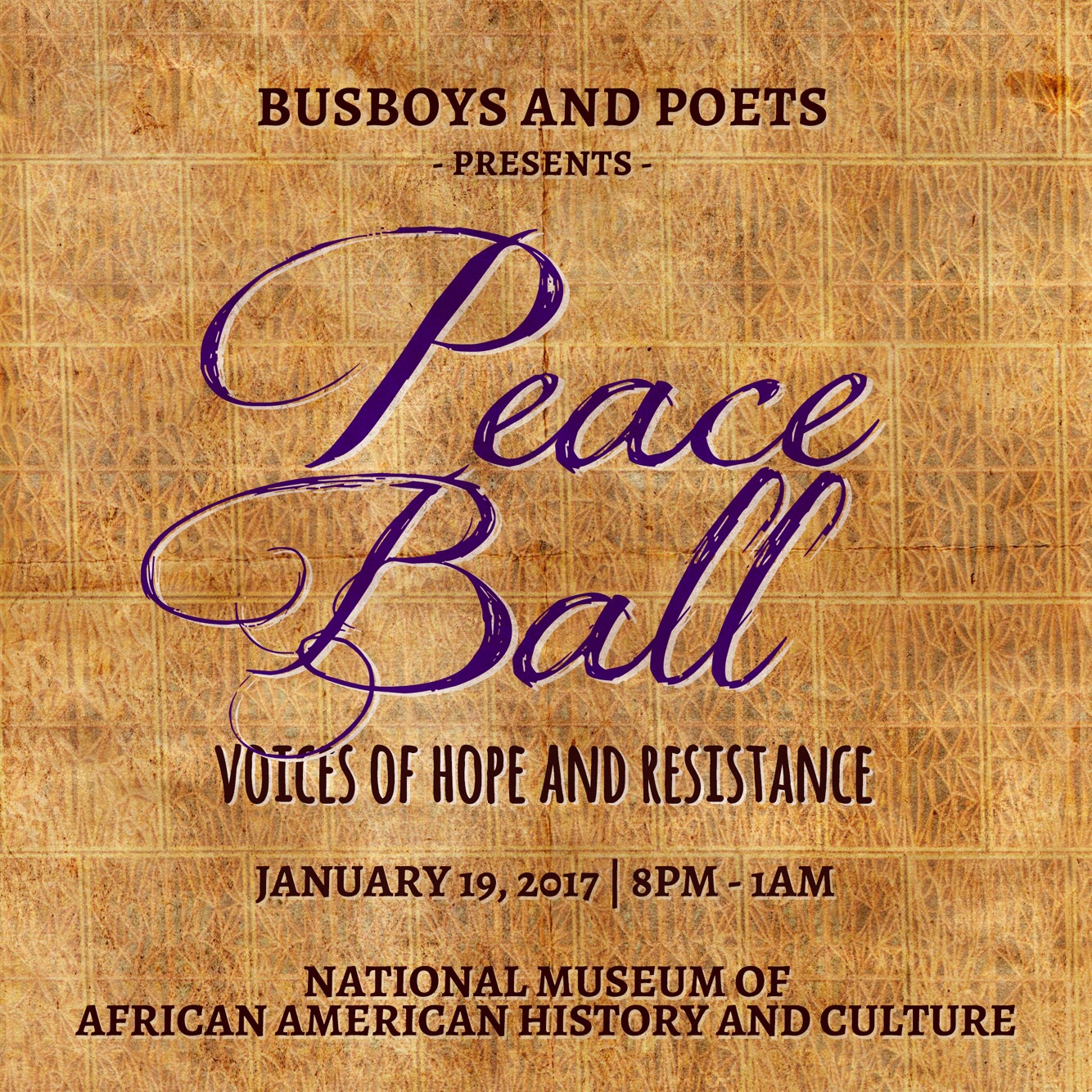 A gathering to celebrate the accomplishments and successes of the past 4 years and the vow to continue to be the change we want to see in the world.
"To be hopeful in bad times is not just foolishly romantic. It is based on the fact that human history is a history not only of cruelty but also of compassion, sacrifice, courage, kindness.
What we choose to emphasize in this complex history will determine our lives. If we see only the worst, it destroys our capacity to do something. If we remember those times and places—and there are so many—where people have behaved magnificently, this gives us the energy to act, and at least the possibility of sending this spinning top of a world in a different direction.
And if we do act, in however small a way, we don't have to wait for some grand utopian future. The future is an infinite succession of presents, and to live now as we think human beings should live, in defiance of all that is bad around us, is itself a marvelous victory." - Howard Zinn
OUR LIST OF DISTINGUISHED HOSTS AND GUESTS INCLUDE: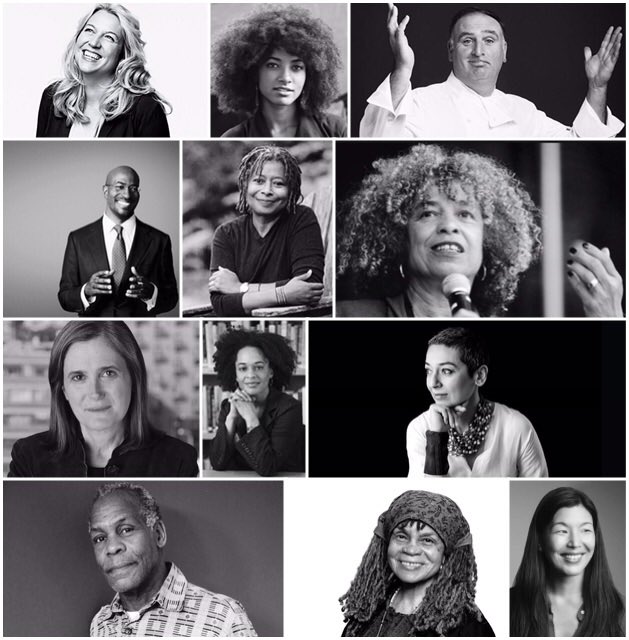 Angela Davis
Solange
Alice Walker
Danny Glover
Van Jones
Naomi Klein
Cheryl Strayed
Melissa Harris-Perry
Donna Karan
Gina Dent
Esperanza Spalding
Amy Goodman, Democracy Now!
Ai-jen Poo
Katrina vanden Heuvel, The Nation
Sonia Sanchez
Medea Benjamin, CODEPINK
Laura Flanders
Chef José Andrés
Eve Ensler
Zainab Salbi
Sonya Renee Taylor
more to be announced...
with Special Musical Guests and Performances
The 2017 Peace Ball: Voices of Hope and Resistance is a nonpartisan event including food, open bar, live music, and dancing. Museum exhibits will be open during the Peace Ball. Please note: This event is for ages 21+ only.

---
FREQUENTLY ASKED QUESTIONS:
What are my transportation/parking options for getting to and from the event?
As a reminder, the security perimeter around the Museum will be in place starting early on

Thursday, January 19th

, which means there are TWO WAYS you can access the Museum to attend the Peace Ball.

The address for the shuttle bus pick-up point is:
1. DRIVING INSTRUCTIONS
To get to L'Enfant Plaza Parking, please note that you will travel on Interstate 395 due to the security perimeters.
If you are traveling South on I-395, and will get off at Exit 5 (7th Street SW/6th Street SW/ L'Enfant Plaza). You will follow the sign to 7th Street and verge slightly to the left once you exit at Exit 5. Continue straight across 7th Street to Frontage Road SW. If you see a checkpoint, please let them know that you are attending the Peace Ball. Travel down Frontage for a block and turn right onto 10th Street SW. The parking garage is located half way down the block on the right.
If you are traveling North on I-395, you will get off at Exit 3 (12th Street Expressway/Verizon Center). You will make the first right off of the 12th Street Expressway on to L'Enfant Promenade. If you see a checkpoint, please let them know that you are attending the Peace Ball. You will then make another right onto 10th Street SW. The road loops around so follow the signs to Public Parking. Once you make the loop, the parking garage is located half way down the block on the right.

CAR SERVICE: We encourage you travel to L'Enfant Plaza using the Lyft car service to receive a Peace Ball discount. Please use the code PEACEBALLDC if you are a new user, or PEACEBALL15 if you have used Lyft before. New users get 2 FREE RIDES up to $15 each with the code PEACEBALLDC. Existing users may redeem the code PEACEBALL15 for 15% off rides to or from the event.


2. METRO INSTRUCTIONS
You may also arrive at the Peace Ball by taking Metro and walking over to the Museum located 1400 Constitution Ave NW. Federal Triangle (Orange/Silver/Blue) and Smithsonian (Orange/Silver/Blue) are the metro stations closest to the Museum.
However, please note that that Metro stations will shut at their regular times so Smithsonian station will close around

10:30 p.m.

and Federal Triangle station will close around

12 midnight

. Please also note that the Secret Service may impose pedestrian walking restrictions at

11 p.m.



Metrobuses may still be running outside of the security perimeter but we during high security, there is a possibility that either or both options may be closed with short notice. For more Metro information, please click

here

. For the trip planner, please click

here

.

Please note: if you opt not to drive or take a car to L'Enfant Plaza Parking, due to security restrictions, METRO & WALKING IS THE ONLY OTHER WAY TO ACCESS THE MUSEUM.
With the exception of the Secret Service-approved Busboys and Poets shuttle buses, NO CARS ARE ALLOWED into the security perimeter around the museum.


PARKING GARAGE INSTRUCTIONS:
1. As you enter the garage, press green button for a ticket and the gate arm will raise up.
2. Pull forward and the lot attendant staff will direct each guest where to park.
3. Once you park, you can walk to entrance or exit on the same level to board the bus. Please remember the section and space # in and section where you park.
4. Upon re-entry, locate vehicle and follow signs to Exit.
5. When you reach the exit point, have your ticket ready.
6. Parkers without pre-paid Eventbrite parking tickets must pay $30 before

midnight

, but after

midnight

the rate changes to $37.


INFORMATION UPDATES:

There will be live, simultaneous ASL (American Sign Language) throughout the main stage program. Please contact Joy Zarembka at

joy@busboysandpoets.com

or

202.441.2422

to

submit a request for s

pecial needs or assistance.


Please e-mail peaceball@busboysandpoets.com for all other inquiries. See you

tomorrow

evening, dressed in black tie, cultural, or whatever makes you feel great!

How can I contact the organizer with any questions?
Please call or text Joy Zarembka at 202-441-2422 with any travel or accessibility questions. For all other inquiries, please email peaceball@busboysandpoets.com.
What's the refund policy?
All sales are final and there are no refunds.
What is the Dress Code?
Black Tie, cultural, traditional, or whatever makes you feel great.
Is a Metro nearby?
The Federal Triangle station and the Smithsonian station are both close to the venue so that is one way to get to the event. However, both stations will be closed by the end of the event so you will need an alternative route home.
Will there be dancing?
YES! Be prepared to dance the night away.
Are their assigned seats?
There is no assigned seating.
Is the venue accessible for the differently-abled community?
Yes. If you need assistance or a wheelchair, please let any volunteer know. There will be a wheelchair available at the shuttle buses and places to sit. There are ramps and elevators to accommodate everyone within the Musuem. There is also "Reserved" seating in the main area and seating throughout the Musuem. There will be ASL interpretation throughout the program.
Will there be "keepsakes" available?
Your ticket and program booklet will make for great souvenirs. We also have a photo area to get your picture taken in front of the Peace Ball logo.
What kind of food will be served?
There will be a wide variety of items on the menu with food stations throughout the venue.
Will there be vegetarian options? Vegan?
The 2017 Peace Ball menu will accommodate vegetarians and vegans.
What kind of music will be featured at the event?
The music at the 2017 Inaugural Peace Ball will cross a wide variety of musical tastes. Just come prepared to have fun.
All Sales Are Final.