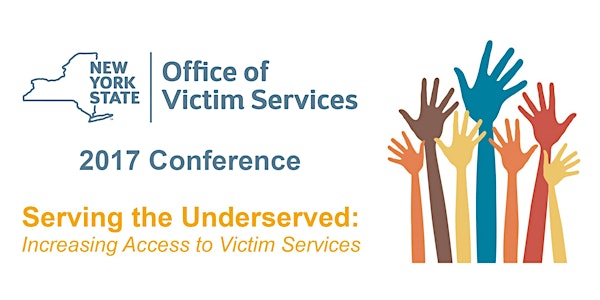 2017 OVS Conference
When and where
Location
The Desmond Hotel and Conference Center 660 Albany Shaker Rd. Albany, NY 12211
Description
General Registration Opens:
September 12, 2017 at 9:00am (EST)

The New York State Office of Victim Services (OVS) is pleased to welcome registration for the OVS 2017 Conference "Serving the Underserved: Increasing Access to Victim Services" held November 7-9, 2017 at The Desmond Hotel in Albany, NY.
Conference Background
OVS is once again offering a multi-day, multi-session statewide professional development conference for OVS funded victim advocates and victim services providers from all over New York State. This distinctive conference offers the opportunity for individuals from various victim services disciplines to network and train alongside one another.
This year's conference will feature 35 workshop and plenary sessions with presentations from more than 50 acclaimed professionals and victim advocacy experts from across the country.
Registration
To register for the conference, click on the 'Register' link above and 'Checkout' to complete the registration form. Please note, OVS reserves the right to withdraw registrants that fail to meet the minimum requirements outlined in the event's Registration Guidelines.
Lodging & Workshop Preference
Upon successful registration, hotel reservation details and information on how to select workshop preferences will be automatically provided. Room availability and workshop space is limited. All reservations and preferences will be handled on a first come, first serve basis and all guests MUST meet the minimum criteria outlined in the event's Registration Guidelines.
Additional Information
For more information or if you have questions about the registration process, please contact Helen Hines at helen.hines@ovs.ny.gov or (518) 485-0462.