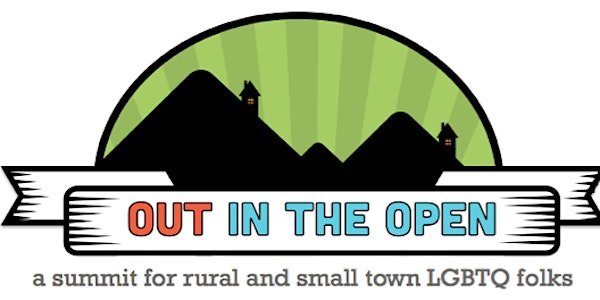 2017 Out in the Open Summit for rural and small town LGBTQ folks
When and where
Location
Hilltop Montessori 99 Stafford Farm Hill Brattleboro, VT 05301
Description
Convened by Green Mountain Crossroads

The Summit is a gathering place to collectively discuss and explore our rural and small town experiences as LGBTQ people.
These are participatory sessions; not lectures. We want to delve into the experience, knowledge, creativity, and expertise that exists within the group. Come prepared to share and work!

We encourage participants to bring in to all of these sessions thoughts, questions, and strategies connected to struggles for justice against racism, classism, misogyny, incarceration, police brutality, ableism, fascism, transphobia, and other oppressions.
During the 2017 event, we will all explore three large themes: art & expression, living on the land and eating from it, and organizing for justice. During each of these sessions, options for both discussion-based as well as hands-on options will be available. We'll also have two large group sessions with breakouts looking at Finding Home & Negotiating Capitalism, and Intimacy & Relationships.

This year's event has been put together by a planning committee made up of people who attended the 2016 event in collaboration with GMC staff.

If you have a session you're interested in offering that fits within the large themes (art & expression, living on the land, organizing), get in touch!

If you need ASL or other language intrepretation, please let us know by September 27th, 2017. There is space to share about this or other accessibility needs on the registration form.

Our intent with this gathering is to bring together individuals, regardless of organizational affiliation, to discuss, prioritize, strategize, about our rural and small town LGBTQ experiences. In an attempt to have no single organization dominate the conversation, we intend to have no more than three folks from an organization at the gathering. This year's Summit will be limited to 75 people.

Draft agenda and more details available on the GMC website.
Can't wait to see you all in October!