Description
Congratulations and welcome to the 2017 Build You University Team and the 7th Year My City My Biz Expo! There will be a secret facebook group created and you will get added once your registration is complete. As our thank you for taking advantage of this expertise showcasing opportunity we would like to offer you an exhibitor table at 50% off if you secure your booth by September 30, 2017. If you would like to take advantage of this discount special please inbox Shontina Gladney or send an email to pmibizgroup@gmail.com
Please arrive the day of the event by 8:15am and register at the front desk to receive your day of presenter packet and instructions. If you need to reach Shontina Gladney directly, please call 414-429-7305.
There will opportunities pre-expo and post expo and will get posted in the group. We look forward to working with you and getting you connected to the Milwaukee community and beyond!
Sincerely, Shontina Gladney
The flyer will get updated as we complete our 2017 Expo Team. The official website launches October 1, 2017.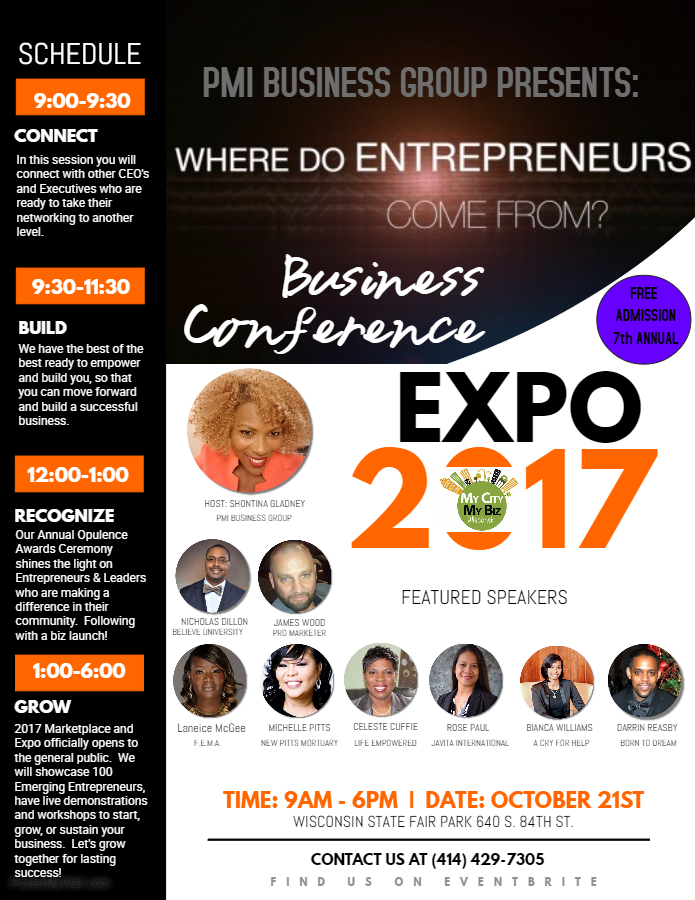 Date and Time
Location
Wisconsin State Fair Park Tommy Thompson Expo Center
640 South 84th Street
Milwaukee, WI 53214