Description
Event Details
NYSDEC Hudson River Research Reserve offers FREE educational canoe trips at selected sites along the Hudson River Estuary. Learn about tidal marsh ecology, Hudson River research, and challenges facing estuarine habitats. Trips average 3.5 hours including orientation and paddling instruction.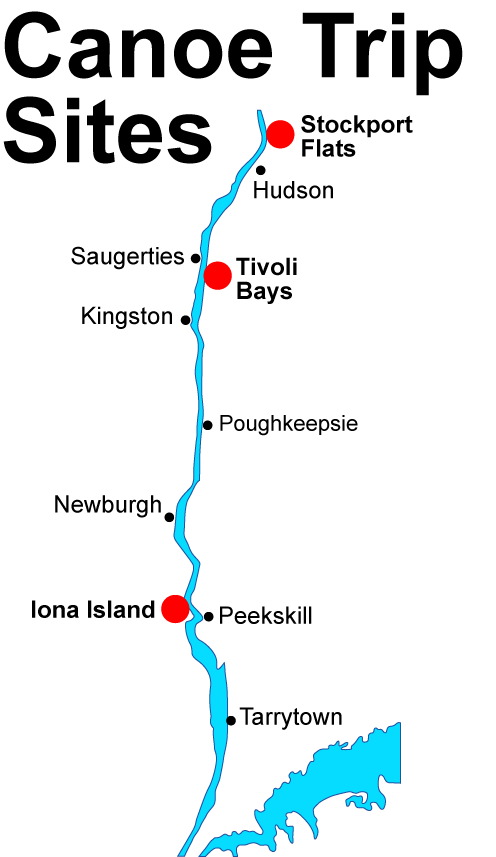 DIRECTIONS and links to interactive maps are in right-hand column.

NOTE: If your browser does not show site directions,please try using Mozilla Firefox as your browser.
To ensure access to as many people as possible, please limit your participation to one trip per season. If you sign up for more than one trip we will cancel all but the earliest reservation.
Ages six and up welcome. No more than two children under sixteen per adult.

No experience necessary

One trip per person, reservation required

Canoes, paddles and safety gear provided

For safety reasons, we do not allow additional boats to join our group


Bring food, water, hat and sunscreen

Prepare to be knee-deep in water - wear old sneakers or sturdy water shoes - no flip flops!
Cancellation Policy
Help us reduce the number of "no-shows" and ensure that as many people as possible get to experience the magic of these places. Please contact us as early as possible to change or cancel your trip at giancarlo.coppola@dec.ny.gov or (845) 889-4745 x109.
Programs generally run rain or shine, but we may cancel a trip if high winds, heavy rain, or thunderstorms are predicted. Call (845) 889-4745 x109 to check on your trip's status. For a morning trip call the night before. For an afternoon trip call the morning of the trip.

Site Descriptions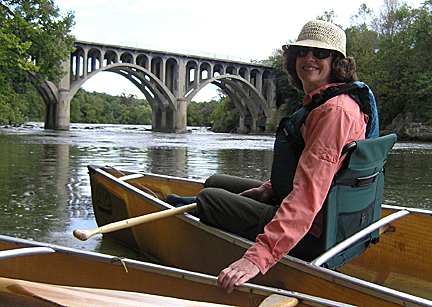 Stockport Flats
Watch for herons and eagles as we explore Columbia County's Stockport Creek. Weather permitting, we paddle to an island featuring bank swallows and a great swimming beach.

Stockport Flats is the northernmost site in the Hudson River Research Reserve. It is located on the east shore of the river in Columbia County, a few miles north of the city of Hudson, in the towns of Stockport and Stuyvesant.
Tivoli North Bay
This fascinating tidal marsh in Dutchess County offers spectacular plants, interesting wildlife, and scenic views of the Catskills. Witness its unique sights, sounds, and smells as you wander through one of the most amazing protected sites on the Hudson. Paddle on winding tidal channels with Reserve naturalists. (Photo: Rebecca Houser)
Iona Island
Paddle through this marshy maze with Reserve naturalists. nestled in the Hudson Highlands adjacent to Bear Mountain State park, this wetland features flowering marsh plants, sunning snapping turtles, and soaring vultures.